Alexandra Styron on Reading Her Father
The daughter of famed writer William Styron talks about her new memoir, which explores their relationship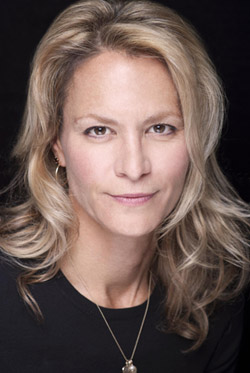 Rex Bonomelli
When Alexandra Styron was considering what college to attend in the early 1980s, her father, author William Styron, took her to see his alma mater, Duke University. Although she didn't end up going to college there, she encountered something on that trip that would help chart her own personal and literary journey more than two decades later.
William Styron was a celebrated Blue Devil alumnus, so a private tour of the campus and an intimate supper with the school's president, Terry Sanford (who was also the former governor of North Carolina), were fairly easy to come by. The unique highlight, however, was what Duke unveiled for Alexandra and her dad in the stacks of the Rare Book, Manuscript, and Special Collections Library: rows and rows of archive boxes containing thousands of personal documents donated by William Styron making up a paper trail of his life.
At the time, the importance of the collection about her father didn't register with the 17-year-old. "I couldn't get over how sleepy I felt," she writes. Years passed, and Alexandra, now a writer, set out to understand her dad. She discovered that the documents at Duke were windows into finally seeing him in full.
So what does it mean to grow up with a dad who's a famous writer? Alexandra describes that life in her book, Reading My Father, which is being published this week. But William Styron (who passed away in 2006) was more than just famous—he was one of the finest novelists to come out of the South, an author who can be mentioned in the same breath as William Faulkner and Robert Penn Warren.
Born in Virginia and educated in North Carolina (at Duke and earlier, Davidson College), William Styron launched his career with Lie Down in Darkness, published in 1951 when he was 26. Its story of a tormented character called Peyton Loftis, a young woman from a Virginia family, received overwhelming critical acclaim. He then wrote Set This House on Fire, published in 1960 (the reviews weren't as favorable). But seven years later, The Confessions of Nat Turner, about a slave rebellion in 1830s Virginia, was a definite hit. In addition to being a success with reviewers, the historical novel was also a cultural event, in part because it ignited a firestorm of controversy: How dare a white Southerner like Bill Styron be so audacious as to think that he can portray a black slave revolutionary like Turner. Styron not only survived the attacks, he came back fortified. His next work is undoubtedly his most powerful: Sophie's Choice. It is an epic novel about a young Southern writer who travels to post-World War II New York where he befriends a survivor of Auschwitz and her lover. Styron's themes are good vs. evil, and memories and secrets.
In Reading My Father, Alexandra Styron, born in 1966, has produced a deeply personal account of living with a literary giant. But her story is also about the fundamental relationship between a father and daughter. For Alexandra, that involved coming to grips with her dad's sickness and eventual helplessness from chronic depression. (William Styron's 1989 book, Darkness Visible: A Memoir of Madness, is searing yet life-affirming. The description of his struggle helped the public finally understand and acknowledge depression as a genuine illness.)
I recently talked with Alexandra about William Styron and what it took for her to finally understand the man she called Dad.
---
What's the most important thing you learned from your father?
That human dignity, and the rights of all men, are important. My father was committed to social justice, often sticking his neck out on behalf of principles and people he thought needed defending.
During the Clinton presidency, the First Family socialized with your parents on Martha's Vineyard. What did they talk about? Politics? Literature? Gossip?
When they first became friends, it was because Mrs. Clinton had been particularly keen to know my father. She was a fan of his work. But the President was also enormously well read and always wanted to talk about what he'd been reading. His love of literature and my parents' passion for politics created a pretty funny impasse one night when Gabriel Garcia Marquez was there for a visit. He and some other Latin-American friends were interested in pressing President Clinton on our relationship with Cuba. All Marquez wanted to do was talk politics and all Clinton wanted to do was chat about books. It went on like that all night.
What did your father regard as his best writing?
I don't know the answer to that, definitively. But Sophie's Choice represented the synthesis of all his gifts at the height of his power. I know the response he got was very gratifying. He spent a lot of the rest of his life trying to follow that act.
What do you consider to be your dad's best writing—and why?
I know more than one writer who has read Sophie's Choice multiple times to try to understand its remarkable structure. From a craftsman's point of view, that book is an extraordinary achievement. But I also love the work that's almost opposite in scale, A Tidewater Morning. That's his book of short stories, and it's particularly wonderful. They are intimate, without being little. Especially as his daughter, I find them terribly moving.
The South produces some great writers in addition to your dad. Why do you think that region has so many talents?
Well, I'm not sure it produces any more great writers than does the North or West. But there's an inevitable regionality, a vernacular, to the literature of the South. I suspect it comes not only from language but the burden of a shared history. Or, I don't know, maybe it's the climate. There was certainly a special fraternal quality to the friendships my father forged with other Southern writers such as Willie Morris, Reynolds Price, and Robert Penn Warren. They had immediate shorthand that probably doesn't exist amongst writers of the other major regions.
Entertaining and socializing were very important to your parents. William Styron always seemed to be surrounded by bright lights, in practically every field. Other than the fact that your dad was a gifted writer, why did people always seem to be attracted to him—did he have a secret gift for friendship?
My father's daily life, like most writers', was very solitary. But one of the discoveries I made going through his archives was how many close friendships he had, and how deep they were, expressed largely through letters. He lived in Europe when he was getting started, and many of his friends were scattered across continents. But they kept up a very loyal communication through the mail. Thanks to my mother, my parents did entertain a lot. They were friends with fascinating people from many different fields, people who may have come once for my father's conversation and sense of humor—but kept returning, I think, because of my mom. Nights at our house were fun and boozy and warm because of her. She was an amazing hostess.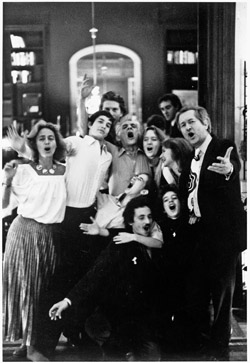 Courtesy Scribner
Your dad was part of a group of writers such as James Jones and Norman Mailer, men who had reputations for being pugnacious. They drank hard. Was that reputation accurate?
Well, people romanticized them. There's an aspect of them that's a caricature, always drinking and carousing. In this book, I wanted to individualize my dad's story, and puncture the myth about him, amplify aspects of his life that are the most interesting, so that he seems more than a two-dimensional character.
Nevertheless, alcohol did play a significant role in your dad's life. You write about how he used it to "charm the considerable powers of his creative muse." You also quote someone who says that in your father's circle of friends, the amount of bourbon consumed was beyond belief.
The men of my dad's generation, and probably the generation before them, weren't expected to attend to anything except their work. Alcohol, which would make it impossible to take on all the roles that grown-ups take on today, was a major force in allowing them to spin-out both creatively and personally. Everything they did, they did to an extreme. I grew up in a household where my father was not expected to do anything except make his art. We were all enthralled to it.
Do you see alcohol playing a role in the lives of your male writer friends today?
They all happen to be pretty good fathers and husbands, and they attend to the daily routines of life. They also get their writing done. Liquor can grease the wheels of creativity, but also do a lot of residual damage to the rest of your life.
In the 1980s, when your dad started having his worst bouts with depression, those were the pre-Prozac days. No one had really written about depression, explaining it. What did you think was happening to your dad?
We thought he was going crazy—whatever that means. We were naïve with the language, as many people are. But we thought he was simply losing his mind.
You were somewhat unaware of the depth of his illness.
I was 18, and I only had one toe in family life. I was at college, had a boyfriend, and went to Europe for the summer. It was that point in adolescence when you're taking great pleasure in the fact that you don't have to be tied to your parents at all. And so I was kind of turning a blind eye to what was happening to him. Depression didn't really have a public definition at all. It did in medical circles, but depression wasn't anything that anyone ever talked about as an illness.
When Sophie's Choice was published in 1979, you write that you were relieved because you had started doubting that your dad did anything besides sleep all morning and spend the rest of his day stomping in and out of his study.
I was 12 years old when that book was published, and it was his first book in my conscious lifetime. I wanted very much for him to make something that I could actually understand and be proud of.
When did you realize that your dad was a major American writer?
I always had a sense that my parents were different, and that my father was important. We lived in a small town in Connecticut, and there were a couple of other people like us, but being a novelist was highly unusual and I think I knew that the profession was something to be proud of. By the time I was seven or eight years old, I understood that there were books on the shelf that my dad wrote and that people thought those books were great works of art.
Your dad is Southern, and the South figures prominently in Reading My Father. You visited North Carolina when you were looking at colleges, but it didn't take. However, you are married to a Southern man.
Well, he actually grew up in New Jersey. But his parents are deeply Southern. Everyone thinks my husband is Southern because he speaks with an accent.
At one point you write that when your father grew disgusted with his circumstances he threatened to move the family to Virginia and that this prospect really frightened you.
Oh, yes. My God. I thought Virginia was some swampland.
Have you changed your view?
Yes, I'm quite proud of my Southern heritage. Thanks to my grandfather, who kept scrupulous records of our ancestry, I can trace my lineage back to the first settlers of North Carolina. I think my father really loved the way my marriage to a man whose parents are Southern closed up the circle. But I'm still a New England girl who has lived in New York City for more than half my life. I think my personality would probably, over time, drive my Southern relations nuts—and vice versa.
There's a great scene in your book, when you visit Duke with your dad, and he's trying to sell you on the school. But he's also rather pleased with himself to now be this big man on campus, this famous graduate.
Yeah. I think that kind of recognition from his old college really tickled him. My father was sort of guileless in certain ways. There was this aspect of him that was terribly amused by who he'd become. Daddy was always so flattered when people told him they admired his work. Can you believe how far I've come?, he'd say. It was delightful to see that in his eyes, and I definitely saw that when he went to Duke with me.
In 2001, you published your novel, All the Finest Girls. By that time, it had basically been 22 years since your dad's last novel. Was he jealous?
That was the beginning of his final spiral. I imagine that in the panoply of bad dreams he was having, there was one where his child was publishing a book and he had a manuscript gathering dust on his desk. I can only imagine what intimations of mortality that would bring about. How frightening.
Did he celebrate your book?
He was at my book party and took a bunch of my friends to dinner. He joined in the general celebration, but his lack of complete enthusiasm really stung. I really didn't understand what was happening with him until I wrote this and realized what he was going through.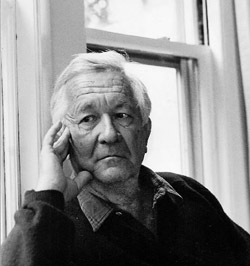 Courtesy Scribner
For Reading My Father, you interviewed author Peter Matthiessen, one of your dad's oldest friends and a founder of the Paris Review with your dad. And what struck you was how much your dad envied Matthiessen's writing discipline.
My dad envied Peter's global discipline. Peter is a Zen priest, and he spends hours in a dojo leading students and practicing his religion. He embodies life-affirming aspects on which my father had somehow lost his grip. One of those was faith. Peter still had access to that, and daddy didn't.
Your dad received electroshock therapy for his depression. Did it help him?
In theory, it should have helped. But there were a lot of concurrent issues with dad, not the least of which was a pretty intense anxiety disorder. These complications ended up being incompatible with the monumental nature of the treatment. I understand it can be enormously effective for the entrenched clinical depression. It's particularly effective with elderly patients. But I would never offer myself as an expert on anything psychiatric. Having been a close witness, I would say most of the time that ECT, as it's known, is an excellent option when other avenues haven't panned out. It's not One Flew Over the Cuckoo's Nest anymore. Modern psychiatry has come a long way. Sadly, it just wasn't the magic bullet we hoped it would be for my father.
When you began researching your dad, you discovered that his life story emerged through his letters, which are housed at Duke. They tell you the story.
That's right—the letters tell you the story. And it was a whole sort of side story to me, spending time in someone's archive, realizing that letter-writing is so intrinsic to understanding the paths of people's lives. There's this incredibly rich journey that you only get from reading letters. Email won't ever be able to do that.
There are some fascinating characters in your book. One is Bennett Cerf, who founded Random House. He was later known for being a panelist on the What's My Line? TV show. He made an enormous impression on you.
Bennett was charming and liked children and embodied the word "cosmopolitan." He was right out of a glamorous 1950s movie. He was sophisticated, but he would get down on my level. As a five-year-old little girl, I sort of had the sense that he was responsible for Dr. Seuss. He published those books so I equated him with this child-loving figure who brought that whole world to life. For my father, Bennett was similarly this step into the high society literary world. Once my dad was in Bennett's stable, he was part of the red-hot center of publishing.
One of your dad's friends was playwright Lillian Hellman. From many accounts, she seems to have been a pretty reprehensible character. What about her appealed to your dad?
Well, we all ran when Lillian showed up because she didn't like children and she would say, "Get out of my way, kid!" [laughs] My father's old friend John Marquand loved to tell the story of what happened when Lillian told me to be quiet. I put my hands on my hips and said, "Want to make something out of it?!" [laughs] Nobody had ever talked back to Lillian Hellman. That was sort of my role as the youngest Styron child. I was always pushing the envelope, and I sensed that my father liked it. My father encouraged me to be a bit of a wise-ass because he was a wise-ass.
But what did your dad like about her?
When I interviewed Mike Nichols, who was my father's friend, I asked him that same question. Mike was a good friend of Lillian's, too. He said, "Lillian was a great friend." And there are letters from Lillian in my father's archive that bear that out. She didn't like children, and she could be a pain in the neck—but she was smart and incredibly funny. She was darkly funny in a naughty way that my father loved. People didn't forgive Lillian for her shortcomings toward the end of her life, but there was a lot of bearing with her because of her considerable charms.
Playwright Arthur Miller was one of your neighbors in Connecticut, and he was also a friend of your dad's. Miller has a son, Daniel, who is the same age as you are, but Miller kept Daniel a secret because he was born with Down syndrome. "Arthur couldn't deal with it," you quote your mom as saying, "so he sent Daniel away." Arthur Miller didn't even acknowledge Daniel in his memoirs.
I have a glimmer of memory about Daniel because I once played with him when we were kids, but that was truly the only time we ever talked about him. The bizarre aspect of Daniel's story is that Arthur never mentioned him.
In Reading My Father, you write, "Until 2003, there was no public reference to Daniel anywhere, including Arthur's six-hundred-plus-page autobiography. That my parents were complicit in the conspiracy of silence troubled me long after I had begun to make some sense of it."
This was just not a subject that my parents talked about. Maybe it didn't figure so prominently in their lives—or maybe it did and they chose not to talk about it because they loved Arthur and his wife, Inge. People make choices for their own private reasons and one doesn't necessarily question them.
When The Confessions of Nat Turner was published, Marxist historian Herbert Aptheker attacked your dad, basically accusing him of promoting racial stereotypes. How did that make your dad feel about the hard left?
My father wasn't much for polemicists on either side of the spectrum. So I think he would put them in the category of reactionary, which he disdained. But he did take the attacks very personally. He was thin-skinned. Those attacks hurt his feelings, and made him angry.
Herbert Aptheker and his allies essentially blacklisted the movie adaptation.
Yes. They shut that project down. Dad believed he was on the side of black Americans when he wrote that book. To be roundly assaulted as though he were an enemy of the American black population was devastating.
William Styron was an only child. How much did that define him?
A lot. I'm always struck by the long list of successful people who are only children, particularly highly literate people. Only children can live in a solitary environment, and if they have parents who encourage them in a thoughtful direction, they can really run with it. Dad always marveled at the fact that he had four children. Our house was a madhouse of children, animals, and people who worked for my parents. He sometimes thought he had been dropped into this carnival. He would wander in, take some pleasure out of what was happening, then retreat.
There are some great scenes in this book from your youth. One recurring scene is you're always watching television. You're living with this great writer—but you really love the tube. You watched lots of television.
I did. I'm ashamed to admit it, but in the spirit of honesty I have to confess that growing up, I was an inveterate TV idiot.
And your dad hated it.
He was oblivious to it until he would hate it. My dad's version of parenting was to be oblivious to all of us 90 percent of the time. Then, all of a sudden, he would explode into a fury about something that, in the case of my TV viewing habits was, legitimately, completely unacceptable. He would fly into a rage and I would cry and the TV would be turned off for three days. But before you know it, I was sitting in front of the TV again.
You were an actress for part of your life, and you lived in Los Angeles. What did the West Coast do you for?
L.A. was a good part of my life because I became a writer there. Los Angeles was the last stop on the whistle train of being an actor.
Did people in L.A. know who William Styron was?
[laughs] A few, believe it or not. Isn't that the cliché? [laughs] Actually, quite a few people did. I had an interesting social life out there.
The opposite coast, however, is where some of your happiest memories take place. Martha's Vineyard seemed to mean the world to your family.
You have to understand that in Connecticut we lived in a creaky old farmhouse on a country road. The long winters brought out the darkest humors in my father, and my mother was away a lot. She was very involved in human rights work and was in New York and out of the country. We were left alone in a big, scary farmhouse in the woods. It got dark at three o'clock. But then come June, we would all decamp to Martha's Vineyard, to this beautiful house on the water next to a beach club filled with children. I could walk through the hedge and into this cheerful social life all day long and sail and swim and play tennis. Daddy was relaxed. My mother was there, and she was happy. The days were long and it was a kind of paradise. There was always a catch in my throat when we would return to northern Connecticut in the fall.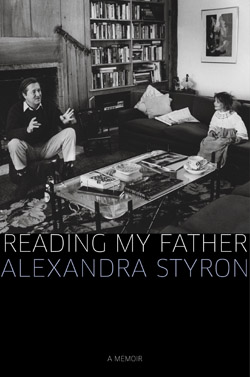 Scribner
Was the photograph on the cover of Reading My Father taken in your house in Connecticut?
Yes. That's the living room, and it was my father's domain.
He appears to be telling a story.
He wasn't talking to me. He was giving a newspaper or magazine interview, which he often did in that room. And I knew to never open the door. I had done what I would occasionally do, which was to insinuate myself into the situation. I remember that day. I was playing the ham. For some reason, that interview seemed like a time when I could sneak in and cut up a little bit.
You delivered one of the eulogies at your dad's memorial service, and you described your dad's habit of telling scary stories and macabre jokes. "My father used to scare the crap out of me," you said. Why did he do this?
He was telling us that life requires courage—and a sense of humor.
Would William Styron be surprised that America elected a black man as president?
Dad was always cynical about the state of affairs, and so I don't know that he would have ever dreamt that would happen. But I so wish he'd lived to see the day because it would have thrilled him. It would have given Dad one of the greatest satisfactions of his life.