30 Rock's 100th Episode: 4 Best Scenes
Dennis Duffy returns, Jack clones himself, Tom Hanks guest-stars, and more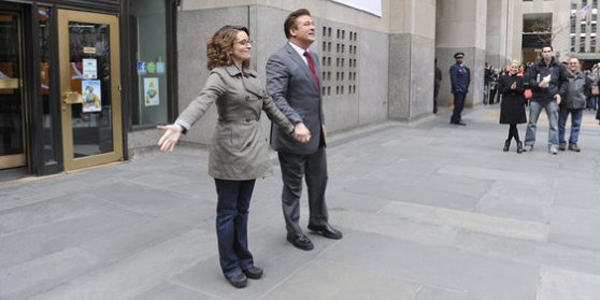 NBC
Any 100th episode deserves a little bit of hype, and 30 Rock certainly got theirs, particularly due to the success of Tina Fey's new book, Bossypants. Luckily, this was one fantastic week in the history of 30 Rock.
Starting out with a bit of nostalgia with a few clip montages, I was worried that we'd be stuck with the ghost of 30 Rock past, but the show's focus quickly turned and offered some truly great and classic plotlines. We also covered some comfortable 30 Rock territory during the hour-long episode—fantastic guest appearances (Michael Keaton! Tom Hanks!), self-referential humor provided by Ken Howard and Alec Baldwin, a few cracks at NBC, cameos by the janitorial staff, and the return of Dennis Duffy.
And now, three moments in this episode that make us wish for 100 more:
1. Dr. Spaceman strikes again, this time while he's on hand after the gas leak (and during Jenna's hysterical pregnancy).
2. Tracy's painstaking efforts to lose his now-golden reputation
3. Jack Donaghy to the fourth power! During the gas leak, Jack confronts versions of himself that he's not quite sure he likes.
Best random quote that has nothing to do with the show's plot: "My motorcycle got impounded for being parked too awesome." –Dennis Duffy