Where the Cover of Your Favorite Novel Comes From
The Farrar, Straus and Giroux art director behind the jackets of Freedom and 2666 explains what goes into designing a book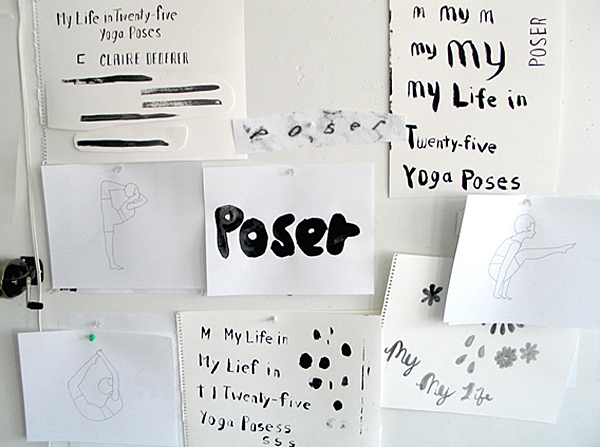 The wall of Chris Silas Neal's studio. Neal worked with Charlotte Strick on illustrations for Poser, by Claire Dederer. Courtesy of Chris Silas Neal
Every three months or so, we gather together. In our hands, launch meeting packets still hot off the copy machine. Our editor-in-chief sits at the head of the double-long conference table, and introduces us, the weary and largely bespectacled, to the newest crop of books. Over the years I've found that most editors describe their hopes and dreams for their future covers in the same ways. Please make them look "hip," "sexy," and—oh yes!—"fresh, too"! Our job as jacket designers is to keep reinterpreting these well-worn requests.
Book jacket designers are such rare birds that people outside the publishing industry are generally shocked to learn of our existence. My father was a publisher, and my earliest memories include frustrations that the covers of my favorite books in my parents' library didn't match their interiors. I've been privileged to sit through 33 or so launch meetings during my 11 years at Farrar, Straus and Giroux, located on the 7th and 8th floors of 18 West 18th Street in New York City. Our cadre of authors includes, to name only a few, Jonathan Franzen, Lydia Davis, Jeffrey Eugenides, Ian Frazier, and Marilyn Robinson. I'm in very good company.
Even though I frequently have designs for titles from the previous season still on my plate, and just when I think I can't possibly come up with another original idea for a cover, the creative sparks begin to fly. At the launch meetings, editors take turns presenting recent acquisitions. Inevitably they speak of "the best novel by a newcomer they've read in years" or the one they "hope will finally break this deserving author out." Sometimes all the stars seem to align. An editor might describe a lush new memoir set in Cambodia ... when just the week before a photographer serendipitously sent me a link to her online portfolio of breathtaking images from a recent trip to Phnom Penh.
As the books are introduced, each of us begins to wonder: Will I solve the problem with illustration or photography? If the title is brilliant and descriptive, maybe an all-type treatment that's bold and clever is the best solution. (These are always my favorites.) Is there even any budget for art after the copy-editing fees, production costs, and author's advances have been tallied? No? Never mind! We'll get out our paintbrushes and dust off our cameras and get to work.
Once we designers have made requests for certain projects or authors, read through the manuscripts, researched fonts, and composed sketches, then the in-house roundtable made up of the heads of our publicity and sales departments and several high-ranking members of the editorial staff weigh in. We state our cases for the research we've done and the color choices we've made. We cross our fingers and toes and say silent prayers to the design gods in the hopes that our babies don't end up in the recycling bin—or, worse, that the chosen design is the one we like the least. "Why did we decide to show that one?" we curse ourselves.
Here's an example of how the process can work. A few seasons ago I asked to work on the jacket for Poser: My Life in Twenty-Three Yoga Poses, by Claire Dederer. The topic appealed to me, the title made me smile, and, like the author, I was trying to find some balance in my life. Like many modern city-dwellers I thought a yoga class squeezed into my lunch hour might go a long way to clear my head and even open up new gateways for creative thought. This was a unique opportunity to approach a design assignment from the inside out.
My first instinct was to come up with a three-dimensional design that mimicked the practice of yoga. I researched photographs and diagrams of advanced poses and even sought advice from my yoga teacher. My plan was to come up with yoga positions that would stand in for the five letters that made up the title: a variation on the Natarajasana pose for the "P", a Dhanurasana position for the "O." I made silhouettes of them, propped them up, and hoped to photograph these letter-people casting graceful shadows on the page.
In my mind's eye the concept looked brilliant, but in reality it was all too fussy and totally unreadable. What was clear early on was that the photographs of the posing women were too literal and that illustration would not only add a playfulness (in keeping with the author's tone) but also allow for increased (if not somewhat superhuman) flexibility in the letterforms.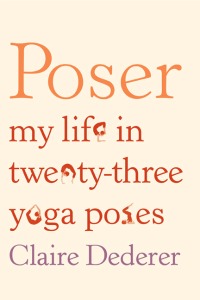 I hired the very talented Chris Silas Neal to render this for me. Interestingly, a gender divide within our company emerged. Around the office it seemed that the men could not immediately read the illustrated title and thought it was too much work to ask of the consumer, while the majority of women enjoyed the visual challenge. For a while the whole idea was scrapped. Other illustrators' names were tossed around, and for a time we wondered if photography was the answer. I prowled my favorite stock photography sites and one generous artist I know even photographed a yogi friend of hers on spec for me. Nothing I came up with seemed quite right to the editor, author, or to me.
We needed something bold and original that would appeal to the "Eat, Pray, Love" readers, who had embraced that particular book jacket's memorable, stylish aesthetic. I couldn't get my original idea out of my head and wondered if there might be a way to preserve it. I revisited the pile of printouts of possible solutions from the preceding months, when it dawned on me that it was really the subtitle, My Life in Twenty-Three Yoga Poses, that was doing the work to sell this book. If I interspersed Chris's hand-drawn women with actual letterforms, one's brain didn't have to work quite as hard to sort out the graphic wit. By setting the subtitle as large and as visually important as the title, I felt I finally had a winning solution. With my newly conceived layout in hand I marched upstairs to present it. The editor actually giggled when she saw it. And so another jacket design puzzle was solved.
Anything and everything might find its way onto a book jacket. We cover designers are notorious for squirreling away bits of paper from flea markets, antique shops, our grandparents' attics, and our best friends' trashcans. Once when I was on my way to meet my future husband at the movies, I passed a '70s-style, upright vacuum cleaner lying amongst some trash bags by the curb. I doubled back and pried its divine avocado-green and mustard-yellow plastic bag from the chrome handle.
The company logo was just too stylish, the material just too perfectly vintage to be left behind for the city dump. I will admit to having seriously considered wheeling the whole thing down 2nd Avenue to the cinema. Years later, a scan of this vacuum bag made its way onto the spine of a book that chronicled the styles of the Disco Era. Everything is worth hanging onto.
Book jacket: Courtesy of Charlotte Strick