Tom Waits: From Tropicana Motel to Rock and Roll Hall of Fame
A look at the career of the raspy-voiced singer-songwriter, who has always seemed slightly out of step with his contemporaries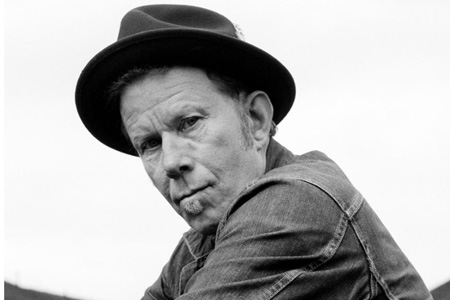 Michael O'Brien
Tom Waits has always seemed out of step with his contemporaries—a perpetual outsider chasing sounds and styles long since abandoned by the musical mainstream. With his porkpie hats, second-hand suits, and raspy voice that suggests a beaten-down truck revving up on a cold winter morning, Waits looks and sounds like a down-and-out wino on the tail end of an all-night bender, like someone more likely to sleep in a rain-drenched gutter than pen the wrenchingly sincere tunes that have earned him a cultish fan base and, as of March 14th, enshrinement in the Rock and Roll Hall of Fame.
Waits is complicit in the mythology that shrouds his life, boasting, "I'll tell you all my secrets but I lie about my past." He claimed to have been born in the backseat of a taxicab, and spent a portion of the '70s squatting in the dingy Tropicana Motel in Los Angeles, where he composed music on a piano wedged into his tiny kitchen. The boozy lounge act he honed in nightclubs across the country chronicled with equal measures of humor and pathos the ragtag lives of the derelicts, prostitutes, and outcasts that populate the seedy underbelly of U.S. cities. Nighthawks at the Diner, his two-disc live album from 1975, is a perfect distillation of the jazzy, neo-Beatnik persona that he adopted onstage. The album swerves between finger-snapping spoken word pieces set in all-night diners where the "coffee is too weak to defend itself" and lachrymose piano ballads about heartbroken tramps drowning their sorrows in gin and vermouth. Waits's early albums were tender, playful, and sharply attuned to the vernacular of American street life. And like a dedicated method actor, Waits gave the impression that he was no different than the misfits and drifters who inhabited his songs.
In the early '80s Waits underwent a musical metamorphosis. Feeling personally and artistically exhausted by his role as the bard of the barflies, he decamped from the Tropicana Motel, found work writing the score for Francis Ford Coppola's notorious flop, One from the Heart, and married an assistant story editor at Coppola's Zoetrope Studios named Kathleen Brennan, who would push him toward exploring a deeper range of sounds and moods. The albums that comprise the "Frank's Wild Years" trilogy—Swordfishtrombone, Rain Dogs, and Frank's Wild Years—killed the lounge act in favor of a so-called "junkyard orchestration" of found sounds. Brake drums, metal aunglongs, marimbas, Hammond organs, and glass harmonicas meshed with Waits's growling voice to create a startling and occasionally dissonant array of clanging harmonies. No musical genre seemed off-limits, from sambas to polkas to blues.
These albums also marked a shift in Waits's evolution as a songwriter; as he noted in the tourbook for Frank's Wild Years: "Before, I felt like this song is me. I'm trying to get away from feeling that way, and to let the songs have their own anatomy, their own itinerary, their own outfits." But one thing that didn't change was Waits's thematic focus on urban fringe-dwellers. While he still crooned about coffee shops where "the donuts have names that sound like prostitutes," the albums' throbbing percussiveness made his nighttime street scenes seem darker and more immediate. No longer were the midnight ramblers in his songs holding up lampposts with empty flasks in their back pockets; now they were dousing their houses with gasoline and watching with glee while they burned to the ground.
Waits has long since left his native Los Angeles for the wine country of northern California. These days, he's more likely to show up in an arthouse film than in a dive bar on Skid Row. Yet his rooted domesticity has not diminished his restless artistic ambitions. The 2004 album Real Gone found Waits scratching turntables and sputtering out syncopated beats through his cupped mouth. And just this past month, Waits made his long-awaited literary debut with Hard Ground, a collaborative art book that intersperses Waits's sparse poetry among haunting black-and-white photos by the acclaimed photographer Michael O'Brien.
Despite it all, for many fans Waits remains inseparable from the nighthawk persona he cultivated in the '70s. While Waits has never entirely shed this persona, he is keenly aware of its limitations, and has no desire to coast through his golden years as a nostalgia act, like so many of his contemporaries do now. His insistence on exploring new musical territories has allowed him to maintain his status as a consummate outsider, an uncompromising experimentalist swimming against the popular tides.
His induction into the Rock and Roll Hall of Fame, perhaps the ultimate insider award, is unlikely to change anything. After all, as someone who has taken great pains over the course of his career to dissociate himself from the standard styles and sounds of the rock genre, Waits most likely will find his place in the fringes of the Hall, among those offbeat musicians who might find beauty in banging on a brake drum or screeching into a bullhorn. And even though he'll attend the enshrinement ceremony in New York City on March 14th, it wouldn't be a stretch to assume that he'd much rather be swapping tall tales and whiskies with the barflies along the Bowery.