Thoroughbred Racing's Off-Track Scandal: Somebody, Please, Save the Horses
The Thoroughbred Retirement Foundation, a charity to care for ex-racehorses, is the target of abuse and neglect allegations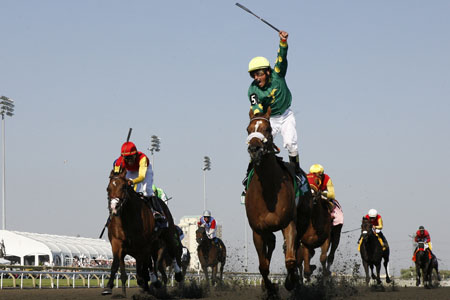 Reuters/Peter Jones
Just seven weeks from Derby Day, thoroughbred racing reeled and dealed this weekend with an off-track scandal involving allegations against one of its most renowned horse rescue groups. Joe Drape, the respected sports journalist and author, broke the story Friday on the front page of The New York Times. Here is his lede graph:
"One of the largest private organizations in the world dedicated to caring for former racehorses has been so slow or delinquent in paying for the upkeep of the more than 1,000 horses under its care that scores have wound up starved and neglected, some fatally, according to interviews and inspection reports."
Drape reports that the Thoroughbred Retirement Foundation, based near the legendary racetrack at Saratoga Springs, New York, has been operated at a deficit in recent years and has failed to properly pay dozens of feeder farms to care for unwanted (typically older) thoroughbred horses.  As a result, Drape writes:
"For example, at the 4-H Farm in Oklahoma, inspectors last month could find only 47 of the 63 retired horses that had been assigned to it. Many of those were starving. The rest had died, probably of neglect, inspectors concluded. Last week, at a Kentucky farm that is also supposed to receive money from the foundation, 34 horses were found in 'poor' or 'emaciated' condition, inspectors found. One horse had to be euthanized because of malnutrition."
It was a strong piece by a good reporter who knows horse racing and the people in it. And by mid-morning Friday, one of those people, another venerable voice in horse racing with the hops to have some credibility, had answered back. Turns out that Ray Paulick, whose Paulick Report is a must-read for owners, trainers, jockeys, and horseplayers alike, is a member of the board of directors of the TRF (It's a small world after all). Paulick didn't appreciate the conclusions offered in Drape's piece. In an online piece titled "No Easy Answers," Paulick wrote:
"The allegations made by Drape - which I dispute as largely false and reckless -- are painful....The accusations are sickening and appalling to me, and I'm sure to everyone who cares about animals. No one affiliated with the TRF condones a single horse being abused or neglected, and in every instance where issues or complaints have been raised, I can say with confidence the TRF acted swiftly to investigate and take appropriate action. I dispute many of the assumptions stated as fact in Drape's article but feel nothing is gained going point by point over those allegations."
Paulick rightly reckoned there was no upside in taking on Drape and the Times. But that didn't stop the TRF itself from going after the messenger who had first delivered the message about the neglected state of the horses. On Saturday, reported Drape, the foundation fired Dr. Stacey Huntington, the seasoned veterinarian who had chronicled the condition of the horses. Why? TRF president George Grayson said it was because of "serious questions about her objectivity." Any honorable vets out there who want to apply for that job now in the wake of this mess?
As someone who has been heavily involved for years in horse-related charities designed to save and protect standardbred race horses, I can attest to the fact that horse rescue groups are, generally speaking, no day at the beach. Moreover, the logistical and financial structures in place in North America to save unwanted older horses (in both the thoroughbred and standardbred industries) are in desperate need of revamping and re-modeling. But that's still no excuse for what Drape's report reveals.
Despite tough economic times, there is still more than enough money in horse racing to support a viable safety net that protects horses from neglect and abuse. You can see that with your own eyes in an hour on television on the first Saturday in May. This is especially true when you consider that some of that money has been either made or transferred on the backs of those beautiful racehorses. In the meantime, I humbly think I speak for everyone in horse racing, or anyone who loves horses anywhere, when I say: no matter who is at fault, no matter what happens to the TRF from here, please, someone, take care of those poor damned horses.