'The Weather Man': Nicolas Cage's Last Good Movie
The 2005 film, directed by Pirates of the Caribbean's Gore Verbinski, is the actor's best work in recent years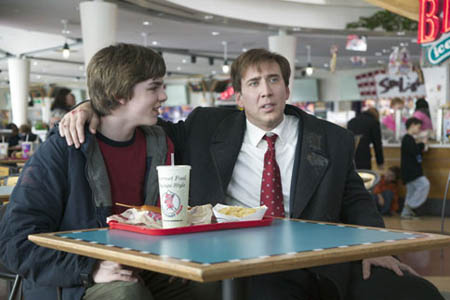 Paramount Pictures
The Oscars may now be in the rearview, but thankfully so is the annual studio dumping ground of January and February. This week offers what looks like a refreshingly not-awful slate of new releases, including the animated Western Rango and the Matt Damon-in-a-fedora conspiratorial thriller The Adjustment Bureau, in addition to soon-to-expand single-screen premiere Uncle Boonmee Who Can Recall His Past Lives, a Thai film that took top honors at last year's Cannes Film Festival.
And unlike so much recent theatrical fare, each of these three films would make a terrific jumping-off point for a fruitful weekend of home viewing. The Adjustment Bureau, the directorial debut of screenwriter George Nolfi (The Bourne Ultimatum), might lead viewers to other sci-fi noirs adapted from the writings of Philip K. Dick, such as Blade Runner, Minority Report, and A Scanner Darkly; the beguiling Uncle Boonmee might inspire a selective survey of past Palme d'Or winners, which include some of the best films of all time.
For its part,
Rango
might point the curious to the short but sneakily eclectic filmography of its director, Gore Verbinski. Best known for having helmed the first three entries in the massively successful
Pirates of the Caribbean
franchise (one-time Oscar nominee Rob Marshall directed the series' fourth salvo,
On Stranger Tides
, which comes out in May), the 46-year-old Verbinski has also churned out a self-consciously edgy comedy (the 2001 misfire
The Mexican
) in addition to an unusually well-mounted horror remake (2002's
The Ring
). All but hidden in the shadow of the
Pirates
tentpoles is 2005's
The Weather Man
, which came out in between
The Curse of the Black Pearl
and
Dead Man's Chest
. The downbeat comedy made no waves at the box office (its domestic theatrical gross was around $12.5 million), but the idiosyncratic, still-underrated film is well worth visiting upon the release of Verbinski's follow-up one-for-me project, which, it should be noted, has been getting
some terrific reviews.
The Weather Man, written by Steve Conrad (The Pursuit of Happyness), stars Nicolas Cage as Dave Spritz, a Chicago TV personality whose on-air chirpiness ("Spritz Nipper" appears to be his most indelible catchphrase) contrasts rather starkly with his under-a-cloud real-life demeanor. The actor, relatively controlled here, hasn't done better work since. But that's not to say Verbinski's appealingly off-kilter film totally lacks the crucial antic-Cage element—a recurring motif here involves Spritz getting pelted with various fast-food items, from hot apple pies to Big Gulps worth of "pop." Cage memorably registers his displeasure in slo-mo.
An unforgiving Midwestern winter sets the scene for Dave's myriad family-life predicaments. His wife (Hope Davis), whom he still harbors hopes of winning back, has taken up with another man; his 15-year-old son's rehab counselor is trying to molest him; taunts of "Camel Toe" meet his daughter at school; and the prognosis for his father (Michael Caine), a Pulitzer Prize-winning novelist and all-around voice of reason, is not good. Rather than rise to each occasion, Dave descends into a spiral of self-pity. Doing the right thing is not his forte. Dave is a generally well-meaning guy—just with severely limited patience for the demands of minor celebrity, in addition to a vindictive streak and a Frank Bascombe-like tendency toward "dreaminess," manifested here in occasional stream-of-consciousness voiceover. In perhaps his most cringe-inducing lapse in judgment, he reads a note he's expressly instructed not to at a last-gasp marriage-counseling session. We learn in Dave's narration that "a sense of scale" is one of the few substantial requirements for his not-a-meteorologist weatherman job, but he seems to totally lack one when it comes to his personal life. Robert Spritzel, Dave's father, provides a dignified counterpoint—though the prizewinning scribe comes across as too meddlesome to be a man who truly has his priorities straight, one of the film's most glaring faults.
With his family in shambles, Dave interprets his professional success almost as a form of punishment. A national Bryant Gumbel-hosted morning show has been courting his talents—even as he comes to fully appreciate the job's paradoxical nature, requiring as it does jovial predictions of the essentially unpredictable. (Temporarily weather-map-less green screens serve throughout as a nice metaphor for the void.) To feel like he has control over something, Dave takes up the hobby of archery, trying to put his mounting disappointment in the crosshairs.
The Weather Man is a rare studio comedy about the very precariousness of any balance between the personal and the professional—most other films that tackle this subject, like the recent Cedar Rapids, a lower-budget affair, opt to focus on the buttoned-down antics of their provincially wacky caricatures rather than showing them confronting serious disappointment head-on. The most impressive thing about The Weather Man is how it manages—without seeming pedantic or oppressively grim—to organically become a minor-key examination of what constitutes an "American accomplishment." Perhaps Rango, despite its PG rating, will also shade into darker, more complex terrain than expected—a prospect that's especially intriguing after months of surface-skimming multiplex fare.