'The Good Wife': The Truth Comes Out, Slowly
Alicia still has not found out about her husband's most hurtful episode of infidelity—but she will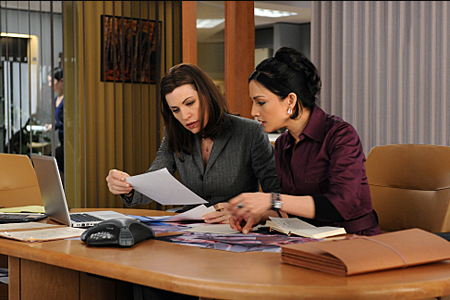 CBS
The other shoe has not yet dropped, but a clip from next week's episode suggests that Alicia will learn of (yet another one of) her husband's infidelities in the past, but perhaps not the identity of Peter's bedmate. While the sensitive question has all but demolished Kalinda's usual steely calm, Cary reveals a kindly side, seeking to help Kalinda find who knows about her long-ago transgression and whether the information is likely to reach Alicia.
The key to all this maneuvering proves to be a lawyer in the State's Attorney's office who may or may not be hoping to use it for leverage pending the outcome of Peter Florrick's campaign for his old post as State's Attorney.
On the legal front, Alicia seeks to help a young woman thwart the efforts of her mother's murderer to profit from the sale of a pop song containing references to the rape and murder of a woman not unlike her mother. Alicia also works with Diane to prevent the procedural incarceration and probable deportation of an innocent Mexican man (the father of Eli's unrequited and unacknowledged love interest) caught up in a mass seizure of Latino males after a burglary in a Chicago suburb.
The Mexican father is exonerated, the murderous song-writer allows vanity to associate him with still another murder, for which he is promptly arrested, and Alicia goes home to make pizza for her kids, still unaware of the storm about to break. Peter, on the other hand, calls the lawyer who might tell all and offers, shamelessly, to be "helpful" in unspecified ways if the lawyer is "helpful" in return.