The Brigham Young basketball star was suspended from the team for having sex with his girlfriend, diminishing the school's chances at a national title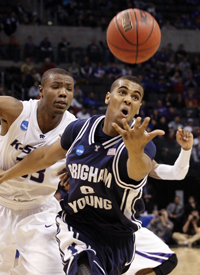 Reuters/Bill Waugh
Several of the top teams in men's college basketball have lost key players to injuries or suspensions this season. Former No. 1 Kansas played without junior guard Tyshawn Taylor for two games when he was suspended for an undisclosed violation of team rules. Duke, which started the season 15-0, lost freshman phenom Kyrie Irving for the season in December because of an injured toe.
But no elite team has faced a loss quite like Brigham Young University, which recently kicked starting forward Brandon Davies, the squad's leading rebounder and third-leading scorer, off the team for violating the school's honor code. Davies's infraction? Having sex.
The sex was reportedly consensual and with his girlfriend. But BYU, a Mormon school, forbids students from having premarital sex while enrolled at the university.
The school's decision to boot Davies from the squad has evoked fiery opinions on both sides. ESPN's Pat Forde praised the move, while an anonymous former student blasted BYU on Deadspin. Honestly, the decision seems pretty straightforward, whether you agree with the code or not. Davies is a Mormon, he attended a Mormon school, he knew the rules, he broke the rules, and the school followed its policy.
"We live this. This is who we are," BYU athletic director Tom Holmoe said in an interview with ESPN. "Most people who come to this school—hopefully all—understand this is one of the reasons they come to BYU."