The Brandon Davies Dilemma: Can Religion and College Sports Co-Exist?
The Brigham Young basketball star was suspended from the team for having sex with his girlfriend, diminishing the school's chances at a national title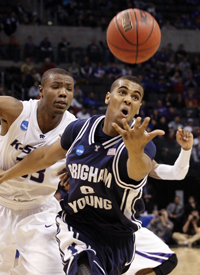 Reuters/Bill Waugh
Several of the top teams in men's college basketball have lost key players to injuries or suspensions this season. Former No. 1 Kansas played without junior guard Tyshawn Taylor for two games when he was suspended for an undisclosed violation of team rules. Duke, which started the season 15-0, lost freshman phenom Kyrie Irving for the season in December because of an injured toe.
But no elite team has faced a loss quite like Brigham Young University, which recently kicked starting forward Brandon Davies, the squad's leading rebounder and third-leading scorer, off the team for violating the school's honor code. Davies's infraction? Having sex.
The sex was reportedly consensual and with his girlfriend. But BYU, a Mormon school, forbids students from having premarital sex while enrolled at the university.
The school's decision to boot Davies from the squad has evoked fiery opinions on both sides. ESPN's Pat Forde praised the move, while an anonymous former student blasted BYU on Deadspin. Honestly, the decision seems pretty straightforward, whether you agree with the code or not. Davies is a Mormon, he attended a Mormon school, he knew the rules, he broke the rules, and the school followed its policy.
"We live this. This is who we are," BYU athletic director Tom Holmoe said in an interview with ESPN. "Most people who come to this school—hopefully all—understand this is one of the reasons they come to BYU."
But the decision raises a larger question: Can big-time college athletics exist at schools that require moral guidelines stricter than those set by society at large? According to BYU's code, the university forbids premarital sex, alcohol, tobacco, tea, coffee, and beards. In today's world, asking the average college student to forgo all those things is unrealistic, if not impossible. Asking college athletes to do so is empirically ludicrous.
The Cougars are not the only big-time school to ask students to adhere to more traditional social mores. Notre Dame's student handbook states: "Students who engage in sexual union outside of marriage may be subject to university sanction." The Fighting Irish also forbid alcohol on campus—even for those of legal drinking age—if it exceeds 14 percent alcohol by volume. Georgetown, long a basketball powerhouse, has a provision in its honor code that "cohabitation, which is defined as overnight visits [on school property] with a sexual partner, is incompatible... with the Catholic character of the university."
The athletics programs at these schools were successful for the better part of the 20th century. But over the past two decades, the evolving social norms of America as a whole have led many members of the current college-age generation to drink, have sex, and engage in activities that would enrage a BYU administrator. The result has been a rise in schools that don't share Notre Dame's social policies and don't mind taking a troubled basketball player who wouldn't have made it to Georgetown.
And in that same time period, colleges with religious traditions have seen their athletics programs decline. Notre Dame's football team claimed 11 national titles in the 20th century, but its most recent championship was in 1988. Georgetown's latest basketball championship was in 1984. BYU's basketball team made it to the NCAA tournament's Sweet 16 five times before 1981—and hasn't been back since. The team has never been more of a title contender in basketball than they were this year, with prohibitive favorite for player of the year Jimmer Fredette in the backcourt and Davies roaming the paint. But Fredette is a senior, and the Davies-less Cougars lost to lowly New Mexico, 82-64, at home earlier this week. BYU's decision to uphold its code has not only cost the team a shot at a Final Four run this year, it's likely sacrificed the best chance the school has for a long time.
And you know what? As counter-intuitive as it seems, BYU's choice is commendable. In an era where a player (Cam Newton) can be accused of stealing a laptop, transfer to a junior college, purportedly be sold to the highest bidder by his father, play on like nothing had happened, and win a Heisman Trophy and a national title, it is refreshing to see an institution cripple its team's chance for a championship by following its rules, no matter how seemingly antediluvian. Just don't expect a national title or top-flight recruits in Provo, Utah anytime soon.