SXSW Music: Jack White, the Vaccines, the Cults, and More
Highlights from the frenzy of the festival, where fans have to chose from several bands playing at the same time at different venues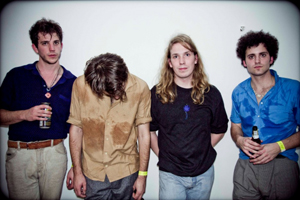 The Vaccines
@hotdogscoldbeer: "Third man records mobile store at Frank today. Go say hi to Jack and Ben!"
@sxswfreedrinks: "Not booze but cool. Antoine Dodson will play at Buffalo Billiards with the Gregory Brothers. 1am. Badges/wristbands"
@do512: "Lupe Fiasco and Cee-Lo canceled their SXSW performances. Boo."
Those are just a few tweets from the first few days of SXSW, and they sum up nicely the manic scene here. This is how Wednesday afternoon/evening went down, for example: "Jack White is playing a Buddy Holly song in front of Frank!" (Frank is a hot dog restaurant/bar. They also have great coffee.) "Now Jack White is playing a White Stripes song!" (That was it. He played two songs.) "Aziz Ansari is doing a free set at Frank at 8:15!" (Which he did. The line stretched too far for us to get in.) "Hey, you can watch his set from the parking lot if you don't get in!" (Which we tried. We couldn't really hear. "Hey, they're threatening to hit us with pepper spray if we don't get out of this parking lot!" (The person who tweeted that last tidbit added: "Way to make local enemies.")
People always say to make sure you have a Plan B at SXSW, but it can be hard to figure out how to have a Plan A. Cancellations, surprises shows, free shows, free beer—it's impossible to keep up with.
The "buzz bands"—the ones that might actually get a boost out of traveling all the way here from Denmark to play five shows in seven hours (for free)—might be better called "line bands," because you're probably going to have to wait in one to see them. (The line will one day move! But it could take awhile.) You'd love to see Odd Future, Yuck, James Blake, Foster the People, etc. But it seems like they're all playing at the same time at four different venues, each with a line that seems to go on forever.
It's that frenzied energy and impossible schedule that makes SXSW so unique in the festival world. (Technically, SXSW is a conference, not a festival, which makes more sense given the logistics.) Take thousands of bands, hundreds of venues, and put them in your washer on heavy-duty spin.
Which is not to say it isn't a lot of fun. Yesterday there were some fine sets by some up and coming bands, the standout of which was The Vaccines, from London. It's high-energy, brief, melodic stuff, and tight. They could be one to watch in case the new Strokes album disappoints you. The band had a cohort of burly, bearded men up front lunging in time and pumping their fists, shouting lead singer Justin Young's lyrics right back at him. Sure, they only played 15 minutes, but we didn't need much more.
California surf-noise group The Cults also did a short set (albeit twice as long). The band's sound doesn't match its name, unless your cult is devoted to worshipping Darlene Love, Slurpees and convertibles. They seem to have a little more energy and rhythm live than on their recordings; hopefully we'll see more of them on the festival circuit.