SXSW Film: 130 Movies, 9 Days, One Mel Gibson
A look at what's ahead at the cinematic component of the annual Austin festival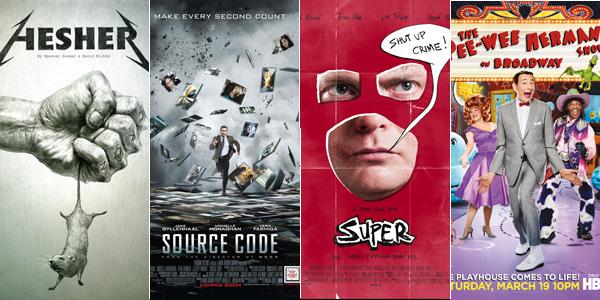 Last Picture Company/Summit/Ambush/HBO
"You gotta be good, you gotta be strong.
You gotta be two thousand places at once."
–The Polyphonic Spree
The last winter freeze has come and gone here in Austin (we think), traffic is starting to pick up, and the locals are walking around with an equal sense of dread and anticipation. SXSW is back, that behemoth gallimaufry of a film, music, and social media festival, and I'm back here at The Atlantic to bring a small part of it to you.
Starting tonight with the premiere of Source Code, the new film by Moon director Duncan Zowie Jones, I'll be diving head-first into a week of film premieres, panels, and schmooze-fest parties. Nearly two thousand films were submitted to SXSW this year, and the programmers have narrowed down the entries to 130 select titles. I'll be lucky if I get to see 20.
It's going to be an exciting week. I'm not sure there's another film festival out there where you have to choose between a panel with Pee Wee Herman, a documentary on assisted suicide in Oregon, and a behind-the-scenes feature on the groundbreaking restaurant El Bulli. It's odd choices like these that make SXSW Film such a special festival: At one moment you'll be watching Michael Stipe screen videos from R.E.M.'s new album, then just an hour later you can catch a midnight screening of Hobo With a Shotgun. (Now an iPhone game!) That hodgepodge of rock, drama, comedy and stranger-than fiction documentaries is a unique force in the film festival world, and I'm fortunate to get to see it and share it with you.
If you're headed to the festival yourself, here are some helpful guides on where to eat, drink, along with some film picks, as well as a rundown of the theater venues.
I'll also be reporting on some of the music events this year, so if there's a must-see you know of, please share those as well. We'll also be running a selected Twitter feed featuring reports from select festival-goers. The next 10 days will likely see me eating queso in the dark while scribbling notes blindly, making friends with random people while waiting in line for 13 Assassins (hopefully none of them in Samurai garb) and other films, and plenty of moral agonizing over whether or not to see the premiere of The Beaver, starring the impenitent Mel Gibson. I should have trained harder.