Public Libraries Take On E-Books
Patrons love checking out books for their e-readers. What a shame publishers still don't know what and how to charge.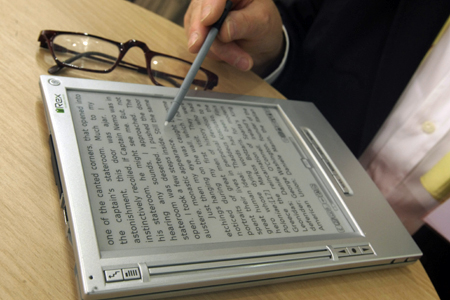 Reuters/Alex Grimm
At every stage of the extraordinary surge in the use of e-books over the past few years, issues have emerged that send all concerned into a swivet. Yet, for all the threats of boycotts, litigation, and drastic overhaul of time-honored publishing practices, so far negotiations have eventually led to reasonable solutions, and the transformation of the reading experience for millions of people moves on.
To recap briefly: there was a confrontation with Google about protection of copyright in its plans for digitizing a vast virtual catalog. A federal judge's rejection of a proposed settlement with publishers and authors as too broad is a setback, but discussions will certainly continue. After a tug-of-war over who should set the list prices for e-books, retailers have conceded that right to publishers. Author royalties are being adjusted to accommodate new models of distribution, and digital rights management (the fancy name for piracy control) no longer looms as more than a technical matter, though theft continues to be a problem.
The latest flap involves e-books in public libraries, where they are becoming increasingly popular in the systems across the nation that now offer them. According to the American Library Association, 66 percent of public libraries already make e-books available to borrowers.
My Connecticut library is served by OverDrive, the major distributor of e-books. Today, I could sign up for The Social Animal, by columnist David Brooks, whose book is currently on the New York Times bestseller list. As soon as the current borrower is finished, I'll be notified and the book will be made available for my download. Yes, there is a waiting list. But, for the price of a little patience, the book will be mine for two weeks to read on a digital device of my choosing (except Amazon's Kindle, which is closed to outside material). According to Steve Potash, CEO of OverDrive, there are now about 1,000 publishers making e-books available through his distribution network, and 25,000 books a month are being added. Since the start of 2011, the increase in usage has been twice the rate it was a year ago, he said.
What seemed a relatively smooth process of expansion at that pace was upended when HarperCollins, publisher of Elmore Leonard, Joyce Carol Oates, Sarah Palin, and scores of other notables, disclosed that, going forward, its e-books would expire after the book was loaned out 26 times, and libraries would need to make another purchase. Until now, the assumption and the practice was that, once a digital book was purchased, it would be there in perpetuity. Librarians were outraged, and boycotts of HarperCollins (including in the most extreme cases their print and audio books also) were imposed in a number of systems. Julie Bosman provided a thorough recap of the dispute in the New York Times. On a local level, the Omaha World Herald added grassroots details. The Nebraska Library Commission's 64 members were among those supporting an immediate boycott. David Mixdorf, director of the South Sioux City Library, said his board had ordered that no further acquisitions of any kind be made from HarperCollins. "We have to draw the line somewhere on our budget," he told the newspaper. "This hits us pretty hard at a time when our budget seems to be constantly shrinking."
HarperCollins' admittedly provocative departure from what seemed like the prevailing model surfaced deeper concerns among other major publishers on how to handle the e-book market. In fact, both Simon and Schuster and Macmillan have held back selling any e-books to libraries until terms can be agreed that they believe would not significantly undercut the sale of printed books, which generally carry a higher price for hardcovers. For all their confidence in the future of digital books (and audio), publishers also recognize that sales through stores, which still represent the overwhelming percentage of their revenues, are under significant pressure. The bankruptcy of Borders, the country's second-largest chain, has already meant the closing of 200 superstores, with another 25 added to the list last week. HarperCollins's position was summarized this way: "We have serious concerns that our previous e-book policy, selling books to libraries in perpetuity . . . [would] hurt the growing e-book channel, place additional pressure on physical bookstores, and in the end lead to a decrease in book sales and royalties paid to authors."
So how will the dilemma be resolved? Potash, whose Cleveland-based company has thrived in the often contentious atmosphere of dynamic change, believes that the solution is to recognize that even the demand for most bestsellers eventually settles down, and the number of e-books that libraries would have to re-purchase will turn out to be relatively small in the broader scheme of activity. OverDrive's largest customer, the New York Public Library, is floating an intriguing concept: a form of metering. Once purchased, a book would be available for an extended period, and thereafter a small charge would accrue for further loans. For example, the New York system now has 125 copies of Stieg Larsson's The Girl with the Dragon Tattoo, but in three years it may only need a handful, and the revenue impact of pay-per-use could turn out to be small. Moreover, "dog-eared printed books" as one senior librarian explained to me, have always been replaced, and e-books significantly reduce the time, trouble, and expense of returning books back onto shelves.
Whether that proposal takes hold or not, it does reflect what amounts to second thoughts among all concerned about the need to find an acceptable compromise. Even Gary Wasdin, director of the Omaha Public Library, told the World-Herald that his initial outrage has diminished as HarperCollins and the other publishers have shown a willingness to work with librarians—as they largely resolved the royalty question with agents, reached a modus vivendi with booksellers over prices, and should eventually find an acceptable arrangement with Google over digitizing books. The digital age is tumultuous and the stakes for the entertainment and information industries are very high. Public libraries are great civic assets, and publishers have to find a way to serve them well, as they have for more than a century. Librarians are right to defend their interests also. Now, let's work out a solution.