'Off the Map': Where 'Grey's Anatomy' Fans Find Refuge
The new doctor show—10 episodes into its inaugural season—is a reminder of the glorious early years of "Grey's"
The new doctor show—10 episodes into its inaugural season—is a reminder of the glorious early years of Grey's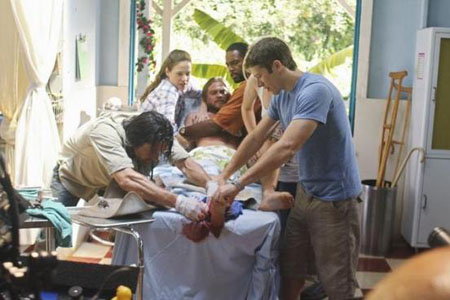 ABC
With the upcoming musical episode of Grey's Anatomy fast approaching, I've been fondly reflecting on the days when the show was still good (not to say that musical episodes are always a sign of a show being bad—the Buffy musical episode is one of that venerable program's best). For a brief but glorious window of time about five years ago, Grey's was everything you wanted in a medical melodrama populated by improbably attractive and star-crossed doctors. Yet, years after jumping the shark (arguably during the second season's bomb-inside-chest two-part extravaganza), Grey's is still going. It continues to limp on beyond the limits of decency. Rather like Hugh Hefner.
Thankfully, for those of us with fond memories of early Grey's Anatomy, there's Off the Map, a new contribution from Grey's producer Shonda Rhimes, the woman who also brought us that invaluable contribution to the lexicon: "vajayjay." If you're looking for a truly great television show, you've come to the wrong place. But if you're looking to be entertained for an hour and experience tolerable pangs of regret about never pursuing a career path as a doctor, then you're in for a treat.
As its name suggests, Off the Map is set in a remote land (a South American jungle town, portrayed in the show by slightly less remote Hawaii), where the dashing Dr. Ben Keeton runs a scrappy medical clinic. What brings Keeton and company to this strange land? There is, of course, the desire to do good. But that alone hardly makes for compelling television. Like the rest of his doctors, Keeton, played by Kiwi hunk Martin Henderson, is trying to find meaning and redemption in the small jungle village. Cheesy? Yes. Entertaining? Absolutely.
Also on the run from their complicated pasts are new—to the clinic—doctors Lily Brenner (Caroline Dhavernas), Mina Minard (Mamie Gummer), and Tommy Fuller (Zach Gilford). Lily is brilliant but emotionally scarred by having inadvertently caused her fiancé's death, Mina is humorless and hard-working (and coming to terms with an ER error that lead to the death of a child), and fratty Tommy is trying to prove that he can be more than a strip mall plastic surgeon. They join established clinic doctors Zita Alvarez (Valerie Cruz), a lightly-accented local, Otis Cole (Jason George), a former Navy doctor and recovering heroine addict, and Ryan Clark—played by Rachelle Lefevre of Twilight and New Moon (but not Eclipse) fame—Keeton's love interest.
If the cast structure sounds rather similar to Grey's Anatomy ... it is. At the same time, the characters are generally more likeable and less mopey than their Grey's counterparts. Particular standouts are Gummer and Gilford. Although Gummer is inevitably going to be compared to her mother (Meryl Streep), she brings life and humor to her Type-A character. And Gilford, best known for his poignant portrayal of conflicted quarterback/artist Matt Saracen on Friday Night Lights, brings the right balance of assertiveness and vulnerability to what could be a terribly flat character.
But you don't watch this show for Laurence Oliver-caliber acting. You watch it because it's fun. The doctors are pretty, the location is even more attractive, and every week there is a new slew of tropical ailments for the intrepid clinic doctors to tackle. Do almost all the locals speak improbably good English and look like they've had lifelong access to first-rate dental care? Of course, but this isn't the sort of show you watch when you're looking for gritty realism. It's the sort of show you watch when you want to see what happens when the artfully disheveled doctors discover that the beloved local schoolteacher is a former Nazi who now happens to be dying from advanced mouth cancer. Or when the emotionally vulnerable Lily seems to be falling for a mysterious local who may or may not be a cocaine kingpin (but who protests that his massive coca plant farm is only used for medicinal purposes).What to do?!
All this fun and more takes place on a weekly basis at the little clinic that could in the poetically named town of La Ciudad de las Estrellas (The City of Stars). As a mid-season replacement, Off the Map only has 10 aired episodes you need to watch to catch up. It might be a scramble to watch them all before the eleventh airs tonight (at 10 p.m. on ABC), but I highly recommend you make the effort.