Mumford & Sons: How a British Folk Band Became (Almost) as Popular as Justin Bieber
After performing at the Grammys, the quartet found itself number two on the music charts. How did it get there?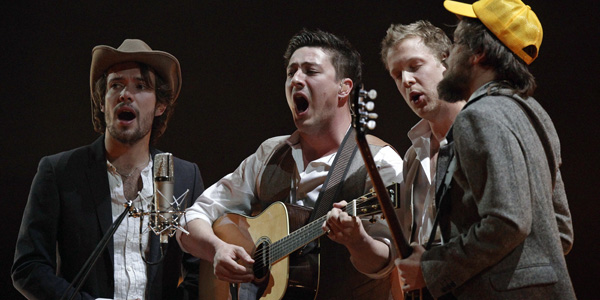 Reuters/Luke MacGregor
Star-spangled success remains but a dream for most British bands that attempt to break out in America. For Mumford & Sons, it's fast becoming a reality.
Following the band's performance at the Grammys on February 13—where it was nominated in the categories of Best New Artist and Best Rock Song for "Little Lion Man"—its profile has soared. Mumford & Son's debut Sigh No More rocketed to Number Two on the Billboard 200—it's currently at Number Three—helping the London band become the first British act since Coldplay to sell more than a million records in the US. The band's post-Grammys success is particularly remarkable when you consider they didn't even win an award, and that the acts who did win—Best New Artist winner Esperanza Spalding and Best Album winner Arcade Fire, for example—have not enjoyed the same surge. Last month, the band sat on the charts between Justin Bieber and the pop music compilation album Now 37—how did a folk rock quartet from London get there?
Listen to music from London's folk scene
It's a long way from Bosun's Locker, the 40-capacity venue in west London where Marcus Mumford began road-testing his early efforts in 2006, after dropping out of Edinburgh University where he was studying Classics. That pub, which has subsequently closed down, became the epicenter of the "west London folk scene"—a musical community that spawned such acts as Noah and the Whale, Cherbourg, and Laura Marling, Marcus Mumford's former squeeze.
Cherbourg bassist Kevin Jones, who now runs Communion, a hugely influential London concert series, with Mumford & Sons' Ben Lovett, remembers it well. "It was a tiny little place under a passageway," he says. "There were lots of really talented people kicking about—Laura Marling, Marcus Mumford, Charlie Fink [Noah and the Whale frontman]—just swapping songwriting ideas and making friends. It shut down prematurely and, at the same time, we were given an opportunity to start Communion at Notting Hill Arts Club. In that sense, I guess, it is a logical next step from Bosun's Locker. But it wasn't a conscious decision; it just kind of evolved. We now have nights in nine cities, including one in New York, which is going really well."
Listen to music by Mumford & Sons
Meanwhile, after a brief spell as Laura Marling's backing band, Mumford & Sons were formed in December 2007. Over the next few years, it steadily gained a reputation as a fabulous live act. In 2010, the band was one of the main attractions at Glastonbury Festival; later that summer, at Hop Farm, it drew a bigger crowd than Bob Dylan (although I'm guessing the boys refrained from mentioning this to Bob when they performed together at the Grammys). The growing crowds have been greeted by a live show that reaches an almost spiritual intensity. Mumford transforms into gutsy, gravelly frontman while his Sons—who aren't really his sons at all, but contemporaries Ben Lovett, Ted Dwane and "Country" Winston Marshall—provide hearty harmonies and barnstorming backing: it's an irresistible combination.
However, some British commentators have suggested that the band's success in the US has as much to do with their upper-middle-class background—they all went to fee-paying schools—as their music.
"They've been instilled with the old-fashioned, upper-middle-class British values of politeness, respect for others and hard work," says Will Hodgkinson, head music critic at The Times newspaper. "Those values are the bedrock of American culture; but they're not the bedrock of British culture: they're an arcane aspect of British culture that has somehow survived in the States.
"So, what tends to happen is: the Americans get excited about a British act—let's says it's Arctic Monkeys—and expect them to do what American bands would: appear on the local radio, do the local press, meet and greets, promotions.
"But British bands hate this: they think it's cheesy and demeaning. Arctic Monkeys refused to do it, and they've gotten nowhere in America. But Mumford & Sons did play the game, as did Coldplay, as did Pink Floyd—all of whom are upper-middle class and well educated."
That may be the case. But there's no denying the fact that Mumford & Sons' music—far from being polite and well mannered—is as rowdy and raucous as a barroom brawl. Compared to the breathy blues of John Mayer or the palm-fringed lullabies of Jack Johnson, it's a more gutsy and sincere form of folk-rock. Why might this be currently popular, I wonder.
"I think that the recession has something to do with it," says Jones. "People tend to look a little more inwardly when money's tight and respond to more heartfelt lyrics. In the '80s there wasn't a lot of folk kicking around."
"Plus, it's theatrical," says Hodgkinson. "The real hardcore English folk acts would not go anywhere in America, because that music is seen as too localized. Essentially, Mumford & Sons are doing pop songs couched in the language of the rustic troubadour."
David Smyth, head music columnist at the London Evening Standard and one of the judges on last year's Mercury Music Prize, has a slightly different take on Mumford & Sons' appeal.
"Whether you think it's authentic or not, there's an air of authenticity about it," he says. "It certainly feels authentic within the context of the charts, which are full of auto-tuned vocals and super-produced R&B songs.
"The band also sounds a little like some other successful American acts, such as Decemberists, although there's a bigger, bolder sound to Mumford & Sons that's designed for stadiums."
The links with America continue. While the band's debut is taken from a line in Shakespeare's Much Ado About Nothing, Mumford, who was born in California, is actually more influenced by an American writer: John Steinbeck. "Timshel" and "Dust Bowl Dance", for example, are directly inspired by Steinbeck's East of Eden and The Grapes of Wrath.
Musically, the boys are known to be admirers of Bonnie Prince Billy and Arcade Fire; it's no coincidence that the band's debut was produced by Markus Dravs, the man behind Arcade Fire's Neon Bible and The Suburbs. For Smyth, though, the band Mumford & Sons most resemble is Scottish stalwarts The Waterboys. "Mike Scott [Waterboys' frontman] described their sound as 'the big music', and you could equally apply that to Mumford & Sons: it's that anthemic, Celtic-influenced thing," he says. Other critics have been less complimentary, however, dismissing the band as merely "Coldplay with a banjo".
Wherever you attribute Mumford & Sons success to, the band's popularity in the States looks set to continue. As Hodgkinson says: "The good thing about getting big in America, as opposed to in Britain where we're quite fickle and more trend-based, is: if they love you, you're in there for a while. That's why Alice Cooper is still rocking 40 years down the line."