'Miral': Taking the Israel-Palestine Conflict Personally
Julian Schnabel's latest film tells the story a Palestinian teenage girl, and is inspiring both praise and controversy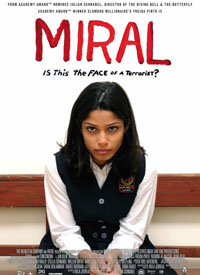 Eagle Pictures
"Is this the face of a terrorist?" asks the American poster for Julian Schnabel's new film, Miral, about a young Palestinian woman of the same name. Dressed as a schoolgirl, looking ten years younger than her actual age of 26, Freida Pinto stares back, the sullenness in her eyes a residue of shouldering the twin burdens of adolescence and occupation at once.
The mere prospect of two hours of a smoldering Pinto growing up, falling in love with a political activist, and reaching a few critical observations about the conflict was apparently enough to terrorize Jewish advocacy groups, who protested the United States premiere of the film at the United Nations General Assembly, where it was shown on March 15th. Despite having not seen the film, Executive Director of the American Jewish Committee David Harris slammed it as having "a clear political message, which portrays Israel in a highly negative light," in a letter to the UNGA President, Ambassador Joseph Deiss.
If they had come to the screening—and Mr. Schnabel, in a panel after the film, specifically asked to see if anyone from the AJC was present—these critics would have seen a harmless, rather hapless coming-of-age story, where the ever-present politics of the Palestinian-Israeli conflict meander into Miral's personal life, sometimes gracefully, sometimes stomping in on two left feet.
"There was a reason to show this story at the UN," said Schnabel—who, despite the AJC's resistance to the film, was raised by an actively Zionist mother—in an interview the next day. "It's a different practice that usually takes place there: people give speeches, people argue. But to see a film where as a group, everyone could watch a story about empathizing, that is a good tool to grease the wheels of understanding."
What was truly radical, said his partner Rula Jebreal, author of the autobiographical novel on which the film is based, is whose story it is telling. In a region where the overriding narrative is political, and where those politics consist largely of the bickering of old men, stories like Miral's fall by the wayside. As the opening credits roll, a quote appears on the screen: "Miral is a red flower. It grows on the side of the road. You've probably seen millions of them." Or, as Jebreal points out, you haven't seen those millions of flowers, because they've always been ignored.
"A movie has never been made, or brought to the big screen, about a Palestinian girl," she said. "It's an issue that has been censored, not just in film but also in the media."
The film begins in 1947, and then fast-forwards to 1948 and the aftermath of the Deir Yassin massacre that left over a hundred dead. An elegant, aristocratic woman, Hind Husseini, scoops up a gaggle of traumatized, newly-minted orphans from a street corner and installs them in a mansion left her by her father. Forty years later, Miral is a rebellious high school student at what Hind has turned into a top school for girls, Dar el-Tifel. When the 1987 intifada, or uprising, begins, Miral slips out of school to join the protests, where she meets the dashing, older activist Hani. He inflames her passions, both political and romantic, upsetting her father and Hind, who insist that education, not protesting, will bring a brighter future for Palestinians.
Schnabel, an Oscar-nominee and director of four other films, has a true cinematic voice, and his aesthetic is all over the film: saturated color; blurry, dream-like effects; pretty vintage dresses you can picture his stylish daughters wearing off the set. But perhaps because of his personal involvement with Jebreal (the two became a couple during filming), the film suffers from an unfortunate earnestness.
In order to cram in 60 years of politics, violence, and injustice into what is, in the end, a very personal love story, Schnabel has to take a few shortcuts. In one scene, Miral, picnicking with her boyfriend Hani on a hillside, is treated to a lecture on settlements, a view of which clouds their romantic idyll. During a passionate, clandestine makeout session outside of Miral's school, the two pause between embraces to discuss the finer points of the Oslo Accords, before resuming their French kissing. The scene unfolds something like this:
"Mwah...mwah...they want us to accept 22 percent of our land for peace!"
"Mwah...mwah...what about the right of return?"
"Mwah...mwah..."
It prompted a few stifled chuckles across the capacious UNGA hall, which was packed with the likes of Sean Penn, Robert DeNiro, Josh Brolin, Steve Buscemi, Zac Posen, and other glitzy celebrities, including co-stars Willem Dafoe and Vanessa Redgrave. Mostly, however, the audience seemed both riveted and moved, a testament to how very little of what Schnabel has called "the other side of the story" is part of the commonly understood narrative.
Those who follow cinema and other artistic production from this region know that in fact, there are numerous excellent "other sides of the story" by Palestinians and Israelis such as Elia Suleiman, Eran Riklis, and Emile Habiby. Whether highly stylized, like Suleiman's recent The Time that Remains, or more realistic, like David Grossman's latest novel To the End of the Land, their implicit critiques of the Palestinian-Israeli situation possess a crucial detachment that Miral often lacks.
But Jebreal was keen to have her story reach a wider audience than these other films, which have been stuck in a Middle Eastern ghetto of sorts, in much the same way that movies by and about African-Americans are rarely marketed to broader audiences.
Following the screening, Dan Rather moderated a panel that included the Egyptian political commentator Mona Eltahawy, who was fresh from bringing down the house at the recent J-Street conference. Eltahawy noted the same incongruity, highlighted by the movie's poster, between Miral's story and the hysteria it provoked.
"We are starting at ten degrees below zero," she said, "If a film about a Palestinian girl can make people this upset."