Meet Yelawolf, Alabama's Answer to Eminem
The up-and-coming rapper focuses on rural poverty, which is rarely seen or discussed in hip-hop
The up-and-coming rapper focuses on rural poverty, which is rarely seen or discussed in hip-hop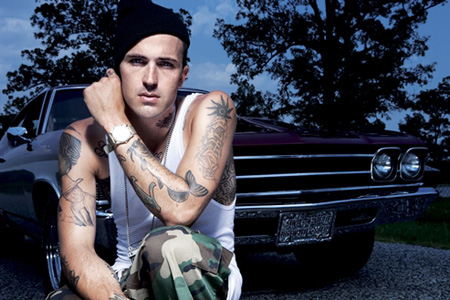 Yelawolf.com
Last night XXL presented its fourth annual Freshman Class concert at BB King Blues Club in Times Square. The show is timed to coincide with the popular Freshman Class issue of the magazine, which features "a preview of Hip-Hop's most promising beats, rhymes, artists, labels, and more." Past inductees have included Wiz Khalifa, Lupe Fiasco, Asher Roth, and Kid Cudi--all artists who went on to enjoy prominent real estate on my teenage sister's Facebook page, if that is any indication of general acclaim.
Listen to music from XXL's Freshmen Classes
The qualifications to make the Freshman Class vary--many of the rappers featured this year have already had scores of popular mixtapes, solo records, and appearances on tracks with the likes of Kanye West and Lil' Wayne--but it is a requirement that none have had a major label release. Because of this notion that the magazine is presenting the next big stars, the atmosphere in the club felt like an amped-up, marijuana-saturated talent show. People held up Blackberries and Flip cameras, recording each act. Next to me a young woman posed for a photo with a statuesque beauty clutching a leopard skin bag.
"Who is that?" I asked the girl as she walked away, camera proudly in hand.
"She was on America's Next Top Model," she told me.
"Which season?"
"Oh I don't know. A while back."
It was these minor brushes with fame that kept the audience excited throughout the four-hour-long show. Fifteen-year-old Diggy Simmons brought his father on stage. It could have been a cutesy, aw shucks moment if his father were not DJ Run, one of the founding members of Run DMC. CyHi the Prynce was accompanied by Kanye West's immensely talented DJ A-Trak, and perhaps most impressively, a violinist.
But it was clear that despite the Top Models and rappers-cum-reality stars that the big draw of the night was the extremely oddball, extremely authentic, and extremely marketable break-out star, Yelawolf. Part white, part Cherokee, Yelawolf (given name: Michael Atha) is from Alabama and charts a dirt-poor part of the South rarely seen or discussed in hip-hop. He rhymes about meth labs and rednecks but he does so over big, fat Southern beats with a lot of bass and with a virtuosity that has lent him comparisons to that other great, white rapper, Eminem. In fact, he recently signed to Eminem's Shady Records and will soon release his major label debut.
It is the strength of his Trunk Muzic 0-60 EP, released in November of 2010, that has garnered much of the attention so far. On Tuesday night, as he came out to join Big K.R.I.T.'s set on "Hometown Hero," the audience went bonkers. Clad in a gray hoodie, brown flannel shirt, and red sweatpants, Yela joined his "country cousin" to whip the crowd into a frenzy. Considering that it was 11:45 PM on a Tuesday and the people in the audience had been through ten set changes, this was no small feat. As he took over the stage for his solo performance he asked with a knowing smile, "You Ready to Pop the Trunk? I think we'll fully do that."
He was referring to Trunk Muzik's biggest hit, an ominous-sounding and infectious song on which he rhymes about meth, crack smoke, and how his "Momma's in the slaughter house with a hatchet helping daddy chop early morning hog." It's an unusual line but one that represents well the paradox of Yelawolf's Southern experience. His Alabama is a place where rednecks with Confederate flags on their pick up trucks blast Beanie Siegel because their daddy "was a dope man/Lynyrd Skynyrd didn't rhyme about moving keys of coke, man."
As he proclaims proudly on his Twitter page, Yelawolf is a "Rapper, Skateboarder, and Drinker" and his music is all about breaking down boundaries: class boundaries, race boundaries, music/social group boundaries. He's a white boy beloved by hip-hop luminaries including Raekwon (of Wu Tang), and Bun B (of the whole chop-and-screw, crunk era, Southern rap sound). It was my friend Hayden, a high school teacher in rural Maine (I often wonder if her teenage students know anything about her encyclopedic knowledge of hip-hop) who also pointed out that he is something of an ethnographer. He raps about his experience, his South, about being just on the cusp of working class, and about daily struggle in a broken-down place. But with his lightning fast, tongue-in-cheek delivery, he manages to make it sound epic. It is no wonder that his rhymes have been called "Faulknerian".
But last night he proved that beyond all these things, he is also a performer. Losing the flannel and sweatshirt, he jumped into the crowd to perform the almost diabolically catchy "I Just Wanna Party". Later he grabbed a woman's enormous Louis Vuitton tote and strutted around the stage with it. Then he pulled his T-shirt over his head exposing a lanky torso drenched in tattoos and launched into the promised "Pop the Trunk." In the end, he smiled sweetly again, and said "Fuck you, New York!" giving the audience the middle finger. They gleefully reciprocated the gesture.
As XXL editor Vanessa Satten told me, the Freshman Class issue is a special event for hip-hop and if an artist can make it work for them, it can do great things for their career. Wiz Khalifa helped parlay it into his massive success of the last year. Clearly Yelawolf is poised to do the same. If there truly is a wave of working class stories waiting to break out in hip-hop right now--a counterbalance of sorts to the cash-flashing and lambo-driving--then Yelawolf is at the crest.