'Marcel's Quantum Kitchen': A 'Top Chef' Gets His Own SyFy Show
Marcel Vigneron, the molecular gastronomist who was a runner-up in season two, returns to television tonight with a new series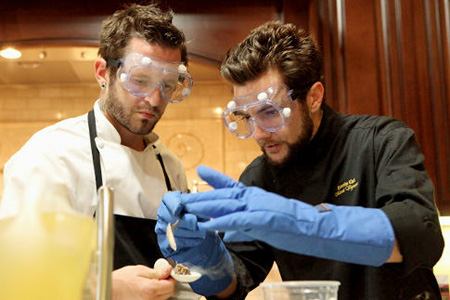 SyFy
Maybe it's a sign of how tightly Bravo guards its brands, or a boundary marker for the outer limits of audiences' interests in high-end reality television, but it's somewhat surprising that that Top Chef hasn't spawned more spin-off shows. There are variations on the basic theme, of course, competitions between already-established chefs on Top Chef Masters and pastry throw-downs on Top Chef: Just Desserts. But just as Bravo's found a gem in Bethenny Frankel, the first Real Housewife to get her own show, it's a bit odd that none of the chefs have stood out enough to merit their own shows, until now. Marcel Vigneron, the molecular gastronomy afficionado who was the runner up on Top Chef's second season has assembled a high-end catering team, and put them to work in front of the cameras for a new SyFy show, Marcel's Quantum Kitchen.
Marcel, claims a party planner in the second episode of Marcel's Quantum Kitchen, has a tendency to make things complicated for himself. It's true, and that tendency is the source of the show's basic appeal—and its core problems. Marcel adapts to television better than many of his Top Chef peers because in a medium where we can only see his food, rather than taste or smell it, his food is unusual and visually engaging, as is the way he prepares it. But the skills that let Vigneron dream up wildly complicated scenarios also generally mean he has the ability to work his way out of his own messes. Without genuine risk, it's hard to feel any genuine reward when Vigneron pulls off yet another perfect dinner.
Marcel's Quantum Kitchen mostly generates drama in the form of the demanding party planners who are the liaisons between Vigneron's team and his high-end clients. They're made out to be rigid, inflexible, unhelpful. Sure, it's silly when someone gets overly upset about the order forks will be used in a multi-course dinner. But then, the entire enterprise of a molecular gastronomy catering business is so high-end it's absurd. It's hard to feel like the planners who want their clients' events to go well are the enemy for worrying about whether a mercurial artist with a spottily-credentialed team can pull off his ambitious and rickety plans.
So there's something annoyingly hagiographic about the rapturous celebrations of Vigneron's food. I'm sure it's a tremendously moving experience to have your courtship resurrected in astonishing food, and if this was a show about said couple's engagement, the gorgeous meal might be an appropriate and rewarding emotional climax to their love story. Instead, it's a confirmation that Marcel is as smart as he thinks he is that doesn't do anything to disprove his Top Chef reputation as a jerk—something he explicitly says he wants to debunk at the beginning of the first episode.
But more than its emotional oddities, Marcel's Quantum Kitchen isn't the combination of fizzy and obsessive it ought to be. We get to see Vigneron suck the sweetness out of watermelon and build candy engagement rings and chastise his staff for not moving quickly enough to process apples he's trying to turn into the basis for map parchment. It's all cool, but nothing we haven't seen chefs do in high-pressure situations before.
What makes Vigneron slightly more interesting than his counterparts in competition, and what should have made him a good fit for SyFy is the intensity of his interesting in molecular gastronomy. Where a fellow molecular gastronomist and Top Chef vet like Richard Blais, who hosts a small Science Channel show called Blais Off, that spends more time on actual cooking techniques, can walk away from his obsessions to demonstrate mastery of more traditional techniques, Vigneron's always seemed in love with them. His interest lies in the overlap between intelligence and obsession that traditionally defines geeks.
SyFy could have let Vigneron play and make the case to audiences who can't afford to eat to Wylie Dufresne's wd~50 in New York, much less make the pilgrimage to Ferran Adria's El Bulli in Spain why they should care as much as he does. Situating the show in Vigneron's business, especially because it is a new business, reduces his passion to dollars and cents. That's a formula that's worked well for Bravo, SyFy's NBC Universal's cousin network. But turning what ought to be an entertaining scientific romp with a high-money gloss into just another show about a service provider to rich people is the equivalent of popping Marcel's Quantuum Kitchen in the dehydrator: maybe the result is more expensive and marketable, but the end result is missing some serious juice.