How Mighty Ping-Pong Infiltrated Visual Culture
Table tennis has been propaganda. It has been a symbol of suburbia. And images of it have covered ... nearly everything.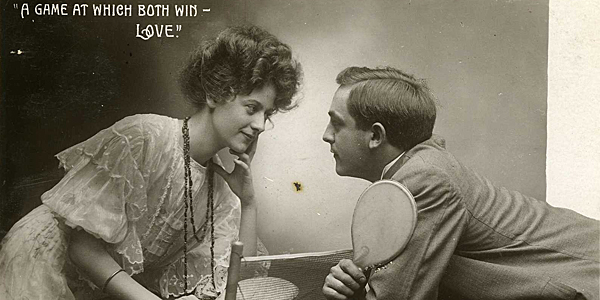 Ping-Pong is back in style—assuming it ever dropped out. Even Susan Sarandon is picking up where Mao left off in championing the table sport. Another advocate is Roger Bennett, born and bred in Liverpool, who after growing up on a steady diet of Starsky and Hutch and Hart to Hart was naturally drawn to America in general and New York in particular.
Bennett is one of the co-founders of ReBoot, a cultural organization for secular Jews, which sponsors publications and events. He is the co-author of And You Shall Know Usby the Trail of Our Vinyl: The Jewish Past as Told by the Records We Have Loved and Lost, Bar Mitzvah Disco: The Music May Have Stopped, but the Party's Never Over, and Everything You Know Is Pong: How Mighty Table Tennis Shapes Our World. His Ping-Pong fascination, rooted in design, is helping to trigger a new enthusiasm—and fashion—among the hipster generation. Between games I caught up with Bennett for a brief volley.
Heller: Ping-Pong? Why Ping-Pong?
Bennett: I grew up in love with the game and many of the people whose company I most enjoy (like Jonathan Safran Foer and Howard Jacobson, who both contribute essays to the book) are avid enthusiasts. I am an inveterate collector—a habit fueled mostly by my fascination with 20th-century American history, particularly the postwar period with the suburban boom, cities turned inside out, and the rise of leisure culture—and I began to build a Smithsonian-sized collection of Ping-Pong related ephemera: 1950s tobacco ads, 1960s Chinese propaganda, 1970s proto-video game materials, along with my co-author, Eli Horowitz. The pursuit was akin to entering a maze in which there were no long turns. Together we realized that Ping-Pong had its fingerprints on everything—from politics to culture, theology to pornography. And our goal was to present these tales and place the world's most popular pastime—the sleeping giant of fast-paced fun—back on the pedestal to which it belongs.
Heller: Susan Sarandon is part owner of Spin, a Ping-Pong parlor in New York City. What came first, the chicken or the Ping-Pong ball? In other words, do you believe your book launched this, or vice versa? Or, it's in the air?
Bennett: It has taken eight long years to build our collection, and during that time, we have been delighted to see Ping-Pong fire up the popular imagination, but our research revealed that, while Scientology was just a twinkle in L. Ron Hubbard's eye, Ping-Pong was always tightly connected to celebrity. Elizabeth Taylor and Richard Burton had two tables installed in their homes. One in the east wing to soak up the morning light; the second in the west to bask in the setting sun. Henry Miller would battle young starlets in the nude. And Primal Scream front man Bobby Gillespie admitted he loved to "do loads of cocaine, get 'sniffed up,' and play table tennis," explaining, "That's the way to do it. You can do those Japanese topspins and backspins right ... That's when I am at my best."
Heller: Ping-Pong returned to a certain faddish prominence when Mao Zedong opened up China to the West. I even own a vintage silk wall hanging of smiling Mao with racquet in hand ready to play (maybe with Nixon). What was the social and political significance of Ping-Pong to China?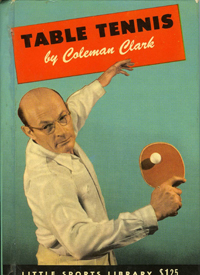 Bennett
: The story of Ping-Pong and China transcends that of a simple tale of a people and their love of a sport. It is a prism through which one can glimpse the nation's extreme makeover from an underperforming centralized state, once known as "The Sick Man of Asia," into a regional and global economic behemoth.
Not a bad return from an activity which was originally about as Chinese as General Tso's Chicken. Ne'er did the sound of a ping or a pong ricochet around the Chinese mainland until the mid '50s, when the People's Republic of China was founded and Chairman Mao needed to define a national sport. Letting a thousand Ping-Pong balls bloom, a legion of bureaucrats swept the nation to test kindergarteners for cat-like reflexes and hand-eye coordination. Those who passed the test were removed from their parents and dispatched to Ping-Pong academies across the mainland. At the 1959 World Championships in Dortmund, Germany, Rong Guotan, a former child laborer, used a chop-counter attack to become China's first world champion in any sport. Mao declared the triumph the equivalent of a "spiritual nuclear weapon" and Ping-Pong became the prime way China expressed itself to the world. I love the poster art we collected for this chapter. Fabulous representations of 1960's Chinese political propaganda.
Heller: In the late '30s my mom was a Ping-Pong champion at her college in NYC. What was the American significance of the game?
Bennett: One of my favorite chapters is on the role Ping-Pong played in the creation of the American suburb grounded in our collection of literally thousands of representations of the sport in advertisements for the good life. This was a time when thousands became homeowners, hungry for the space on offer in the suburbs. Few things said space and freedom more than the hardwood paneling of your own finished basement, and nothing showcased that better than the innocence of a family at play around the Ping-Pong table. And so Ping-Pong cropped up as pitchman for Pabst Blue Ribbon, Hiram Walker Whisky, Armstrong Nylon Carpets, and Camel Cigarettes ("Experience is the best teacher in playing Table Tennis of choosing a cigarette says Mary Reilly, International Table Tennis Star.")
Heller: Much of your previous work—events, books, exhibitions—is rooted in Jewish themes (i.e. you were the co-author of a book devoted to Jewish music on vinyl, co-founded global architecture project Sukkah City, and produced a CD of this music sung by non-Jewish African American soul and blues singers). Is Ping-Pong a Jewish thing?
Bennett: Ping Pong is cross-denominational. Beloved by Buddhist monks in their downtime and agnostics like Fidel Castro, who loved to play while shirtless on the battlefield. But the Jewish golden era existed before the war when almost every world champion was of the Mosaic persuasion. Most often from Austro-Hungary like "Gentleman" Victor Barna, the Clown Prince of Table Tennis, Lazlo Bellak, and the great defender, Richard Bergmann, who fled for England after telling the New Yorker he "considered Fascism incompatible with the advancement of Ping Pong," which turned out to be quite an understatement. The Jewish game, like the Jewish world, was decimated by the Holocaust.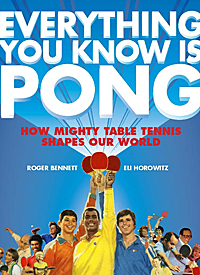 Heller
: Let's talk graphics. Your book is ostensibly a chronicle of the graphic style of Ping-Pong. Is there a specific style? Can you place it somewhere in the history of graphic design?
Bennett: The joy of Ping-Pong to us—its unvanquished strength—is that it has been allowed to flourish in dark corners and distant alleys around the world. Unlike the hegemony of say, the NBA, by which an NBA fan in Shanghai wears the same Melo jersey as a fan in Sheboygan, Ping-Pong's power is in its chameleon quality where it soaks up and reflects its surrounding. We call it the magma lurking beneath the earth's crust. As a result, our collection is, in many ways, a tour of 20th century graphic imagery ... from 1902 sheet music ("I Wants a Ping Pong Man: A Coontown Determination") to Andy Spade's effort to singlehandedly rebrand the image of the sport with his limited-edition Ping-Pong sneaker.
Heller: I'm dying to ask this. What is the origin of the term? And is there any connection between the digital connotation, as in "ping," and the video game "Pong"?
Bennett: Ping-Pong was invented, like most pure modern games—dice, chess, cockfighting, kabbadi—in India. British soldiers sought relief from tough days spent in colonial exploitation by playing with cigar boxes and corks across tables divided by a stack of books. The fad spread to Europe under a slew of names including flim-flam, whiff-whaff, and gossima, until Parker Brothers trademarked "Ping-Pong" in 1901. Pong is directly a reinvention of the sport. In 1971 Nolan Bushnell had just founded Atari. He desperately needed a game to launch his video console and commanded his programmers to invent something "so simple any drunk in a bar could play." They returned to Ping-Pong, giving the world "Pong" to avoid Parker Brothers litigation. Our chapter on the connection between Ping-Pong and the rise of video games documents this revolution assiduously.
Heller: Is Ping-Pong a retro fad? Will it go the way of dodge ball as a spectator sport? Or is there something more enduring?
Bennett: Every sport claims to be the world's game—soccer, basketball, petanque. Few can match the global status acquired by humble Ping-Pong. It is modest yet ubiquitous. Far from being a fad. Ping-Pong is here to stay. We challenge Thomas Friedman's assumption that the world is flat. We believe it to be round, plastic, and always spinning.
Heller: What did you learn from this immersion into Ping-Pong culture that stands out as real enlightenment?
Bennett: Booker Prize winner Howard Jacobson wrote a stunning essay about his love of the game for our book. In it he says, "Table Tennis is an unillusioned game. We choose it because we accept defeat is inevitable, and we play to reconcile ourselves to its bitterness. You could say we play because we know we have lost at something else already."
Images: Courtesy of Roger Bennett and Eli Horowitz