'Glee': Original Songs, a Long-Awaited Kiss, and More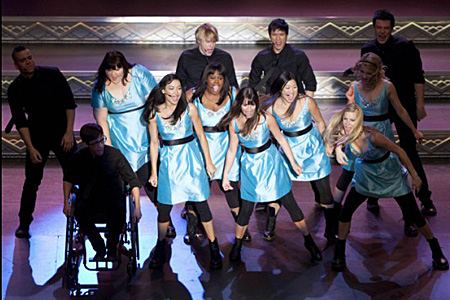 Fox
They've tackled gay bullying, put on a Horror Show, scored a touchdown, and even—with the help of Gwyneth Paltrow—brought sexy back. And on last night's episode of Glee, New Directions finally faced off against the Warblers and a Sue Sylvester-led Aural Intensity at Regionals. Guest stars Kathy Griffin and Loretta Devine already judged the fictional competition, but how good was the outing as a whole?
To help make sense of the episode, we have a panel of musical theater and pop culture buffs—Meghan Brown, Patrick Burns, and Kevin Fallon—to provide their takes on how realistic the show feels, how well the romances develop, and of course, how good the musical numbers are.
Here's what they had to say:
Kevin Fallon (writer and producer for The Atlantic's Culture channel): A rousing opening number, original songs, a fairy-tale kiss, bitter heartbreak, a plot: for the first time, Glee truly had all the components of classic musical theater. And "Give My Regards" to Glee, because it all worked brilliantly.
The Warblers' Stomp-meets-'N Sync version of "Misery" kicked things off with a healthy shot of energy, and even furthered the plot, too! Kurt was tired of Blaine acting like Beyonce to the Warblers' Kelly Rowland and the other one, and his sassy chastising got Blaine thinking. Because there's been a death on Glee—Pavarotti, the scene-stealing canary, bit the dust—and the event moved Kurt to sing "Blackbird," which was lovely. Blaine also thought it was lovely, because he gave Kurt a duet, gazed his big Bambi eyes into Kurt's, whispered "I've been looking for you forever," and then kissed him. On the lips! And fans of Glee immediately began brainstorming the next milestone to petition for.
Meanwhile Quinn went all femme fatale on Rachel in the McKinley High auditorium (a deliciously acted scene), spurned by her desire to trade in that sad Daisy Buchanan Gatsby hat from the opening scene (what was with the crazy hats this week?) for the prom queen crown. She needed Rachel out of Finn's life if her dreams of royalty were to be realized, so she gave Rachel a dressing down by the piano. Rachel fled in tears to write a moving power ballad about the whole affair (as teenage girls do).
The ballad, like the rest of the original songs, was serviceable. Would I listen to any them again? "Hell to the no" (except for that hot torch song "Trouty Mouth"), but they certainly did the trick in the context of the episode. For once, New Directions looked less like a motley crew of frumps and stumbling Frankenteens with two left feet, and actually like a competitive show choir that deserved to win. The dialogue was as a whole sharper than usual (nicknames in particular were on a roll: Stubbles McCripplepants, Tweedle Dumb, Tweedle Fakeboobs, the aforementioned Trouty Mouth). Sue Sylvester was used in the perfect doses, little "turdlets"—as she would say—firecracker scenes with barbs that were more explosive than ever. In a season pretty evenly divided between hits and misses, tally one more in the "hit" column.
Meghan Brown (co-founder of the Giraffe Hunt Theater in Los Angeles): That parakeet never had a chance.
In addition to poor Pavarotti's untimely (yet entirely predictable) death, "Original Song" gave us some fine Kurt moments, a variety of kind-of-awful songs, and the return of Social Climber Quinn. We also saw Britney wear a really weird hat. And Mercedes actually did something! I say: success.
As a huge Blurt fan, pretty much everything about Kurt's relationship with Blaine made my heart melt with fangirly goodness. I want them to get married and adopt gorgeous babies and be together forever.
I'm irritated and disappointed, however, by the Prom Queen Quinn storyline. I wish the writers would let her be interesting. Bitchy, pretty girls are not interesting. Smart, complex, pretty girls? Much better. Let's see Quinn get a hobby. Or a job. Or a boyfriend who isn't dumb.
Finally, let's end with a round of applause for the Glee marketing machine. Original songs? Cha-ching.
Past Glee panels:
'Glee': Gwyneth Paltrow Brings Sexy Back
'Glee' Is Funny When It's Drunk
'Glee': When Cancer, Cattiness, and Justin Bieber Combine
'Glee' Valentine's Day Episode: Love Songs and One-LinersThe 'Glee' Super Bowl Episode : Football and Musical Theater Can Co-Exist

'Glee' Does Christmas: Cheesy but Charming

'Glee': Sectionals Bring Out the Best in Everyone

'Glee': Two Weddings and an Anti-Bullying Message

'Glee': Gwyneth Paltrow Brings Fun Back

'Glee' Takes On Katy Perry, Gay Bullying

Why Did 'Glee' Do 'The Rocky Horror Picture Show'?

'Glee': Hitting a High Note, or a Sophomore Slump?

'Glee' Gets Religion, With Mixed Results

'Glee': Britney Spears Meets Britney S. Pierce

'Glee' Season Premiere: The More Things Change...