'Glee': Gwyneth Paltrow Brings Sexy Back
Our panel weighs in on this week's episode, which features the Oscar-winner as a high school sex ed teacher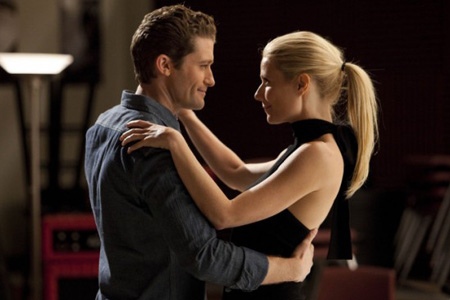 Fox
Gwyneth Paltrow returned to Glee last night to talk about sex (baby). Back as substitute teacher Holly Holiday—this time filling-in as a sex-ed instructor—Paltrow partnered up with Matthew Morrison's Mr. Schuester to teach the students of McKinley High the facts of life. With fellow Schuester love interest Emma heading up the school's celibacy club, tension—sexual or otherwise—was abound everywhere this week.
To help make sense of the episode, we have a panel of musical theater and pop culture buffs—Meghan Brown, Patrick Burns, and Kevin Fallon—to provide their takes on how realistic the show feels, how well the romances develop, and of course, how good the musical numbers are.
Here's what they had to say:
Kevin Fallon (writer and producer for The Atlantic's Culture channel): Gwyneth Paltrow brought sexy back to Glee this week, and was, if possible, even sassier and sultrier than the last time she appeared on the show. To mark the occasion, Matthew Morrison even took a week off from his crooning the joys of bumping and grinding in the rain (hear that here) to join Paltrow's Holly Holiday in preaching the virtues of abstinence and safe sex. And, boy, could the kids use some sex education.
We learn that Finn's belief last season that he fathered Quinn's baby without ever actually doing the bedroom duet was just the tip of the iceberg of his ignorance about sex. Mercedes gets confused during a condom demonstration and believes cucumbers give you AIDS. Brittany thinks a nesting stork is about to bring her a baby. Kurt mistakes making cat claws while doing the pony for sexy dancing. Even the adults are painfully oblivious: Emma thinks "Afternoon Delight" is a celebration of America and fireworks, and nooners are desserts at lunchtime.
And I hope you held on to your bobby socks, because the journey from the opening scene with the
Pastel-Colored Cardigan
Celibacy Club to Will and Holly's soft-lit makeout finale was a whirlwind. Five musical numbers were performed. One character came out of the closet. An affair was revealed. A marriage separated. One of the most uncomfortable father-son sex talks ever committed to television (and thus, really, one of the most realistic) took place. Luckily Paltrow was there to anchor it all, believably channeling Joan Jett, Stevie Nicks, and Prince—all while playing fast and loose with some seriously funny dialogue. It's two consecutive episodes of mixed messages for
Glee
; just one week after
making underage drinking look cool
, the show admits that teenage celibacy is "naive and a little frigid" (Gwyn's words), while sex is actually fun. Though the issues were handled with an appropriate amount of levity—and the lessons were there—the truth is that the show didn't play the nuances of the argument as delicately as it probably thought it did. Which makes one wonder why it even tries (see:
religion debacle
). The show is best when it eats at the buffet of impropriety, and then goes back for seconds—something we finally started getting a taste of again last night.
Patrick Burns (writer, composer, and star of the original one-man-musical, From Foster Care to Fabulous): I'm not comfortable with this new formula Glee seems to be adopting in which it picks a subject which is risque for teenagers, glorifies it for an entire episode and then half-heartedly attempts to hammer home a moral.
I can't express how unbelievable it is that Emma and her husband have not had sex after four months. Beyond that, they seek help from a substitute high school health teacher. Obviously something is terribly wrong here. However, I was glad that the lesbian fling between Santana and Britney was treated with a tender realness, as this is not something we usually get to see on network television.
I will say that no white people should ever attempt to perform Prince songs. Not only was the music uninteresting and soulless, but upsetting since the promise of a "Tango Version" was empty with a version that was just white with white people tango dancing.
And please never let Will Schuester punctuate jokes with the piano again.
Meghan Brown (co-founder of the Giraffe Hunt Theater in Los Angeles): Burt Hummel? Is my hero. His potentially horrible sex talk with Kurt started out with the awful awkwardness one might expect, but by the end had managed to move into something lovely, open-hearted, and true. Burt and Kurt's relationship has always been one of the show's strengths, and following Burt's deliberate evolution toward being the Best Dad Ever has been a real joy.
Though I'm not 100 percent sure I buy that the root cause of Santana's meanness comes from her secret desire for lady-kisses (particularly when those lady-kisses are coming from a girl who thinks babies are delivered by storks, Santa is real, and combs are magic), I do want to applaud Glee for exploring some of the more complicated aspects of adolescent sexuality. Figuring out who you love isn't all Joan Jett songs and lip-synched Prince tangoes: there can be a great deal of complexity, fluidity, and confusion associated with developing sexuality, and Glee does an admirable job of attempting to be all-inclusive.
I love Gwyneth Paltrow's spunky Holly Holiday, and really enjoyed her scene with Emma and Carl. The musical numbers felt a little lackluster tonight, though none stood out as being particularly awful. Overall, a solid episode with some strong character moments. Next week: Regionals!
Past Glee panels:
'Glee' Is Funny When It's Drunk
'Glee': When Cancer, Cattiness, and Justin Bieber Combine
'Glee' Valentine's Day Episode: Love Songs and One-LinersThe 'Glee' Super Bowl Episode : Football and Musical Theater Can Co-Exist

'Glee' Does Christmas: Cheesy but Charming

'Glee': Sectionals Bring Out the Best in Everyone

'Glee': Two Weddings and an Anti-Bullying Message

'Glee': Gwyneth Paltrow Brings Fun Back

'Glee' Takes On Katy Perry, Gay Bullying

Why Did 'Glee' Do 'The Rocky Horror Picture Show'?

'Glee': Hitting a High Note, or a Sophomore Slump?

'Glee' Gets Religion, With Mixed Results

'Glee': Britney Spears Meets Britney S. Pierce

'Glee' Season Premiere: The More Things Change...