Forget Your March Madness Bracket: Play NCAA BINGO! Instead
An alternative to the frustration of seeing your bracket crumble on the first day of tournament games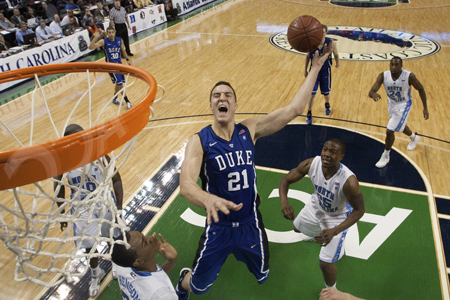 Reuters/Chris Keane
The play-in games are over. The NCAA tournament's first ever 68-team field is set, and March Madness officially kicks off today. Or, if you want to get technical about it, tips off.
Those of us who are way, way, way too serious about filling out our tournament brackets have spent the last several days buried in basketball research. We've been poring over statistics—gleaning everything possible about the nation's various Lions, Tigers, and Bears (oh, my!), along with the Aztecs, Gauchos, Peacocks, Sycamores, Golden Grizzlies, Musketeers, and Zips. We've been studying frontcourts, backcourts, and benches, three-point shooting percentages, turnover-to-assist ratios, and margins of victory in non-conference road wins played on alternate Tuesdays.
What's the point? Everyone knows that the diehard, year-round, hardcore hoops junkie never wins the office tourney pool. Those pools are always won by a 61-year-old lady who works in accounting and couldn't care less about sports, but wins when something crazy happens—like Hampton University (no relation) beats Duke, becoming the first 16-seed ever to beat a No. 1, and she picked it right because she's very religious and refuses to back any team with "devil" in their name. Right? It's never the ones who really deserve to win. At least, that's what those of us who sweat every pick like to tell ourselves as we watch our brackets crumble midway through the first day's games.
Why even bother with brackets, really? You'll be much happier playing BINGO!—our new March Madness-themed BINGO!, that is. Just print out the specially-designed card below, and use bottle-caps or coins to cover a square every time you hear one of these common March Madness-y words or phrases. Or you could just use the card to play a drinking game and drown your sorrows while watching your brackets implode.