Director Michael Bay Calls His 'Transformers' Sequel 'Crap'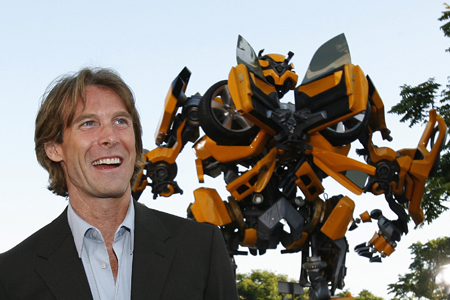 REUTERS/Mario Anzuoni
Michael Bay appears to have finally freed up enough time to watch all two and a half hours of his critically eviscerated 2009 blockbuster Transformers: Revenge of the Fallen. A year and a half ago, bombshell lead Megan Fox publicly dissed the film, saying, "I don't know how you saw it in IMAX without having a brain aneurysm or at least a migraine headache... I'm in the movie, and I read the script, and I watched the movie, and I still didn't know what was happening." Ten months ago, its star Shia LeBeauf criticized it himself—"I wasn't impressed with what we did." Now, Bay is finally admitting what everyone else has already pointed out. The movie was crap.
In an interview with Empire magazine, Bay says, "We made some mistakes. The real fault with [Transformers 2] is that it ran into a mystical world. When I look back at it, that was crap. The writers' strike was coming hard and fast. It was just terrible to do a movie where you've got to have a story in three weeks." While the slice of humble pie is certainly being gobbled up by the critics who took him to task back in 2009, the delay in delivery makes it more than a little stale. Just ask Christopher Orr, who detailed the film's writing flaws in his original June 2009 review of the flick:
Who imagined that this would be a good idea? Director Michael Bay's enthusiasm for his sequel, the full title of which is Transformers: Revenge of the Fallen, is perhaps comprehensible. But what could have gone through the mind of the studio executive who greenlit this epic inquiry into a set of Hasbro toys? And is there some way we could ensure that said exec was forced to watch the film in its entirety, oh perhaps three times, with all the hindsight regrets and missed birthdays that might entail?

It is true that those with the stamina to sit through the mechanized marathon will be treated to sights never before committed to celluloid: a diabolical "decepticon" (that is, bad robot) armed with rotary nose trimmers; another that functions as a gargantuan, extraterrestrial Dustbuster; and a third, the size and disposition of a Chihuahua, which enthusiastically humps the leg of costar Megan Fox. And don't get me started on the pair of jive-talking minstrel-show robots—one sporting a gold tooth!—that had me searching the credits for signs that George Lucas might've been employed as a sensitivity consultant...

...But on it goes, and on, and on, until the audience has been beaten down as comprehensively as the decepticons. The going gets so rough that at one point John Turturro (reprising his role as Agent Simmons) seems to appoint himself a kind of in-film ombudsman, begging one of the robots for a little narrative clarity: "Beginning, middle, end," he pleads. "Details. Plot. Compress. Tell it." If only.
Read more of Orr's review of Transformers: Revenge of the Fallen.