Conan the Cranky: O'Brien's Tour Documentary Shows His Needy Side
Conan O'Brien Can't Stop, which screened this weekend at SXSW, puts the late night host's backstage behavior on display—warts and all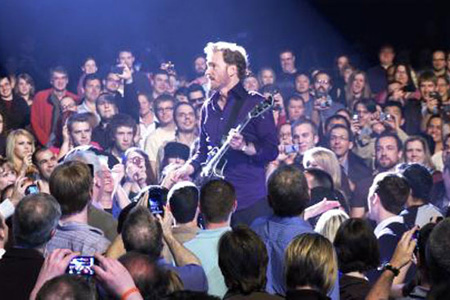 Pariah Productions
It might seem counterintuitive, but If you're a big Conan O'Brien fan, you may want to skip Conan O'Brien Can't Stop, the new tour documentary about Coco's Legally Prohibited from Being on Television Tour last summer.
The story of O'Brien's ouster from NBC is well known, and is fortunately given only a short recounting in the film. "I didn't want to be a the first Tonight Show host who took the Tonight Show into the next day," he says for a laugh at the beginning. "There's fire there because I'm angry, I'm really angry." He's looking paler than usual, but instead of spending his six months away from television working on a tan, he decides to go on tour, and essentially bring his TV show to the stage. The tour was his way of dealing with the NBC mess and getting over it. "It's like a gall stone," he says. "It just had to work its way through my urethra."
What follows is 88 minutes of Coco as he creates, performs, and nearly collapses during his tour. It's not a concert film, although several short segments from his show are included (including some musical numbers that drag), and it's not a sycophantic account of his martyrdom. It's basically Conan backstage, and Conan backstage is very funny.
But Conan backstage is also kind of whiny. And needy. And cranky. And sometimes mean. Which is to say, he's what probably any of us would be if we were him. "I'm really hard on myself," he says at one point. "Sometimes that spills onto other people." (Early in the film, he riffs for several minutes on the fact that his assistant brought him fish in a butter sauce, instead of simply grilled fish.)
And there are moments where you see the downside of always being "up," which Judd Apatow captured so well in Funny People: the narcissism, the manic need for approval and reassurance, the distance he keeps. One telling moment comes late in the film, when Conan attends his 25th reunion at Harvard, and decides to bring part of his touring act to the reunion talent show. While several hours go by of his classmates performing, all Conan can do is whine backstage about when he gets to go on. He doesn't bother watching any of the performances himself or cheering his classmates on, which probably would have made their day and maybe become a story they tell their kids. He just impatiently waits for his chance to upstage all of them by performing "Rock This Town" with his bandmates.
The documentary is also done a disservice by some technical issues, most notably the lack of focus at certain points and poor sound. There are several scenes where it's hard to hear Conan because there isn't a microphone on him. The director, Rodman Flender, acknowledged these issues after the film screening. "He's always going," he said, and he couldn't always keep up with him. But it could still have been better. During those music performances, it's hard to hear Conan's voice in the mix, and there's some shaky handheld camerawork.
He really can't stop. Even ragged, with his voice almost lost and his socks falling off, collapsed on a couch, he still makes a room explode in fits. Whether it's an audience of thousands at Bonnaroo or just his assistant and producer in a steamy trailer surrounded by mud backstage, he gets laughs, and he entertains. Whatever resentment those around him may have, it's all forgotten with laughter. And the same seemed true at the premiere yesterday—after the credits rolled and Conan took the stage (he had been watching from the very back), he got a standing ovation from an effusive audience, which didn't seem to have lost any love for him. The film makes clear that he needs that ovation, almost constantly, which is why he makes such a great entertainer. While this tour was great for everyone who got to see him, it was something he needed more than we did. "I would love to so this again," Conan said of his tour during the Q&A after the film. "But it will never be like this. This was a moment."