Brandon Davies Should Have Gone to Baylor
BYU's strict honor-code enforcement didn't work out so well for the Cougars' leading rebounder. He should have gone to a school where the rules aren't taken as seriously.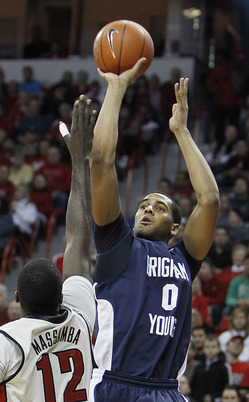 AP Photo/Isaac Brekken
Oh, Brandon Davies of BYU. What were you thinking? Why did you decide to play basketball at Brigham Young? They obviously don't appreciate you in Provo. You were the Cougars' starting center and leading rebounder, a star on one of the country's best teams. Still, they suspended you for violating the university's honor code -- and a minor violation it was, too. All you did was sleep with your girlfriend.
Clearly, Brandon, you should have gone to Baylor University, where they know how to treat a student-athlete right.
Like BYU, Baylor is a private university with a religious character. Like BYU, Baylor has mandatory chapel services for students and sponsors them on evangelical missions abroad. Like BYU, Baylor also has a strict honor code. The school's campus-wide rules prohibit students from engaging in, among other things, homosexual acts and/or "fornication" -- more commonly known as "sex when you aren't married."
Thankfully, unlike those stuffed shirts in Utah, the good folks at Baylor University don't seem all that worried about enforcing their honor code. Especially when it comes to star athletes. Like basketball players. Just ask LaceDarius Dunn -- all-time leading scorer for the Baylor Bears Men's basketball team.
LaceDarius, we can be fairly certain, wouldn't do too well at BYU. At the bare minimum, we know he fornicated at least once, given that he has a three-year-old child with his girlfriend, LaCharlesla Edwards. That's the same girlfriend Dunn was arrested for allegedly assaulting on Sept. 27, when Waco police reported that Dunn broke Edwards' jaw in two places during an altercation, and charged him felony assault.
Don't worry, Brandon. Sure, Dunn was suspended from the team, missing a few of the cupcake non-conference games at the very start of the schedule. Dunn was even
suspended
from the university itself, meaning he was denied the pleasures of attending class. The story
ends well
, though. Edwards disputed the police report. She and Dunn both claimed that her injuries, while sustained during a heated argument, were accidental.
Oh, sure. That sort of thing happens all the time. People are always accidentally breaking each other's jaws. Especially couples. Who among us hasn't accidentally broken their significant other's jaw a dozen times or more while fighting over, say, where to dine that evening or which partner gets to have the TV remote control?
Thankfully, Baylor's disciplinary committee found Dunn innocent of wrongdoing, and reinstated him to the team. Even better, a grand jury this week declined to indict the 23-year-old, leaving him free to continue his assault on the league's scoring record.
Heading into tonight's regular season finale against Texas, Dunn needs just five more points to become the Big 12's all-time leading scorer. Even more vital, Baylor desperately needs a win against the No. 7-ranked Longhorns to have any chance of making the all-important NCAA tournament. The team wouldn't have a prayer without Dunn on the court.
Clearly, Brandon Davies, you made a mistake when you chose to play for BYU, a school that enforces their student honor code. Baylor, where they don't seem to care, would have been a much better choice.