Blackballing Libya: How Long Will the Sports World Shun Qaddafi?
The Confederation of African Football has postponed a match that was scheduled to be played in the country later this month. But will the protest against the regime last?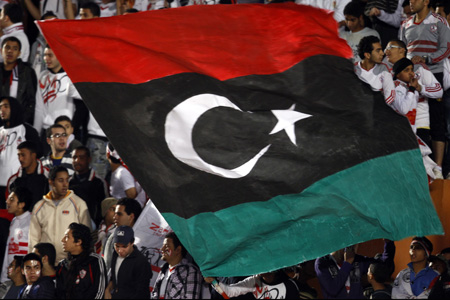 Reuters/Amr Dalsh
The BBC reports that The Confederation of African Football has "indefinitely postponed" a soccer championship that had been scheduled to take place in Libya beginning on March 18. But why was Qaddafi's Libya—even before the current uprising—considered a proper venue for the African U20 tournament in the first place?
It is true that sports rarely takes the lead in withdrawing "Good Housekeeping Seals of Approval" from a regime. A.J. Liebling wrote in 1959 that "it came as a bit of a shock when the International Olympic Committee, instead of the U.N., expelled Nationalist China as if a bellboy had started being rude to an unfortunate guest before the management officially locked him out."
And the world of sport was certainly not ahead of the curve in blowing the whistle on Libya. Colonel Qaddafi's Libya is now an international pariah state, but it was an apparently respectable member of the international community until the day before yesterday. It held a seat on the United Nations Human Rights Council, which indeed was preparing to give Qaddafi's 40 year old dictatorship an ill-timed (to say the least) upbeat bill of human rights health in January. Doubters of Qaddafi's reformist bona fides were reassured by "Jihad vs. McWorld" pundit Benjamin R. Barber in 2007 , who informed us that:
written off not long ago as an implacable despot, Qaddafi is a complex and adaptive thinker as well as an efficient, if laid-back, autocrat. Unlike almost any other Arab ruler, he has exhibited an extraordinary capacity to rethink his country's role in a changed and changing world.
And not even the Qaddafi regime's greatest crimes were beyond the ambit of western forbearance. Based on a medical diagnosis of terminal cancer, the Scottish government released convicted Lockerbie bomber Abdelbaset Ali Mohmed al-Megrahi in August 2009 so he could die at his home in Tripoli. Eighteen months and counting Megrahi remains alive. Although his survival beyond the three month prognosis upon which his release was based may be within the realm of honest medical error, one can't help remembering Al Pacino's Michael Corleone complaining in The Godfather II that rival mob boss Hyman Roth "has been dying from the same heart attack for 20 years."
It is of course true that allowing international sports competitions to be hosted by regimes with questionable moral legitimacy is a well-established, if not particularly laudable, practice. The soccer World Cup was played in Mussolini's Italy (1938) and "dirty war" Argentina (1978). The 1968 Mexico City Olympics went forward within days of the massacre of hundreds, if not thousands, of students and other demonstrators. Brezhnev's Soviet Union was the site of the 1980 summer games (which was boycotted by the United States and other western countries in response to the invasion of Afghanistan).
Most notoriously, Hitler's Germany hosted both the 1936 winter and summer Olympic games. And many would add, and not without reason, the 2008 Olympics in Beijing to this roll of dishonor to the professed ideals of international sport. But where should the line be drawn? What about holding the Olympics in the United States at a time, as in 1904 and 1932, when legally sanctioned racial discrimination was widespread -including in the nation's capital itself? Not that I have the answer to that question, which if it exists at all, is certainly above my Atlantic pay grade.
If Qaddafi can vanquish the opposition and hang on to power we can mark January 2013 on our calendars as a date when human rights and sports will intersect once again. That's when Libya is scheduled to host the Africa Cup of Nations, that continent's football championship. Will a Qaddafi-ruled Libya still be beyond the pale of international respectability two years from now so that Libya will be stripped of that honor? Past practice provides ample reason to fear that it will not. But let's remember to check when the time comes.