'Battle: Los Angeles': The West Coast Is Toast, Yet Again
Why is L.A. always getting blown up in the movies, while New York gets to host some of the greatest love stories of all time?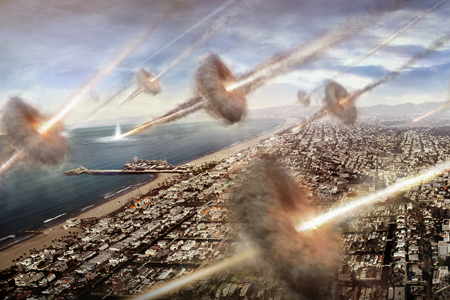 Columbia Pictures
This weekend it will happen for what feels like the hundredth time: The left coast will again be "toast." A platoon of Marines will take on alien invaders in the new film, Battle: Los Angeles. Having watched my city blow up again and again in the trailers, I got to thinking: Why is it that L.A. looks best when it's hosting an apocalypse and is seldom the backdrop for romance? With so many love stories set in Manhattan, and so few in Southern California, filmmakers appear to be sending a message: New York is the place to fall in love, but L.A. is the place to die.
New York City is forever identified with some of the greatest film romances of all time. There's An Affair to Remember, Breakfast at Tiffany's, Sabrina, The Apartment, Annie Hall, When Harry Met Sally, Moonstruck, Working Girl, and the ending of Sleepless in Seattle (which is, of course, an homage to An Affair to Remember).
So while East Coast characters are having their "meet cute" on the streets of New York, what's happening to their L.A. counterparts? I'll tell you—racists are engaging in overwrought dialogue with minorities (Crash), gang members are killing each other (Boyz N the Hood), terrorists are taking hostages (Die Hard), cyborgs from the future are shooting at Sarah Connor (Terminator), volcanoes are erupting (Volcano), Autobots and Decepticons are tearing up the streets (Transformers), and aliens are invading (Skyline and now Battle: Los Angeles).

Don't get me wrong, I secretly rejoice when I see my city getting destroyed. With its
Sig Alerts
, celebutantes, and natural disasters that define our seasons, there's a lot to despise. The 1997 picture
Volcano
was set in my neighborhood and I loved watching it being dissolved by fiery lava. It's sort of cathartic. Take that, Beverly Center. Good riddance, Miracle Mile.
In contrast, no one wants to see the beloved New York cityscape succumb to aliens or a giant lizard. But who cares if the 405 crumbles to the ground? And given the famously poor design of the Hollywood and Highland shopping complex (home to the Kodak Theater where the Oscars are held), aliens stomping on it would be like free demolition—we can start over and build a shopping mall that doesn't seem like it was modeled after the hedge maze from The Shining.
So what is it that makes New York such a wonderful backdrop for romance? I have my theories. For one, romantic comedies are primarily about dialogue. And where does great dialogue take place? While people are in parks, or walking ... not stuck in traffic. What's believable about people falling in love dodging Nicole Richie going the wrong way on the freeway?
Also, most romantic comedies—at least the formulaic ones—have the equivalent of what Nora Ephron refers to as "the running scene," when the leading man or woman finally realizes they're in love and must race to tell their partner how they feel. In L.A., it's hard to stage this—or even a driving scene—because no one who's ever been here would buy that the leading man or woman could actually get anywhere in a hurry.
When people do fall in love in L.A., the city itself is parodied for just how hard it is to fall in love with a real person, as depicted in L.A. Story, starring Steve Martin. Or the characters put sex before love. The recently released No Strings Attached is about a couple that starts off as sex buddies and ends up in love.
This sex-before-love pattern is particularly prevalent in the films of Judd Apatow—New York once had Woody Allen to help chronicle romance in the Big Apple, and L.A. now has Apatow. In his 2007 picture, Knocked Up, a drunken one-night stand leads to pregnancy, which leads to dating-out-of-obligation, which then finally, at long last, leads to love. In The 40-Year-Old-Virgin, it's the quest for first-time sex that gets us to happily ever after. And in Apatow's most recent film, Funny People, his leading man is an overly-indulged celebrity whose bout with terminal illness is the catalyst for finding meaningful love with an old flame. While the character's illness goes into remission, his shallowness doesn't; he alienates his would-be lover with his own self-absorption.
Even L.A.-based superheroes seem to have an eye on sex more than romance. Iron Man's Tony Stark may adore Pepper Potts—but he was showcased as a philanderer who tailored his private plane to allow other women to dance on a stripper pole. Superheroes based in the East Coast, by contrast, are straight-laced squares. Superman, Spider-Man, and Batman all eschew the playboy philosophy and aspire to be forever faithful to one lady... or at least one woman per film. Something about L.A. must just scream "polyamorous." After all, the highest-grossing romantic comedy to ever be set in L.A. has a hooker for its leading lady: Julia Roberts as Vivian Ward in Pretty Woman.
If anything, L.A. is presented as a romance-killer on the big AND small screens. In Annie Hall, Alvy and Annie's relationship dies in L.A. On TV's Sex and the City, when Carrie and the girls venture to the left coast in a two-part episode, they encounter porn stars, a town overrun with plastic surgeons, and, of course, the grotto at the Playboy Mansion. By the time their trip to L.A. is finished, the girls are dying to get back to the myriad of romantically challenged men they've left behind in New York City.
Only one movie in recent memory stands out for making L.A. look like an appropriate backdrop for true romance: in (500) Days of Summer, starring Joseph Gordon-Levitt. How did it do that? By making it look like New York.
To be fair, New York has been home to plenty of disaster films and even shares screen time with the Left Coast in disaster pictures such as Independence Day and The Day After Tomorrow, but the abundance of romance that unfolds there helps balance out its image. Even when King Kong perched himself atop the Empire State Building swatting at planes, what did he have in his hand? The woman he loved. It seems that even when disaster—or a giant gorilla—strikes New York, romance can't be avoided.
Los Angeles has few such iconic locations, unless you count the park from (500) Days of Summer where the characters Tom and Summer play a game of saying the word "penis" louder and louder until one of the speakers is too embarrassed to continue. Somehow the effect isn't the same. I can't imagine anyone saying to the object of his affection, "Let's meet at the park where we screamed, 'penis.'"
It's probably best King Kong wasn't set out here on the Coast. If it were, the gorilla would probably just end up having a one-night stand.