5 Reasons Gwyneth Paltrow Shouldn't Have Gotten a Record Deal
Why the charming, talented, Oscar-winning actress has no business singing country music (or rap, or R&B)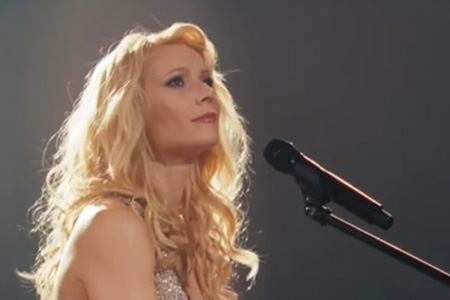 Screen Gems
When Reese Witherspoon went on Late Night with David Letterman to promote Walk the Line in 2005, she described how she prepared to play June Carter Cash by taking singing lessons and learning the autoharp. Witherspoon then declared that she and her co-star Joaquin Phoenix, "became musicians" during the making of the film.
They totally didn't. Playing June Carter Cash in a movie didn't magically transform Witherspoon into a great musician, any more than being in Legally Blonde means that she actually has a degree from Harvard.
Gwyneth Paltrow, it seems, has a bad a case of Reese Witherspoonitis. Or should we call it Scarlett Fever? At least Reese has had the good sense not believe her own hype and launch a music career. Like Scarlett Johansson sort of did. And like Paltrow is doing now. After playing a troubled musician in the movie Country Strong, winning a recurring role on Glee, and performing at the CMAs, Grammys, and Oscars, she seems to have convinced herself that she's a legitimate musician. Yesterday, just in time for Holly Holiday's return to McKinley High, it was announced that the actress signed a recording contract with Atlantic Records, and that her debut album is expected later this year.
Ugh. What in the name of Ahmet Ertegun is going on? First, Justin Timberlake won't sing. Now Gwyneth Paltrow won't stop. Below, five reasons why she should.
5. New York Ain't Nashville
According to the infamous "sources close to Paltrow" (actually a large group of people that are paid to manage her public image), Paltrow's record will have pretty much the same sound as she has in Country Strong, which they called "country pop."
Oh, good. That makes sense. Country music, which at its heart celebrates the simplicity of small-town American life, always sounds best when played by a New York City native, the child of a famous director father and Tony Award-winning mom, who went to elite private prep schools and spent every Thanksgiving with the Spielbergs at their estate in the Hamptons. Heck, there ain't hardly nothing the average Wal-Mart shopping, NASCAR-loving, hunting and fishing, line-dancing country music fan loves more than a woman who speaks fluent French, follows a strict macrobiotic diet, married a rock star, was quoted talking smack about America, and—lest we forget—named her first child after a fruit.
Yee-haw! Grand Ole Opry, here we come!
4. For a Singer, She Doesn't Sing Very Well
Paltrow's range is suspect. Her phrasing and timing are as predictable as a metronome. Her tone, put politely, is thin. Notice at the CMA performance, for instance, how she gasps for breath after each of the first few lines and has Vince Gill carry her through the chorus.
3. She's Not Stopping at Country
Check out her rote R&B cooing with the wondrous Babyface on "Just My Imagination," the listlessness of "Cruisin'" with Huey Lewis, from the karaoke-themed movie Duets, or the flat spots in "What is This Thing Called Love?", the jazz standard that opens the 2006 movie, Infamous. Better yet, don't check them out. You'll be glad you didn't. If you really want to be scared, though, think about this. At last month's Oscars, Gwyneth told reporters that she one day hopes to record with Jay-Z, who is a close friend of hers and her husband's. Imagine, Jay-Z and GP, kickin' it ... The mind reels.
2. There's Just Something Galling About a Woman Who Already Has So Much Being Handed Even More
Okay, the music industry isn't a zero-sum game, and it doesn't necessarily follow that the money and effort now being put into Paltrow's recording career would otherwise go to a lesser-known, more talented artist. Irrational or not, though, it feels that way. It feels like this gorgeous rich, smart, funny, charming, Oscar-winning internationally famous movie star has enough, and she's taking someone else's seat on the gravy train.
1.The Big Problem
The larger issue—and the reason it is so much harder to go from actor to musician than the other way around—is that being an actor and making music only seem to be similar jobs. The two really don't have all that much in common, other than the fact that people sometimes clap when you're done. An actor's job, after all, is pretending to be other people. Musicians, at their best, create art that expresses essential truths about themselves. Gwyneth Paltrow isn't doing that. Not yet anyway. When she sings, as she does on the title track from Country Strong, "I have weathered cold winters, and gone through summers without a drop of rain," we all know it isn't true.