Why Carmelo Anthony's Move to the Knicks Is Good News For Everyone
Even basketball fans who don't root for New York have reason to celebrate the star's arrival in the Big Apple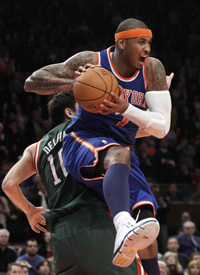 AP/Kathy Willens
The greatest offensive player in New York Knicks history is a lithe 6'7" small forward named Bernard King. In between the era of Willis Reed and Walt Frazier and the era of Patrick Ewing, he dominated on the offensive end, threw down two-handed dunks with reckless abandon and generally dominated opposing teams in the mid-1980s. But he never had another great player to take some of the load off him, and he eventually blew out his knee and finished his career with the Washington Bullets and New Jersey Nets.
Twenty-five years later, we finally get see what it would have been like if Bernard had had help.
When Carmelo Anthony stepped onto the Madison Square Garden as a Knick for the first time on Wednesday, with the fans going crazy and a little Diddy in the background, Amare Stoudemire's grandiose quote earlier in the day suddenly didn't seem so hyperbolic. "The Knicks are back," the star power forward had said, and indeed after Melo (or as the New York fans chanted, "MEHHHH---LOWWW") sank a backbreaking jumper with 30 seconds left to seal the win, it felt like the Knicks were back.
Many basketball fans probably view Anthony coming to the Big Apple as just another instance of the rich getting richer. And they most likely see the move as insignificant to the upcoming heavyweight fight for this year's NBA title. To make either of these assumptions would be a mistake. For one thing, the rich often do get richer. But remember that the Knicks just finished a historically bad decade which will be remembered for Isiah Thomas, Stephon Marbury, and truck parties. And New York is a historically bad franchise, with just two NBA championships in 64 years and none since 1973. More than that, basketball is just better when the Knicks are contenders. When meaningful games are taking place in the Garden, there's an electricity in the building that's unmatched at any other basketball arena. It's been missing for more than a decade, but you could feel it on Wednesday.
As for the post-season, who really wants to play the Knicks in the playoffs? As much as defense wins championships, a dynamic offensive player can single-handedly propel a team to victory (see: Iverson, Allen, Game 1 of the 2001 NBA Finals). The Knicks now have two such players in Melo and Amare. And Melo is in a class by himself, a virtually unstoppable juggernaut who more than holds his own among the current bumper crop of swingmen--LeBron James, Kobe Bryant and Kevin Durant. No team wants to face that come April.
Of course if you're a Knicks fan you don't exactly need to be convinced that Anthony's move is a good thing. You've suffered through Frederic Weis over Ron Artest, Antonio McDyess's knee, $27 million on Clarence Weatherspoon, the dueling man-breasts of Eddy Curry and Zach Randolph, and, of course, Isiah. You looked on in disgust as the Knicks seemingly swung and missed in free agency last summer, failing to land James, Dwyane Wade or Chris Bosh. Now you're watching two All-Star starters on the same floor and anticipating end-of-game situations instead of dreading them. And Anthony gets to take center stage in the old stomping grounds of his basketball idol.
Bernard King.