The Plight of the Female Sports Fan
In the run-up to this year's Super Bowl, two of our regular contributors will be discussing the challenges that face women who love sports
In the run-up to this year's Super Bowl, two of our regular contributors, Alyssa Rosenberg and Hampton Stevens, will be discussing the challenges that face female sports fans, who are perhaps in greater number than ever. Alyssa begins the conversation today with a note to Hampton about sexism at the stadium and in sports journalism.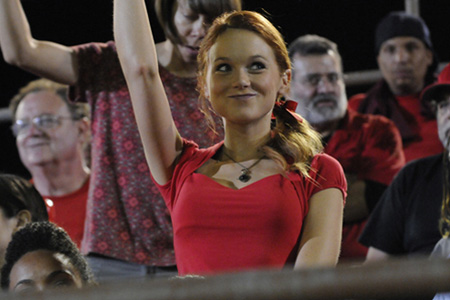 NBC
Dear Hampton,
Under normal circumstances, I'd be jealous of you for heading off to the Super Bowl next week. But after the Patriots' ignominious collapse against the Jets, I'm still in a fog of grief that makes trying to enjoy football seem like a fool's errand. And trying to find a secondary rooting interest is particularly difficult this year. I find both Aaron Rogers and Troy Polamalu quite winning.
But it's not really a matter of deciding between two good options. Players on both teams—Ben Roethlisberger of the Steelers and Green Bay's Brad Jones, Clay Matthews, Josh Sitton, Khalil Jones, Korey Hall, Matt Flynn, and Brandon Underwood—have all had serious sexual assault allegations made against them recently (the most recent allegations against Roethlisberger were dropped because the victim didn't want to go through a trial; Jones, Matthews, Sitton, Jones, Hall, and Flynn were cleared; Underwood remains under investigation). As a result, I'm trying to figure out who I want to lose less: the quarterback around whom there seems to be a perpetual fug of ugly sexual behavior towards women, or a player who may have assaulted two women at a single party.
But it's not just football, and it's not just the players on the field who make me feel queasy about being a woman and a sports fan right now. I am not a casual fan: the Red Sox bind my family during summers; I emptied my bank account to see Curt Schilling throw his last pitches in Game 2 of the 2007 World Series and met one of my best friends while watching Game 4 that year; I have survived encounters with very loud, very drunk Ravens fans; I have skipped out of work to go meet sources at Sox-Orioles games in Baltimore. I recite these bona fides not because I think you need to hear them, but because I think there's a lingering perception that women who love sports are dilettantes, pursuing a game to please our boyfriends or throw ourselves into athletes' paths.
And having to prove ourselves isn't the worst of our problems. I found reading Gabriel Sherman's GQ profile of Deadspin editor A.J. Daulerio sickening, in part because of one particular incident described in the article: It took Daulerio—who runs what is supposed to be a sports site—days to recognize that perhaps it was unwise to run a video of an extremely intoxicated young woman potentially being raped in a stadium bathroom. An editorial approach like that, if that's even what Daulerio's decision-making process in that case can be called, violently excises women from the potential Deadspin audience. And it's of a piece with ugly behavior like Gate D at Giants Stadium during Jets games, where male fans try to harass women into taking off their tops.
It's not that I walk around at games with Mace in my purse, or that I think that all sports reporters are profiting off the sexual humiliation of women. But it seems to me there's something ugly in mainstream American sports and in mainstream American sports fandom, when one class of fans isn't taken particularly seriously, and in the wrong situation can be seriously at risk.
Alyssa