The 'Glee' Super Bowl Episode : Football and Musical Theater Can Co-Exist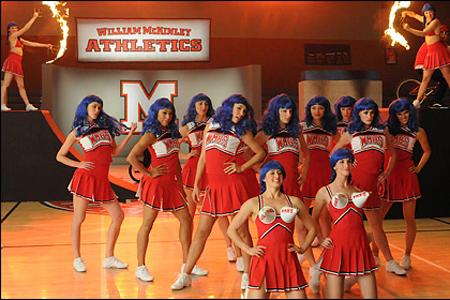 Fox
Glee came out after the Super Bowl, bras blazing, to prove that football and musical theater could go together after all. The episode opened with a scantily clad homage to Katy Perry, a scene of actual football playing, and an American-as-apple-pie country song. To really drive the point home, Coach Bieste and Mr. Schuester even forced the school's football players and glee singers to perform together. And, aw, they bonded! Over applying zombie make up on each others' faces!
But paradise is only a quick rendition of the Zombies' "She's Not There" (which suited Cory Monteith's voice well, actually), because it was one red slushie to the face and the gridiron gang was out of glee. For all the bells and whistles that were promised in this special post-Super Bowl episode, the start to the show was slow, unfunny, and, quite frankly, boring. If Fox really wanted to keep eyes glued to the TV after the big game, the network should have opened the show with the "Bills Bills Bills" number by the Warblers. The a capella performance of the Destiny's Child song was surprising, oozing with charm, and actually kind of joyous—whereas that overproduced "California Gurls" opening was, as Sue Sylvester would put it, "All Boom Boom and no Pow."
It's unclear why exactly Glee's biggest rising stars—Chris Colfer's Kurt and Darren Criss' Blaine—were relegated to cameo status for the series' biggest episode to date. But being that the outing lacked both the show's usual acerbic wit and emotional heft, "The Sue Sylvester Bowl Shuffle" would certainly have been well-served by more of the two actors' screen-illuminating presences. This is a show about young talent—which Colfer and Criss are brimming with.
Luckily, the episode really hit its stride after that much-needed invigoration from the Warblers. As promised, the "Thriller/Heads Will Roll" mash-up was eye-popping, well shot, and sounded fantastic. Katie Couric's bit at the end was hilariously self-aware. Even better, the football game ended with a nod to my personal favorite football movie, 1994's underappreciated Rick Moranis film, Little Giants (Intimidation!). No word if the game-winning play was the Annexation of Puerto Rico, but I choose to believe it is. See? It is possible to be a fan of both football and musicals. Someone should alert the media. Your move, Diane Sawyer.
Past Glee panels:
'Glee' Does Christmas: Cheesy but Charming
'Glee': Sectionals Bring Out the Best in Everyone
'Glee': Two Weddings and an Anti-Bullying Message
'Glee': Gwyneth Paltrow Brings Fun Back
'Glee' Takes On Katy Perry, Gay Bullying
Why Did 'Glee' Do 'The Rocky Horror Picture Show'?
'Glee': Hitting a High Note, or a Sophomore Slump?
'Glee' Gets Religion, With Mixed Results
'Glee': Britney Spears Meets Britney S. Pierce