'Survivor,' 10 Years Later: Why It's Outlasted Its Competitors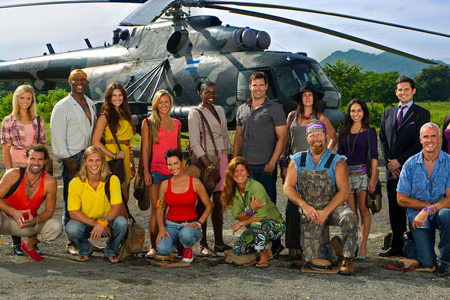 CBS
During the 21st season of Survivor last fall, two contestants made it to day 28 of the 39-day adventure in Nicaragua and abruptly quit. The two women, known to fans as NaOnka and Purple Kelly, were not injured or physically incapable of continuing, which has happened to past contestants. And they weren't distracted by the deteriorating medical condition of a loved one back at home, which has led at least one past contestant to leave the show. No, these two women were two-thirds of the way through the granddaddy of American reality show programs—within striking distance of winning $1 million for outplaying, outwitting, and outlasting the other competitors—when they simply decided they'd had enough of Survivor. Luckily for host Jeff Probst and executive producer Mark Burnett, the public does not share that sentiment.
Survivor: Nicaragua won the 8 to 9 pm time slot on Wednesday night, a new night that saw its viewership rise slightly compared to its Thursday-night numbers the season before. Since its premiere in 2000, the show has consistently ranked in the Top 20 (and for many years, the Top 10) among all television programs. How many Emmys has it won for Outstanding Reality-Competition Program? None. The Amazing Race owns that category, winning every year except one since the award's inception in 2003. But if Survivor isn't as popular with reality show critics (a notoriously snooty crowd, for sure), it retains a large and loyal fan base, thanks to the show's willingness to try new things.
Over the seasons, the composition of tribes has been tinkered with, be it Heroes vs. Villains, Old vs. Young, and Fans vs. Favorites. New twists were added that allowed contestants to protect themselves from elimination (immunity idols) or allowed them to punish other contestants by sending them to "exile island," where they'd remain in the game but live in temporary seclusion with limited resources.
The show's producers have made changes to the show again for season 22, introducing Redemption Island.
Probst explained the new kink to Entertainment Weekly: "When you're voted out at Tribal Council, you don't go home. ... You go to Redemption Island and you live alone. And at a certain point in the game another person will join you. You will compete in a duel. The winner stays. The loser goes home. So you're continuing to live out there on your own with very basic supplies. But you're still in the game. And at a certain point you'll be allowed to reenter the game and have a shot at the money."
Does this run counter to the true spirit of Survivor? Does giving people a second chance jibe with the so-called laws of the jungle? Well, the first thing to remember is that Survivor, for all its purported embrace of social Darwinism, has never really been about survival of the fittest. Sure, it's physically demanding, and a dolt is rarely long for the game. But it doesn't always reward the strongest physical player, and it often makes an example out of people who disregard the social aspect of the show.
Think Russell Hantz, the two-time contestant whose penchant for lying and backstabbing took him far in the game and yet assured the jury would never vote for him. In the meantime, his pigheaded strategy made him arguably the most despised player in the game's history. Producers, perhaps worried that "Redemption Island" wasn't a keen enough twist to keep the attention of viewers, have brought Hantz back for his third "Survivor" rodeo. Oh, and they've also brought along his arch-nemesis, too, Boston Rob, a one-time villain who redeemed himself in the eyes of some fans (including this one) during the recent Heroes vs. Villains season.
"The idea (of Redemption Island) came from the constant frustration every season of having great characters get voted out early and the audience wishing they were still around," Probst told TV Guide. "What better way to kick it off than with Russell, who needs a shot at redemption, and Rob, who represents what happens when you are redeemed?"
Never let it be said that Survivor is short on ideas. Will these latest ones work? Will they keep fans' attention? If not, perhaps pistols at ten paces would be the next logical twist in the Survivor franchise.