'Parks and Recreation': Return of the Sex-Crazed Librarian Ex-Wife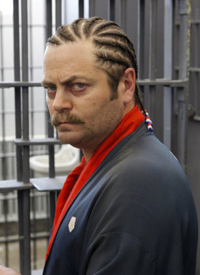 NBC
If Parks and Recreation has a breakout character, it's Ron Swanson. Ron (the perfectly cast Nick Offerman) is gruff, stoic, ultra-masculine—and so self-assured that it's generally all but impossible to rattle him.
Unless Tammy is involved.
Last season's terrific episode, "Ron & Tammy," introduced us to the hilarious, insane relationship between Ron and his ex-wife—a psychopathic librarian named Tammy (played by Offerman's actual wife, guest star Megan Mullally). After falling victim once again to Tammy's charms (and participating in several of the grossest make-out sessions ever aired on television), Ron escaped Tammy's clutches, with everything but his mustache more or less intact—and a vow never to get sucked in by her again.
Easier said than done. For the past few episodes of Parks and Recreation, Ron has happily been dating Wendy (guest Jama Williamson), the ex-wife of parks department employee Tom (Aziz Ansari). Tom's marriage to Wendy was solely so she could get a green card. But Tom had (has?) feelings for her, and he's horrified by the thought that "Captain Mustache" is now plowing his ex-wife (despite Andy's helpful suggestion, picturing Ron in a cape doesn't help).
Much of the fun of Ron & Tammy: Part 2 comes in the anticipation of Ron's inevitable Tammy relapse. Wendy and Ron break up, leaving Ron to drown his sorrows in a glass of whiskey at a parks department party. When Tammy shows up on Tom's arm, both seeking revenge on Ron for dating Wendy, Ron can't help but react to Tammy's presence. It's only a matter of time before he and Tammy soberly agree to go "bury the hatchet" once and for all. Unfortunately, for Ron and Tammy, "burying the hatchet" becomes a number of things: screaming at each other, having repulsive sex, and getting a quickie wedding.
After tearing Ron away from Tammy, the ever-loyal Leslie (Amy Poehler) organizes a wildly ineffective intervention (highlights include a confused Andy advising Ron to "follow his dreams" and a video prerecorded by Ron, warning himself that Tammy is "a monstrous parasite who entered through your privates and lodged herself in your brain"). But Ron's already in too deep; all he wants to do is get back to Tammy, for an 11-day honeymoon of nonstop sex fueled by peanuts and Gatorade.
In the end, it falls to Tom to get over his own pride and pull Ron back from the abyss. Tom crashes a bridal shower at the library to reveal the full extent of Tammy's plot ("when I asked her to be my date, she cackled for a full minute"). When Tammy responds by gleefully throwing Tom into a bookshelf, Ron finally remembers how awful she is, and once again escapes her grasp.
After two near-misses in two seasons, it's difficult to imagine Ron falling for Tammy's tricks another time. Then again, as Woody Allen famously said, "The heart wants what it wants." There's clearly a part of Ron Swanson's heart that wants a sex-crazed, sociopathic librarian, and as long as that leads to episodes this strong, I hope it stays that way. Fingers crossed that the next season of Parks and Recreation brings us a Ron & Tammy: Part 3.
Pawnee History:
Andy signs an obviously phony "top secret" note for Chris with the name Bert Macklin, FBI—a pseudonym he's used several times before (and with similar results).
Wise Words from Andy Dwyer:
On pizza: "Sausage, onion and peppers. Scientifically proven to be the best toppings."