'Parks and Recreation': (Awkward) Love Is in the Air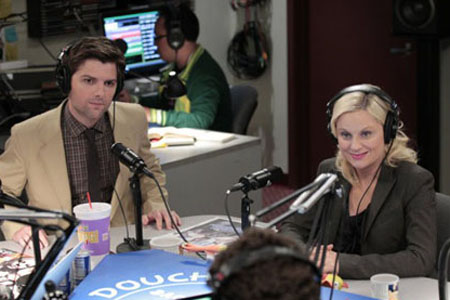 NBC
It's a few days after Valentine's Day, but love is in the air in "Media Blitz," which pairs Leslie and Ben on an ill-fated press junket and (finally) offers a happy resolution to the April-Andy romance.
The parks department's troubles this week begin when Leslie, Tom, and Ben try to promote the Harvest Festival on Pawnee's favorite shock-jock radio show, "Crazy Ira & The Douche" ("so much better than 'Tubby Tony & The Papaya'"). After a series of "your mamma" jokes and an impressive range of fart noises, Crazy Ira and The Douche reveal their real plan: teasing Ben for his brief, disastrous career as the 18-year-old mayor of Partridge, Minnesota (which went bankrupt after he spent the city's entire budget on a skating rink called "Ice Town").
As a fan of the (tragically canceled) Adam Scott-starring series Party Down, I've been eager to get to a Parks and Recreation episode that puts Ben at its center, and "Media Blitz" doesn't disappoint—Scott is terrific. Ben's all-encompassing discomfort whenever his political career is mentioned leads to a series of the most painful, hilariously awkward scenes of this season. As each attempt at damage control leads to an even worse meltdown, Ben's embarrassing past threatens to overshadow the Harvest Festival—and scare off a number of integral sponsors.
Back at the office, Andy continues trying to woo April back by agreeing to do all of her least favorite tasks for a month. I think that the April-Andy subplot has been the weakest plotline of season three so far; Andy's been a little too pathetic, and April's been a little too vindictive, which is disappointing after the depth both characters revealed during their sweet, surprising romance in the latter half of season two. After four episodes in a row with no real development between them, I was concerned that the series would be spinning its wheels on the relationship indefinitely.
But Ron Swanson comes to the rescue, chiding April for her mean streak with a clever (and very character-appropriate) analogy: "When you have a fish on the line, you don't just drag it behind the boat. You either reel it in or you cut it loose." Fortunately, his speech convinces April to reel Andy in, and the two share their first kiss since the second season's finale.
Across town, Ben is badly in need of a rescue of his own, and he gets it from Leslie. When the parks department makes a last-ditch P.R. move by appearing on talk show Pawnee Today, Leslie pulls Ben in front of the cameras. Her encouragement (combined with his own exasperation) is all he needs to put his awkwardness aside and save the festival.
Parks and Recreation has smartly underplayed the romance between Leslie and Ben so far. One of the many advantages of Parks and Recreation's mockumentary format is the ability to plausibly withhold information from the audience. This season's third episode, "Time Capsule," ended with Leslie and Ben heading off to dinner together, and though we didn't see what happened at the actual meal, Leslie's awkward attempts to define her relationship with Ben ("Strictly professional. Just friends. We're colleagues with benefits") proves that his romantic interest is at least somewhat returned.
Less effective was the Chris-Ann subplot, which centered on Ann's not-so-subtle hints that she wants Chris to ask her to move to Indianapolis with him. It's been interesting to see Ann getting more assimilated into Chris's weirdly peppy persona with each week that passes, and tonight's episode took that to a new extreme, as she mixed a salad out of birdfeed and let Chris "redefine her bagua." There are some very funny scenes between them, and Rashida Jones and Rob Lowe are always a pleasure to watch, but even they can't hide the fact that their core conflict tonight is essentially a rehash of their core conflict from last week's episode.
But next week's episode, "Indianapolis," promises change. With only one week left before the Harvest Festival, the parks department has plenty of work left to do. We'll soon see if they're up to the task.
Pawnee History:
As always, Leslie can't resist suggesting an endless string of punny headlines to local reporter Shauna Malwae-Tweep: "Harvest Festival? More like Harvest Best-ival! They planted the seeds and now they're harvesting the rewards."
Wise Words from Andy Dwyer:
On talking your way out of a ticket: "This isn't actually my van. I stole it from a friend of mine. And I technically shouldn't even be driving, because my license is crazy expired."