Oscars 2011: Why More Is More in the Best Picture Race
Last year, the Academy increased the nominees pool from five to ten—which was a win for studios and audiences alike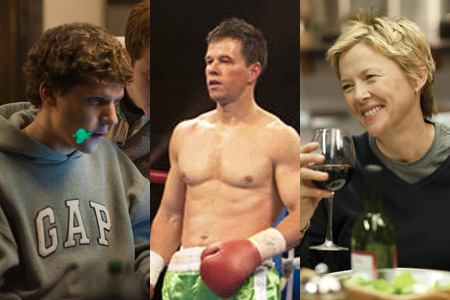 Columbia Pictures/Mandeville Films/Mandalay Vision
The Oscars ostensibly celebrate motion-picture artistry. But, decided by voters and closely overseen by legions of odds-makers, they essentially boil down to a numbers game. So it makes perfect sense that the biggest, most controversial recent change to the Academy Awards—the 83rd edition of which airs Sunday at 8 p.m. on ABC—has been one of quantity: the widening of the Best Picture category last year to include 10 nominees, as opposed to the customary five.
"After more than six decades, the Academy is returning to some of its earlier roots, when a wider field competed for the top award of the year," said Academy of Motion Picture Arts and Sciences president Sid Ganis in a June 2009 press release. Of course, this move wasn't only made out of reverence for tradition, a desire to invoke the halcyon days of Old Hollywood (10 films were last nominated for Best Picture in 1944). Or because the marketplace had become suddenly glutted with masterpieces.
Doubling the number of contenders simply made room for more blockbusters—many felt Christopher Nolan's hugely profitable Dark Knight was robbed earlier in 2009—and allowed more movies to claim Academy laurels in their ad copy, all the while making studios' awards campaigns theoretically less ruthless. And with a greater diversity of movies, more people would presumably feel like they had a horse in the Best Picture race, thus giving them all the more reason to tune in to the end of the ceremony.
Many Oscar observers—perhaps simply caught off-guard by the category-expansion announcement, or irked by the encroachment of the awards show's frantic host and format tinkering into the seemingly more set-in-stone voting rules—cried foul. This roundup of dissenting opinions more or less sums up the major arguments against citing 10 movies: the flood gates are open for the recognition of total crap, the value of the Best Picture statue becomes diminished, etc.
This diluting-quality argument only really holds water for me if you accept the premise that the Academy was previously choosing the five best movies of the year, which, of course, was never once the case. Actually, in its second year, the Best Picture group of 10 seems more and more like an unusual win-win both for Hollywood and audiences. Having a more diverse set of films get recognized—2010's eclectic mix ran the gamut from Avatar to A Serious Man, and this year's from Inception to Winter's Bone, while the majority of years-prior nominees were culled from a less adventurous middle ground—automatically makes the Oscars feel more inclusive, even participatory, in spirit. In this context, the number 10 has a more customizable feel to it—more like another year-end top 10, which so many critics and regular moviegoers use as statements of individual taste—than five, which sometimes felt more like a top-down decree that one must make do with.
There's also the fact that Academy members now vote for Best Picture by ranking the nominated films in order of preference—something the longer list of nominees seems to encourage regular moviegoers to do as well (though, obviously, they can't officially submit these homemade ballots). Before the Academy reveals its top vote-getter on Sunday, and in appreciation of the expanded Best Picture category, I offer my personal top 10 Best Picture nominees, and would encourage readers to do the same in the comments.
1. The Fighter. This scrappy family drama improbably trumps all other Best Picture comers. A number of actors at the top of their craft sustain feature-length hissy fits; the remarkably natural sense of flux here recalls the films of American legend Robert Altman.
2. The Social Network. Another unlikely triumph: an involving drama about the vagaries of intellectual property. All the set-dressing PCs had some pontificators deeming David Fincher's latest to be some sort of defining moment for millennials, but this is just an expansive, sharp character study with largely incidental Web 2.0 trappings.
3. The Kids Are All Right. Writer-director Lisa Cholodenko has a signal talent for making even the most irregular domestic turmoil seem somehow also reassuringly pleasant. This doesn't necessarily help the dramedy, about a lesbian couple's two teenagers connecting with their sperm-donor father, move toward a satisfying resolution. But it's otherwise full of surprises. Bonus points for its gently sardonic look at the farm-to-table ethos.
4. The King's Speech. A traditional prestige pic that rises to the occasion. Its only substantial fault (not counting any futzing with the historical record) is its needlessly distorted wide-angle look, which doesn't serve the film in any conceivable respect.
5. True Grit. A typically exemplary piece of craftsmanship from the brothers Coen. No other movie this year had more enjoyable, and better-syncopated, scenes of characters just chewing the fat. A little overly dutiful, though, both in its desire to be a straight Western and a patented Coen critique of one. Those appalling acts of racism by major characters seem to be there for no other reason than to tip off a certain knowingness on the filmmakers' part.
6. Winter's Bone. This atmospheric drama of steely determination and amateur detection in meth-cooking country rumbles steadily at a low gear. The film is something of a loaded ethics-of-regional-authenticity question in itself, but it's hard not to stick with its performances, particularly those by Oscar nominees Jennifer Lawrence and John Hawkes.
7. Toy Story 3. The best Pixar movie since Ratatouille takes up with Woody, Buzz, and "the gang." An enjoyable film with several nifty set pieces, but the studio's signature move of late—quarantining all the grown-up tearjerking to one sucker-punch scene—is becoming a bit tiresome.
8. Inception. Who knew that dreams devoid of imagination could look so cool? Christopher Nolan, I guess. Aside from the magnificent effects, though, this movie, with its ceaseless piling on of on-the-fly explanations, feels like learning how to play some needlessly arcane board game.
9. Black Swan. An agonizingly ridiculous body-horror pastiche. It's hard not to admire its shamelessness on some level, but its late-stage transformation from a schizophrenia freak show to a self-sacrifice-for-art parable proves thoroughly unconvincing.
10. 127 Hours. A game one-man show on the part of James Franco. But rarely are life lessons so aggressively force-fed to the audience. Lingers in my mind more as a piece of extreme edutainment than a legitimate piece of narrative filmmaking by a respectable director.