Oscars 2011: 'I've Accomplished Everything' and Other Ridiculous Statements From the Red Carpet
From Sandra Bullock to Jennifer Hudson to Justin Timberlake, a look at the silly things celebrities said before the Academy Awards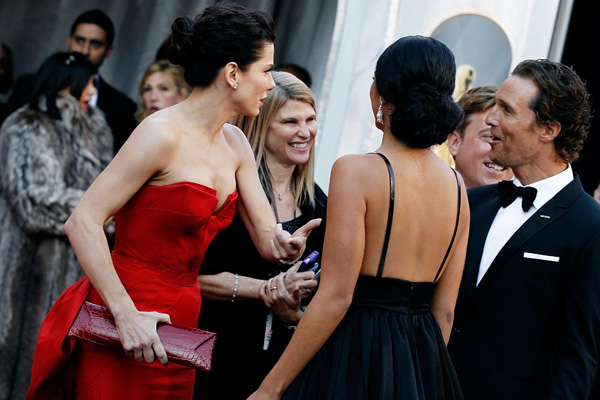 Matt Sayles/AP
The Oscars red carpet is porn for fashion lovers, but it's equally titillating to those who enjoy hearing celebrities embarrass themselves. Nearly every word out of an actor's mouth is typically choreographed, edited, and cleared for pleasantness by a team of image-controllers and studio heads. But set loose on the Oscars red carpet, these celebrities have a tendency to say some ridiculous things.
They've been starving themselves for months to fit into dresses, are high off of a combination of spray tan fumes and hairspray, and have 300 blinding flashes going off in their eyes as their names are called from 84 different directions. In the midst of all the chaos, they are shoved by a cranky publicist to a talking bobblehead who thrusts a microphone into their face and asks them a series of diametrically varied, inane questions; "How are you preventing panty lines?" is typically followed by "How has this role helped you find your truth?" It makes for the most gleefully confused, foot-in-mouth answers.
We endured all one hundred and twenty minutes of E!'s red carpet coverage before switching to ABC to catch the tail end of its pre-show. Here are the zaniest bits:
"I've been off squirrel ever since."
–Jennifer Lawrence, on how filming Winter's Bone changed her
"If you have smudges on your face, they're licked and cleaned twice as fast."
–Josh Hutcherson, on living with his mom
"My parents have always raised me to be the way I am."
–Hailee Steinfeld
"I lost 20 pounds in five months. If I could do that, I can do anything."
–Mila Kunis
"We rehearsed. My mom played the part of Helen Mirren. It went well. She swore more than I hope Helen will. It was disgraceful."
–Russell Brand on rehearsing his presenter bit with his mother
"Hungry."
–Amy Adams, describing her kissing scenes with Mark Wahlberg in The Fighter
"She's pushing boundaries now, and I applaud her for it."
–Kelly Osbourne on Scarlett Johansson wearing purple.
"Sharon Stone's crushing a lot of the 20-year-olds."
–Giulianna Rancic
"I'm really not that smart."
–Justin Timberlake
"I have a complex with my bum."
–Helena Bonham-Carter
"He eats a cow a day."
–Hugh Jackman's wife, Deborra-Lee Furness
"We had that little man that no one knew about."
–Sandra Bullock on why she didn't sleep the night before her Oscar win last year
"I've accomplished everything."
–Jennifer Hudson
"Look for the change in suits. I'm sure you're all eagerly awaiting."
–James Franco
"You'll gu-ess. Not gas. Guess."
–James Franco
"I just did my first day of work in over a year and a half."
–Sandra Bullock