On '30 Rock,' Life Imitates 'The Daily Show'
In this week's episode, the show-within-a-show gets flak from a Jezebel-esque site for its negative attitude toward women. Sound familiar?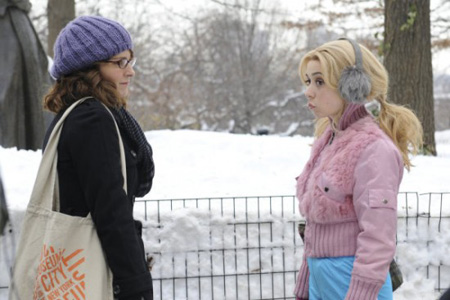 NBC
After last week's episode of 30 Rock, which detailed the lengths to which the TGS staff went to provide Liz Lemon a man for an evening, last night's show revealed machinations of a different sort. We were introduced to two new female characters—Abby Flynn and Kailey Hooper—who scheme their way out of and into the 30 Rock tableau.
We opened with Jenna happily reporting that she was featured on a Jezebel-type website called Joan of Snark. The feature was actually titled "Why does TGS hate women?" and they make a decent point--the originally titled The Girlie Show has become a string of menstruation jokes. As a result, the well-endowed Abby Flynn, "comedy's freshest female voice," is hired by Liz.
It doesn't take long for Liz to step in on Abby's behalf:
But the intrigue of Abby is far from a ploy to bag men (though that happens along the way). She's got bigger issues to deal with, leaving everyone a bit blindsided.
In contrast to the sad story of Abby Grossman, Kailey Hooper, the granddaughter of the head of Kabletown, looks poised to take over, which is just what Jack fears. While Abby is forced into a different persona to get away from a man, Kailey takes one on—that of "Student Argonaut"—in a ploy to make Jack believe that he's a surefire bet to run the business. Everything comes to a head when Jack realizes that he's got competition.
Overall, it wasn't 30 Rock's strongest showing, but I look forward to seeing more of Kailey (played by actress Chloe Moretz) trying to take down Jack.
Best random quote that has nothing to do with the show's plot: "We walruses owe him everything for giving us the gift of language." –Jack Donaghy