Old People and the Oscars: Is 'The Social Network' Doomed?
How aging Academy members could affect this year's awards races.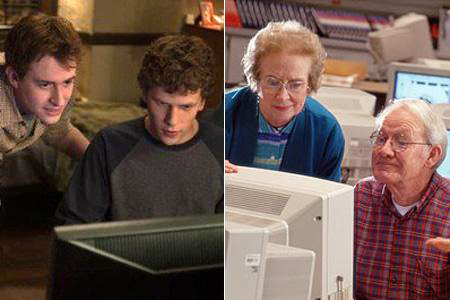 Columbia Pictures/flickr
My excellent Golden Globes source says Harvey Weinstein furiously stormed out of the Globes party after his movie, The King's Speech, lost the Best Drama award to The Social Network. He should have won that: The international press is notoriously oldish and obviously foreign. What should they care about The Social Network, a super hip American story if there ever was one? But from what I hear, the irony was that the oldies but goodies at the Globes wanted to be groovy and show how wired and un-foreign they were. So now for the Oscars Harvey is assiduously working the old people, of which, I hear, there are plenty in the Academy.
There are many lenses through which we can see the Best Picture race, but I choose the generational story exemplified by the aging, enigmatic Globes voters. The Academy is a tricky group. They are perverse, politically left wing, and sentimental. They don't like to be predicted by the press or told whom they are going to vote for. Think Crash, which won Best Picture in 2006 over Brokeback Mountain. But sometimes, as with any impressionable voting group, Academy members can be manipulated by momentum. Is this a momentum year or a split-vote year, like with Crash? Last year the question was: Was it a political-indie-upstart Hurt Locker year or an industry-influenced Avatar year? And we saw how that went. My thought is that the Academy is very much a mixed-up electorate right now, and the issue is age.
The Social Network makes the elderly in the Academy anxious for several reasons: a.) I don't know how to use a computer. b.) Those little shits. Pissers like that passed on my last screenplay, movie, role, fill in the blank. c.) This generation thinks they own the world.
And the people who think this way are not working as much as the ones who get the Net, who by and large aren't getting into the Academy so easily these days—there are more old folks in the Academy than hipsters. (It requires four sole credit movies and three recommendations from members, then approval from a committee that likes to meet in private exercising vetoes like an exclusive co-op in Manhattan.) But those younger guys are the ones who are working, and so you see the tension. And the old guys can be politicked. They love to get together, and they have plenty of time for the free dinners and lovely events sponsored by publicists of movies stars or their friends of friends, and the once—but now never—neglected motion picture old age home. I assume that's where you'll find someone working The King's Speech. I don't know for sure. It's an educated guess.
This is mirrored in the oddly stubborn and almost grumpy anti-Facebook sentiment we see in the otherwise brilliant print boomers like Malcolm Gladwell in the New Yorker and Frank Rich in the New York Times. Both have said that what went on in Iran (Rich amazingly added Egypt) had nothing to do with the Internet or Facebook. I am stunned by this, as we see the protesters themselves making heroes out of the Google hackers, and painting signs of thanks to Facebook. Why the resistance? Does it somehow diminish the power of their medium? (Duh.) Or make them or their/our generation less relevant? (Our industry has its own critical economic fears of the Net driven by piracy, and is not in favor of net neutrality.)
Am I stretching dangerously, or could The King's Speech subtly use the older generation's hostility to the Net as a kind of backlash against The Social Network? Can you cater to those who can't use email, like my dad, who when I try to tell him he can get thousands of pictures of his family if he took only one simple lesson looks at me as though I were asking him to fly to the moon?
Can one harvest this antipathy to start a revolution that amounts to a King's Speech voting bloc? Is there some call being shouted from the rooftops for old-fashioned movies? Old people are sure speaking at the box office right now. They want more movies. And they have them in The Kings Speech, The Fighter, True Grit, and for some, (the dirty old man contingent?) the hot, hot Black Swan—all bona fide hits.
These movies, even the artier ones, are actually making money. The Kings Speech so far has made $211 million worldwide already, pre-Oscars! The Social Network has made $220 million worldwide, and the Coen Brothers' True Grit has grossed $193 million worldwide. The Fighter, which Paramount resisted making as some of its brave and now gone execs and its producers fought on, made $105 million. The always shiny penny Fox Searchlight starved Black Swan until it was saved from anorexia by a young entrepreneur who started Cross Creek Pictures, who made it to the Oscars the first year of his career. It has made more than $200 million worldwide.
And the fanboys really came out for their two Oscar contenders and made them big hits: The Social Network has made $220 million worldwide; kudos to Amy Pascal and Sony for green-lighting the brilliant team of director David Fincher, screenwriter Aaron Sorkin, and producer Scott Rudin—a rare pure studio original that is a critical success, a box office hit, and an Oscar nominee. And those same fanboys made Inception a blockbuster. So perhaps we will not be fed a pure diet of Spam, after all.
Just as I was thinking about this, my son Oly called to ask for whom I was voting. He was lobbying heavily for The Social Network. It was as though he was live from a conceptual Tahrir Square of Hollywood, registering his disgust at the backlash to their movie. "Don't vote for that BBC retread, Mom. Think about it. Who's ever going to watch The King's Speech a second time? It's like when Goodfellas lost to Dances with Wolves—who ever saw that again? They get it wrong in these years when it's about momentum. The Social Network was a breakthrough, about an important moment in time. It was better made, and made better use of technology than The King's Speech. It's more contemporary, has better writing, and is more relevant. And, it's not about a speech impediment!"
I was never this undecided this close to voting. But my choices weren't between these poles. I kind of liked The King's Speech, but with the American movie business on the line, it wasn't even in the running for me. I also loved True Grit, The Fighter, and Black Swan. But I had to consider: Where would my vote count? It was like Pennsylvania at primary time. It was getting clearer and clearer what the politics were after talking to my son, and where my vote would count. But I ended up splitting my votes for the other categories all over the place.
Even the Best Actress race is an old-young thing. It's basically Natalie Portman's to lose. If Natalie loses, it will be because Annette Bening is old, and it is her turn, goddamn it, and the oldies are voting a straight AARP ticket. Bening is very popular, one could say beloved, and it would be one of those standing O's that would last until the bell rang and James Franco threatened to cut off his arm. Natalie, on the other hand, suffered for her role, learned to dance ballet, did one of those amazing/training/method/Raging Bull/My Left Foot things that tend to win—if not guarantee—you Oscars. So that may trump the Old Person Revenge trend.
It's ironic because the hosts, James Franco and Anne Hathaway, were chosen to deliver the youth audience. The theme will be young, young, young. I may pass out from exhaustion. When I asked how the whole thing was going to the head of the Academy, he pointed down with his hand four feet off the ground.
"Dwarfs?" I said. "A midget act?"
"No," he answered. "We're going for the youth market."
They're always going to go for the youth market, no matter how hard the old people shout and stomp their feet with their votes or movie tickets or eyeballs. (Even the Nielsen's covet the 18 to 24s.) It's habitual—an addiction in Hollywood where we dye our hair, fill our wrinkles, honor the Kardashians, and take these jobs to relive our nerd-years in comic book sequels. Youth is king, even if the King takes home the statuette. The fan-boy rules the roost, and will run the Academy eventually. I truly fear for the luncheon menus, but I will be at the motion picture home by then, being lobbied by some pisser.