'Never Let Me Go' and 'Conviction': When Oscar Buzz Goes Bust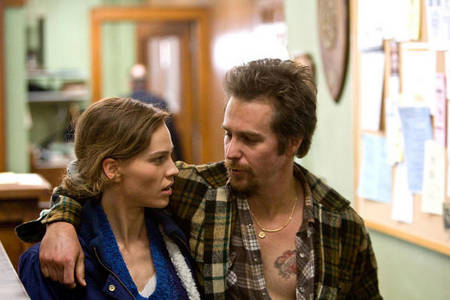 Pantheon Entertainment
By now there has been a lot of waxing rhapsodic about the Oscar nominees, and just as much ink spilled on the most egregious snubs. But always little-discussed in the lead-up to the Academy Awards are the movies that fell by the wayside in the early going: films that once had Oscar buzz and then, for reasons of bad timing (The Ghost Writer, perhaps) or inferior quality (Hereafter!) or what have you, just lost it altogether. Two of last fall's most prominent instances of failed Oscar bait, Never Let Me Go and Conviction, have arrived on home video this month. Both are diverting films in their own right, but they also provide interesting case studies in the fickleness of buzz, and help to shed further light on precisely what it takes for a movie to become a year-end consensus favorite.
On paper, Never Let Me Go, now available on DVD and Blu-ray (though it doesn't hit Netflix until March 1), looks better than promising. The director, music-video veteran Mark Romanek, might be described as on-the-rise, and Alex Garland wrote the screenplay from a 2005 novel by Kazuo Ishiguro. And somber adaptations of respected bestsellers have lately done very well at the Oscars, becoming a particular specialty of producer Scott Rudin's (The Hours, No Country for Old Men). A love triangle with only the most genteel sci-fi touches, Never Let Me Go also comes loaded with top-notch British talent (Carey Mulligan, Keira Knightley, Andrew Garfield, Charlotte Rampling, and Sally Hawkins) and a carefully cultivated political opaqueness. For instance, the scenario, in which the harvesting of organs from flesh-and-blood clones has essentially rid the world of terminal illness, might be interpreted as both for (better embryos than these unlucky individuals) and against (embryos essentially are these unlucky individuals) stem-cell research; the film opens at a walled-off boarding school in 1978 England, perhaps thereby encrypting some comment upon Thatcherism, but also perhaps not--this is an alternate history, after all.
Happily, in the case of Never Let Me Go, the pedigree doesn't lie: It is indeed a good, solid prestige picture, one that doesn't use its status as such to excuse itself from asking the pertinent ethical questions. It's no worse than this year's most traditionalist Best Picture nominee, The King's Speech, if a good deal less stirring. What, then, wasn't quite right with Never Let Me Go? Many reviews upon its release were tepid, taking particular issue with the unrelenting bleakness of the story. Perhaps it's as simple as that: It's too much of a downer.
But I suspect the film might have gained more awards traction with a few simple adjustments: if it were set a few decades earlier, in the thick of World War II, or its concluding voiceover narration were omitted. Never Let Me Go might not be patently political, but a dystopic air of authoritarian policy hangs over the proceedings. Institutions like the Academy seem to feel more comfortable with such airtight atmospheres of dread if they can be safely quarantined in the past, preferably by some association with the indisputably vanquished Third Reich, or counterbalanced by a hopeful arc for the protagonist. Martin Scorsese's Shutter Island is another recent example of a well-made, accessible film that is nonetheless uncompromising in its downhill trajectories, and therefore Oscar-unfriendly.
Conviction, a legal drama directed by Tony Goldwyn and written by Pamela Gray, is another seemingly Oscar-engineered Fox Searchlight release that lost its mojo after receiving largely polite reviews. Here's a different Academy-favorite formula: the based-on-a-true-story inspirational, fronted by the toughest cookie you've ever seen. Hilary Swank plays Betty Anne Waters, who fights an against-all-odds 18-year battle to exonerate her benign-ne'er-do-well brother, Kenny (Sam Rockwell), imprisoned in 1983 for a murder he didn't commit. Betty Anne's long-haul plan for beating the system involves getting a B.A. on the way to a J.D., so she can suit herself up as Kenny's DNA-evidence-touting attorney.
As a bartender and mother of two, the devoted sister is permanently frazzled, temporarily losing her family on the way to winning an appeal. As does multiple Oscar nominee The Fighter, Conviction co-stars Melissa Leo and takes place in Middlesex County, Massachusetts; it also aspires to, but lacks, the boxing film's facility for staging bar fights and living-room havoc. That's not to say it doesn't have its workmanlike merits, though: Rockwell stands out in particular, and the day-to-day struggle of prioritizing isn't often so convincingly depicted on-screen. Worse movies than Conviction have certainly been nominated for, and even won, Best Picture in the past.
As critic Melissa Anderson noted in her review, and a quick trip to Wikipedia will confirm, even the end credits of Conviction omit this incredible story's impossibly tragic real-life coda: Kenny Waters died in an accident a mere six months after his release from prison. Conviction's pandering no-loose-ends policy might actually have ended up hurting it in the awards derby. The Academy's expanding of its Best Picture field to 10 last year seemed intended to dispel the impression of predictability, the notion that the Oscar always goes to a certain kind of stodgy drama. Narratives of at-all-costs do-gooder determination have found their way into that final 10, both in the form of unabashedly populist true-story tear-jerkers (The Blind Side) and regional slow-burners (Winter's Bone). Conviction, with its hilariously flat-footed it-means-two-things title and mini-major budget, falls somewhere uncomfortably in between, the blockbuster neatness of its story perhaps at odds in some voters' eyes with its assiduously localized daily grind. In other words, the well-intentioned Swank vehicle seemed suddenly both too conventional and not quite conventional enough for the room--a classic awards-season double bind.