Life After the Super Bowl: 6 Sports to Watch Besides Football
From NASCAR to lacrosse to baseball, how to survive the eight months—or more—until the NFL returns.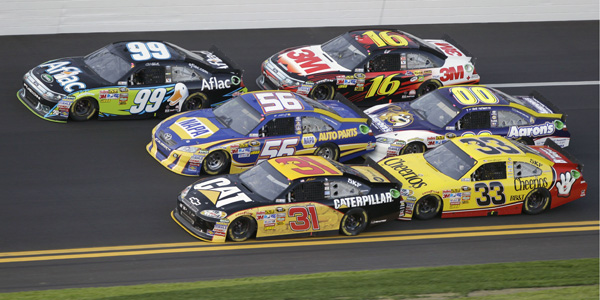 Lynne Sladky/AP
The First Amendment may prohibit the United States from having an official religion, but everyone knows that we've got one. Professional football is the opiate of these masses. Those eight months of cold turkey from the end of the Super Bowl to the first snaps of the fall season can feel like an eternity, and this year that eternity might last even longer. Despite the news that the NFL and NFLPA have agreed to mediation, football is heading towards a work stoppage this fall. For fans already in a funk without their pigskin, now teetering towards panic at thought of a lockout, the Culture channel has a few substitutes to keep you busy until the game returns. Assuming, that is, it ever does.
Baseball draws closer, of course. One of the surest signs of spring is when baseball players start getting arrested for drunk driving in Florida. (Quick party tip for Miguel Cabrera. If you have to ask people, "Do you know who I am?," they don't, and they wouldn't care if they did.) Pitchers and catchers are already at camp, with a mandatory report date of Feb. 26 for everyone else. A quick month of games whose main purpose is to give winter-weary northern fans a place to vacation, and we get real Major League Baseball, Opening Day, on March 31.
There is also wall-ball. If football is truly an opiate, arena football is like methadone. After 22 seasons in business, the AFL folded when the economy did, but a reconstituted AFL is back, and opening night is March 14. If the new AFL teams are smart, their advertising campaigns will make fun of the rich NFL players and richer NFL owners who can't figure out how to divvy up the billions.
But why not start at Daytona? If you don't understand why people like NASCAR, Sunday's Daytona 500 is the race to watch.
First, you really need to get over the idea that NASCAR is "just left turns." Seriously. Any sport can sound simple if you use simplistic enough language to describe it. When you are driving in a bumper-to-bumper, side-to-side pack of racecars moving at 190 mph, there is absolutely nothing simple about turning left.
Show up early, too. With most spectator sports, casual fans are better off tuning in at the end—watching the ninth inning, or fourth quarter. In motorsports, the casual fan is best off seeing the beginning. That's doubly true at Daytona, where the last 10 laps can take an hour to run, and look like a demolition derby. At the race's start, though, when that green flag drops on the first lap of the season, sending those 43 peacock-colored cars in tight formation thundering down the backstretch of a four-lane oval, it's the biggest, loudest, brightest, fastest, most grandiose spectacle in all of sports. Case closed.
On the subject of sports that are "just left turns," the Kentucky Derby prep race schedule offers some of horseracing's most exciting, tradition-rich events. Like the $1 million Louisiana Derby on March 27, for instance, the Santa Anita Derby on April 3, and a big doubleheader on April 10, when the Bluegrass Stakes and Arkansas Derby both air on NBC. All of these leads, of course, to the Run for the Roses —the 137th annual Kentucky Derby on May 7th, for which I've already started making a hat.
If you are looking for a new sport, lacrosse isn't it. Lax is older than the country. Major League Lacrosse is young, though, and starting their eleventh season on Saturday, May 14th.
For a preteen, MLL has had Beiber-like success. Upper Deck issues MLL player cards. Easton, a major equipment provider for baseball and hockey, has jumped into lacrosse as a supplier and signed MLL stars to endorsement deals. Plus, the surest sign that any league has hit the big time—fans can get their favorite MLL player or team logo on a Fathead.
For the next month or two, however, life as a fan is all about the hardwood. In just a couple of weeks, the college basketball postseason conference tournaments begin—replete with their automatic bids to the big show—followed immediately by one of the best days of sporting year: the NCAA tournament's Selection Sunday, on March 13. That night, when the whole country breaks out in bracket fever, we find out who makes the newly-expanded 68 team field. We will learn if the Colonial Athletic Association will get more bids than the Pac-10, and if the Big East ill get more bids than every other conference combined. We will find out what schools will get Jimmer'd, and, best of all, we will be freed from having to hear anyone use the expression "bubble team" for at least eight months. That's always a blessing.
It gets better for hoop lovers, too. The NBA's All-Star festivities this weekend signal the unofficial end to the seven months of semi-exhibition games that make up the league's regular season. After college crowns a champ at the Final Four in Houston on April 4, the NBA playoffs—a.k.a. real basketball—start April 16, and once more, fans get the magical experience of seeing the world's greatest athletes trying almost as hard as they can, almost all of the time.
Not for nothing, with their CBA set to expire this summer, the NBA has a little labor strife of their own coming down the pike. Unthinkable as it may be, autumn of 2011 could see the American people living in a world without the NFL or the NBA—if you can even call that living.
In this doomsday scenario--which probably has a 50-50 chance of playing out—millions would soon fall into a sociopathic, shame-hate-rage death spiral born of psychotic boredom, running madly into the streets, screaming, ripping out their own hair, smashing glass, tipping cars, ultimately tearing apart the very fabric of American society, and bringing about the end of Western Civilization just in time for the Apocalypse in 2012.
Either that, or people will just go see a lot more movies. And they'll no doubt watch the NHL, which couldn't have picked a better time to be negotiating a new deal for US TV broadcast rights.