Lady Gaga's 'Born This Way' Video: Where Zombies Meet Bubblegum Pop
The singer's latest video is epic, semi-pretentious, and one of the best, most self-aware encapsulations of her artistic project and appeal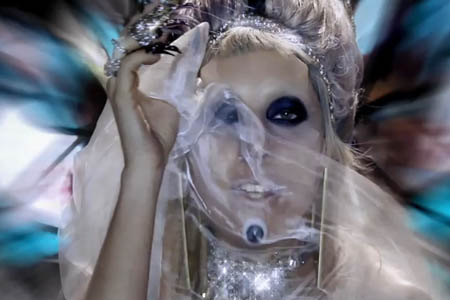 Vevo
It's probably the only time Ke$ha will ever steal a match on Lady Gaga. The deliberately silly pop star beat her more-acclaimed blonde counterpart to unicorns by releasing a profoundly goofy, wonderfully strange video for "Blow" that involved a bunch of mythical creatures in formal dress, James Van Der Beek, and rainbow guns on Friday.
Lady Gaga also kicks her seven-minute video for "Born This Way" with a spectral unicorn. But her clip, co-directed with high-fashion photographer Nick Knight and long-time Gaga choreographer Laurieann Gibson, has none of Ke$ha's self-parodying impulse. It's epic, semi-pretentious, and one of the best, most self-aware encapsulations of Lady Gaga's artistic project and appeal.
Nominally a science-fiction epic, Gaga enters the frame as Mother Monster, a stylish alien with an extra eye implanted in her chin in an echo of the Pale Man from Guillermo del Toro's Spanish Civil War fantasy Pan's Labyrinth, and prepped, as it turns out, for delivery. Her offspring, who come into the world in a burst of hallucinogenic gynecological detail, are two-fold: large, mucousy eggs with a nod to Alien, and evil personified, represented by a harnessed Rick Genest, better known as Zombie Boy, a Montreal man who has covered his entire body with astonishing tattoos of decaying anatomy (and who starred in a Theirry Mugler video that highlighted another song from Gaga's upcoming album).
It's Zombie Boy's arrival that gets the video to the point. As gorgeous as the alien nonsense is, "Born This Way" is really a showcase for two things: Lady Gaga's improving skills as a dancer, and an acknowledgment of her wildly successful juxtaposition of nominal freakiness with mainstream dance-pop music.
Gaga's egg-encased arrival at the Grammys ended up overshadowing her performance, which was unfortunate. It was a tight display of how much more ambitious her dance performances have gotten since her early videos, which often featured steam-obscured sequences or writhing cuddle puddles. Some of those poses reoccur here—Gaga sure likes ending up in piles of people thrusting pelvises in various directions, or Gibson likes putting her there. Yet the video also has long dance sequences that show Gaga and her backing dancers' full bodies. She's still not one of the greats. But unlike Britney Spears, supposed to be making a comeback as a dancer in her video for "Hold It Against Me," directed by frequent Gaga collaborator Jonas Akerlund, Gaga doesn't need to resort to chopped up shots that hide a body double during the more ambitious sections.
But the most interesting parts of the video feature Zombie Boy in formalwear—and Gaga, made up to look as if she has matching tattoos, in a tux and a lot of platinum-pink hair. Whether it's intentional or not, the juxtaposition functions as a confession. Genest has permanently and grotesquely altered his body. Gaga's just dressing up for the day. As she cavorts around him in the video, he remains inert. At some moments, it's as if she's having sex—or at least a very heavy petting session—with an actual corpse. Lady Gaga may be in love with the outre, but she's unwilling to actually commit to a full transformation. At the end of the day, the horn implants, the enhanced shoulders, the zombie makeup, and the meat dress all end up back in the dress-up box. And I think she's smart enough to know it. In the video's final scene, Gaga's back in zombie makeup, blowing a bubble with a fat pink wad of gum. It's easy to experiment with the dark side when you know that bubble's going to explode in a fat pop—and take a bunch of that carefully constructed makeup off with it.