'How I Met Your Mother': Valentine's Day Eve Gets Weird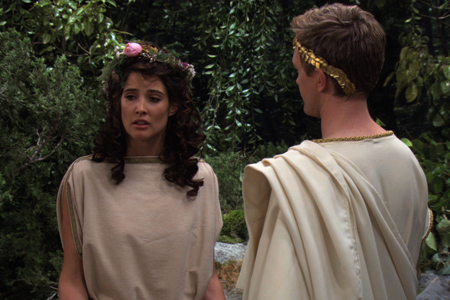 CBS
This week's How I Met Your Mother was called "Desperation Day" in honor of the little-known February 13th holiday of the same name. According to Barney, Desperation Day is the day when single women are most vulnerable, "when a 10 has the self-esteem of a 4 and the depraved enthusiasm of a 2," and are therefore easy. On this Valentine's Day eve, most of the main characters are feeling a little lonely and desperate as well. Ted and Zoey are in an awkward post-declaration-of-love phase and taking things slow (so slow that Ted needs his friends to explain that Zoey's invitation to bake cookies is simply a booty call in lady code), and Lily is consumed with missing Marshall, who is still in Minnesota taking care of his mother.
The plot of "Desperation Day" is a little complicated and involves impromptu trips to Minnesota by Lily (to see Marshall) and Ted (to avoid new relationship Valentine's Day pressures), Barney's choice of the hard-to-get Nora (Robin's friend, and a new character) over the vulnerable gymnast who was just self-conscious enough (she's silver medalist) to fall for his lines, and Marshall and Ted deciding to drive from Minnesota to New York (at least a 20 hour drive for anyone wondering) in the middle of the night ... and a snowstorm. In spite of somewhat jumpy and unbelievable storylines (Ted flees to a small Midwestern town, eases into Marshall's adolescent existence, and comes to the realization that he needs to embrace his new relationship with Zoey all in under two days), "Desperation Day" was a wholly enjoyable episode with some logical and steady plot advancements. Zoey and Ted are moving comfortably into what seems like a significant relationship, while Marshall takes the first steps towards recovery from his father's sudden death by leaving Minnesota and going back to New York.
But it was Barney and Lily's supporting antics that made them the MVPs of "Desperation Day." Here are the top five moments:
1) The running Predator gags: Barney making the clicking noise trolling around the bar, and Lily quoting Schwarzenegger while watching the movie alone on Valentines Day ("Come on! Kill me! I'm here! Kill me!").
2) Barney's failure to lure Nora to stay at the bar with the promise of a magic trick, and his dejected completion of the trick anyway (crack an egg, dove flies out).
3) Lily admitting that she's "getting weird" without Marshall.
4) The closing shot of Lily breaking up with "Marshpillow" set to dramatic background music.
5) Barney on Nora: "I don't like Nora, she's gross. You like her! You think she smells like rain!"