Grammy Performers 2011: The Good, the Bad, and the Puzzling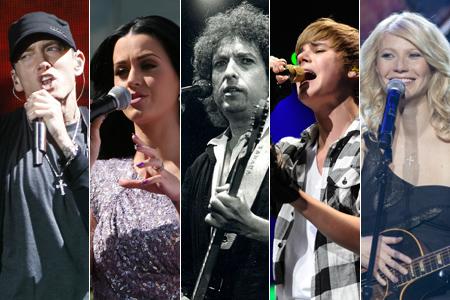 Associated Press/flickr/Screen Gems
When Bob Dylan and Dr. Dre were announced as last-minute performers for Sunday's Grammys, music fans were reminded of a fact that's increasingly true of the annual ceremony: it's become more a concert than a classic awards show. Last year's ceremony handed out trophies for only nine of the 109 categories on air. Nevertheless, the broadcast still surged to almost three and a half hours in length, making the musical performances the clear focus of the evening. Pink's astounding, Cirque du Soleil-inspired performance of "Glitter in the Air" last year vaulted the previously unreleased track to the Top Ten of the iTunes singles chart and spawned a lengthy radio life—proving that a showcase at the Grammys can be a lucrative booking.
With this year's musical lineup almost finalized, what's good, bad, and puzzling about the acts set to perform?
The Good:
Rekindling one of music's greatest partnerships, Dr. Dre will perform with 10-time nominee Eminem, marking the hip-hop legend's first live television performance in over a decade. A return to the spotlight spells good news for the release of Dre's long-rumored, long-delayed album Detox, which is set to come out in spring.
Also set for a rare performance is Bob Dylan, who will play alongside rising folk-rock bands Mumford & Sons and the Avett Brothers—two acts whose music Dylan paved the way for, and will now help shine an even brighter spotlight on. Dylan isn't the only music legend bridging the Grammy generational gap this year: Barbra Streisand will sing one of her '70s signature ballads during the show, and Mick Jagger will make his first-ever Grammy performance in a tribute to Solomon Burke (alongside Raphael Saadiq, no less).
The Bad:
The addition of those three Grammy legends is a bright spot in a line-up heavy with of-the-moment pop artists. Yes, Katy Perry, Justin Bieber, and B.o.B. are all nominees, but they are precisely the artists that make music critics gripe about whether the Grammys are even relevant in the first place. Beyond actually having to endure the musical stylings of Teen Beat trifecta Bieber, Usher, and Jaden Smith, the real disappointment is that their sets come at the expense of Jay-Z, Sade, Ray LaMontagne, The Black Keys, and a slew of other nominated artists who won't be performing.
While there's a valid argument to be made that those MTV artists are vital parts of the current musical landscape and will draw bigger ratings for the telecast, the case becomes less strong at the announcement that jazz bassist Esperanza Spalding will be performing alongside members of the Grammy Jazz Ensembles and Grammy Camp. Kudos to the Grammys for featuring a surprising, more diverse slate of acts than in years past—Arcade Fire and Cee Lo Green included. But while acknowledging those artists shows the organization's desire to be on the cutting edge, the jazz medley shows that it's still hasn't quite left its boring past behind.
The Puzzling:
It's certainly brave of Christina Aguilera, following her Super Bowl fiasco, to perform alongside Yolanda Adams, Jennifer Hudson, Martina McBride, and Florence Welch during a tribute to Aretha Franklin. It's one of the other names in that list that does not belong. Why would the Grammys lump British chanteuse Welch into a diva sing-off? The Best New Artist nominee (as part of Florence + the Machine) has already proven she can stage an ebullient and exciting stage show of her own with the ridiculously catchy "Dog Days Are Over."
And while The Atlantic Culture channel's love for Gwyneth Paltrow has been well-documented—and we could not be more excited for her duet with Cee Lo—the fact that the performance of "Fuck You" will also feature Jim Henson Puppets is a little...concerning. What, exactly, will these puppets be doing? The profane track doesn't lend itself easily to a Sesame Street-style sing-a-long. Will they be going the Avenue Q route? Given the PG nature of the Grammy proceedings, that would most definitely be puzzling.
Most confusing, however, is that the Grammys have not booked its most famous 2011 nominee to perform: the cast of Glee. Lea Michele, Chris Colfer, and the rest of the most buzzed-about young actors in Hollywood received two nods for songs from their Fox show. Sure, Glee airs on a competing network, but that didn't stop NBC from inviting the cast to perform at this summer's Emmy Awards. CBS even had actors from the series sing at the Tonys, though they weren't even nominees there. If the Grammys wanted to produce a show that got people talking, they could do no better than get Glee's stars to belt out "Don't Stop Believing" on Sunday night.
The Grammy awards air on CBS Sunday at 8 pm EST.