Go Ahead, Write Your Memoirs
Why the immensely popular genre of books is not only worth reading, but writing as well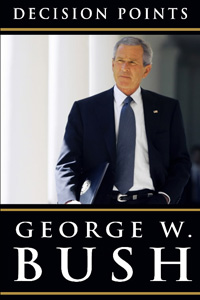 Crown
It is hardly news that memoirs are a booming genre in books. Of the top 15 New York Times nonfiction bestsellers for January 30, seven were memoirs, including offerings from George W. Bush, Keith Richards, and Jay-Z. One of the biggest hits of the fall-winter season has been the Autobiography of Mark Twain, volume 1, which has sold well over 300,000 copies despite being eviscerated by Garrison Keillor in a front-page Sunday New York Times book review, who called it "a powerful argument for writers' burning their papers."
Given my long involvement in journalism and publishing, I tend to get a lot of memoirs from others with a background in news. At some point, telling stories from your years of adventures in the field seems to be irresistible. I've probably received a dozen of these in recent months. My counsel is always the same: finish the manuscript even if it has little chance of being commercially published, let alone becoming a blockbuster.
Writing a memoir is a wonderful project. One of the realities of our age is that letters are nearly extinct and these, along with diaries, provide personal records of our lives. When PublicAffairs did the collected letters of Daniel Patrick Moynihan in October, we characterized it as one of the last epistolary autobiographies. For all of his many books, Moynihan never did do a memoir, so the letters are as close as we'll ever get to this unique scholar-politician's self-told saga.
Everybody has a tale to tell. There was a popular feature on CBS News years ago in which the correspondent would pick out a random name somewhere in the country and usually find a story worth turning into a television piece. So the message for the would-be memoirist is this: if you have the inclination and either the material or the recollections to enable the writing of your story, go ahead. Don't let the goal of publication for a general audience get in the way. Commercial publishers choose books based on their potential to reach an audience of reasonable size. Celebrities, either contemporary or, in the case of Twain, historic, have the best shot at being selected. Then there are accounts of hardscrabble childhoods, such as Frank McCourt's Angela's Ashes, Running with Scissors by Augusten Burroughs, and Jeanette Walls' The Glass Castle. Memoirists in this category have to be careful not to embellish their narratives, or at least acknowledge when they do. The scandal over James Frey's exaggerations in A Million Little Pieces was an example of that danger.
Some of the best memoirs are really biographies of family members whose own stories have the power of great fiction. A plug here is required for my friend John Darnton's forthcoming Almost a Family, being published in March by Knopf. Darnton's father, Byron (Barney), was one of two New York Times correspondents killed in World War II. John and his brother, Robert, the historian, were raised by their mother, a complex figure. But at its core, John's book is a meticulous reconstruction of the life of the father he never knew. Its strength is its literary merit, a characteristic that is crucial for a memoir, providing the emotional impact that makes it worthwhile.
But there is another category of memoirs that are enormously valuable in their way, even if ultimately they are meant to be read only by friends and family. My mother-in-law Carroll Sherer wrote an engaging book about life with her husband, a diplomat, that she called A Great Adventure. They served in Eastern Europe during the Cold War and in Africa in the immediate aftermath of colonialism. Her anecdotes provide a portrait that would otherwise be lost to her grandchildren (and mine). My brother Robert recently completed an account of his experiences as a child in World War II, beginning with Germany's attack on Poland and his journey with my parents from Romania, Turkey, and Iraq to India. He included my mother's version of those events, written years ago, and the combination provides a vivid sense of that tumultuous period and the intrepid courage that kept them going. I am twelve years younger than my brother and was born in Bombay shortly before the family traveled across the Pacific on a U.S. troop ship to San Francisco. For me, this memoir is a cherished artifact about events that took place before I was born, but which shaped my family in indelible ways.
Both books were privately published with the help of Della Mancuso, a production editor whose professional skills turned these manuscripts into well-designed paperbacks. Print-on-demand technology now makes it possible to do a few hundred books of high quality (and worth the money you pay). There are also a number of companies that will publish your books and, for tiered fees, even place advertisements and see that they are available for sale at places like Amazon and B&N.com.
So when you get to the point that it feels right to look back with a memoir, do so. If your judgment is that it may have commercial value, try pitching it to publishers. But if it ends up being released privately, you'll be surprised how satisfying the results can be. A memoir allows the writer to capture experiences in a way that photographs, for all their vitality, cannot (although digital photography has made it so much easier and cheaper to capture scenes as they happen). Narrating life in a book (and, in today's world, also making a simultaneous digital file for a companion e-book) is for posterity, and that is a very long time.