'Glee': When Cancer, Cattiness, and Justin Bieber Combine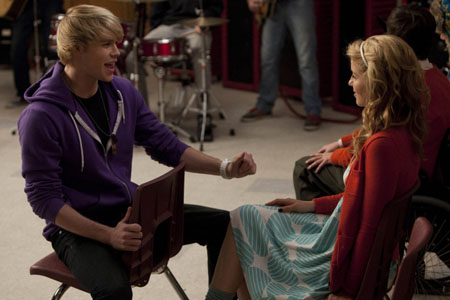 Fox
The worlds of Justin Bieber and Glee finally collided this week, as Sam channeled the teenybop titan to both charm Quinn and convince the other male New Directions members to form a boy band. Not to be outdone by the perfectly-coiffed boys, Sue joined the glee club in an attempt to break out of her post-Cheerios doldrums, while Rachel and Mercedes squared off in a long-awaited belting battle.
To help make sense of the episode, we have a panel of musical theater and pop culture buffs—Meghan Brown, Patrick Burns, and Kevin Fallon—to provide their takes on how realistic the show feels, how well the romances develop, and of course, how good the musical numbers are.
Here's what they had to say:
Kevin Fallon (writer and producer for The Atlantic's Culture channel): After a week off from doling out over-earnest lessons and preaching about how to discover the meaning of life through song, the adults were (unfortunately) back this week. They brought with them a litany of poor taste Sue-icide jokes, an absurdly random (thus classically Glee) trip to a pediatric cancer ward, and a My Chemical Romance cover that can only be construed to be part of some infomercial deal with Urban Outfitters to showcase the store's spring flannel line.
That's not to mention that most of the McKinley High student body spent the episode running through the halls with Bieber hair and leg warmers on their arms. The hodgepodge of themes and storylines this week was like a Whitman's Sampler: a selection of decadent caramel chocolates mixed in with those blasted coconut candies—and there's no way of knowing what was coming next.
That's not to say the outing was all coconut and no caramel. After a DRASTIC makeover (a seconds-long process of changing the direction his part is combed) Sam was quite charming while channeling Bieber. The acoustic opening to "Baby" was actually very sweet, just as it was when Biebs stripped down the tune to open his Grammy performance. And while the Bieber hair jokes fell flat pretty quickly, the rest of the episode was sharply written and loaded with self-referential jokes (among the targets: Chord Overstreet's large lips and Lea Michele's Kids 'R Us-furnished wardrobe). It was the boys' dancing that stood out for once, in the "Somebody to Love" pop-and-lock-and-throw-chalk-in-the-air number.
But the undeniable highlight of the episode was Amber Riley and Lea Michele's rendition of "Take Me or Leave Me" from Rent. It's unfathomable that it's taken this long for the two vocal powerhouses to duet, but the exhilarating performance was worth the wait. It's always fun watching Michele, a Broadway veteran, sing a song that she's clearly been rehearsing for years. Countering with her unique brand of runs and range, Riley sassed up the arrangement with enough melisma to make the Glee version of the oft-covered modern musical theatre staple its own aural utopia.
Patrick Burns (writer, composer, and star of the original one-man-musical, From Foster Care to Fabulous): Nobody goes on dates to Color Me Mine. Did Sam really need to sing the same Justin Bieber song twice? Twice?! Since when does a half-hearted duet that ends with hugging and giggling count as a diva-off? Does anybody in the glee club know what an Anthem is? Am I the only person who feels this way?
Let me get this straight. After several episodes of her saucy presence on the New Directions, Lauren finally gets a solo and she can't sing. Why is she a member of the glee club? Don't get me wrong, her brazen character never ceases to please, but it's just not believable that she would join the glee club if she cannot sing.
Speaking of the unbelievable, Mr. Schuester took Sue to the part of hospital where they keep all the children with cancer and then proceeded to play the ukulele and sing "This Little Light of Mine." This is completely acceptable behavior for real life, but was far too much of a saccharine cliche for me to even consider taking seriously on television.
Meghan Brown (co-founder of the Giraffe Hunt Theater in Los Angeles): Glee brought the bitchiness tonight, with great success. Watching Quinn's wheels turning was a satisfying callback to the complexity she hinted at in Season One, and Santana and Brittany both had some fantastic lines (favorite: "When people look at you, they don't see a style icon ... they see a cat getting its temperature taken and then screaming").
Unfortunately, the fun was short-lived. Did we actually take a trip to the Pediatric Cancer Ward with Mr. Schu and his magic ukulele, or was that just a terrible, terrible dream? I find kids with serious illnesses as upsetting as the next person, and throwing them into the mix to make a sappy point about how we should all count our blessings (because at least we're not THOSE kids!) was borderline offensive.
Ditto on Sue's suicide attempt. Did anyone else find that in totally bad taste? Not cool, Glee.
"Take Me or Leave Me," while no doubt riling every musical theater purist with a pulse, was a highlight. It had that addictive Glee quality of actually feeling like high school, and watching Mercedes and Rachel have a blast blasting each other was a treat.
Past Glee panels:
'Glee' Valentine's Day Episode: Love Songs and One-LinersThe 'Glee' Super Bowl Episode : Football and Musical Theater Can Co-Exist

'Glee' Does Christmas: Cheesy but Charming

'Glee': Sectionals Bring Out the Best in Everyone

'Glee': Two Weddings and an Anti-Bullying Message

'Glee': Gwyneth Paltrow Brings Fun Back

'Glee' Takes On Katy Perry, Gay Bullying

Why Did 'Glee' Do 'The Rocky Horror Picture Show'?

'Glee': Hitting a High Note, or a Sophomore Slump?

'Glee' Gets Religion, With Mixed Results

'Glee': Britney Spears Meets Britney S. Pierce

'Glee' Season Premiere: The More Things Change...