'Glee' Valentine's Day Episode: Love Songs and One-Liners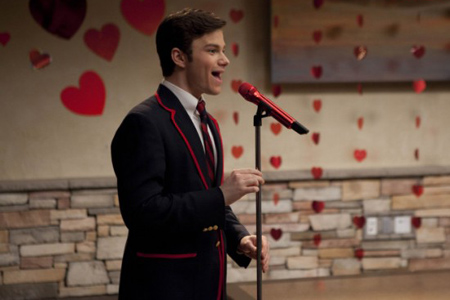 Fox
All of Glee's various love triangles, pentagons, and decihedrons were back in the spotlight for last night's Valentine's Day episode, just two night's after the show's post-Super Bowl episode—Glee's highest-rated ever. "Silly Love Songs" found romances rekindled and hearts broken as Finn falls back in love with Quinn, Kurt pines over Blaine, and Puck sets his sights on an unexpected member of New Directions.
To help make sense of the episode, we have a panel of musical theater and pop culture buffs—Meghan Brown, Patrick Burns, and Kevin Fallon—to provide their takes on how realistic the show feels, how well the romances develop, and of course, how good the musical numbers are.
Here's what they had to say:
Meghan Brown (co-founder of the Giraffe Hunt Theater in Los Angeles): After Sunday's Super-letdown I was completely blown away by tonight's episode, which featured just about everything my Gleeky little heart desired. We had Fuinn drama. We had Blurt drama. Puck sang "Fat-Bottomed Girls." Mercedes actually spoke! Out loud! For more than two seconds!
And then there were the one-liners. Oh, the one-liners! Naya Rivera did a particularly fantastic job tonight as Santana, who's just trying to be really, really honest with people when she thinks they suck, you know?
Quinn and Finn added some sizzle with an oddly sexy auditorium cheating scene, and poor, poor Kurt managed to nurse his torn heart with grace.
Altogether, "Silly Love Songs" was a snappy, well-paced episode with some fantastic character work and a wicked sense of humor. A+, Mr. Murphy.
Kevin Fallon (writer and producer for The Atlantic's Culture channel): Glee hit the trifecta this year with its three major cast additions. First there were Darren Criss—who's exploded with popularity— and Chord Overstreet. Now there's Ashley Fink's Lauren. And while the tough-only-on-the-outside Lauren can deliciously out-sass Santana, it's her straight-talking that really has me sold. "Like America, I need more than just a song to get my juices flowing," she tells Puck after he offends her with a serenade of "Fat Bottom Girls." It's something that's just as true when it comes to Glee, and it's why this episode deserves at least a dozen roses.
The largely adult-free outing (Sue and the vest-addicted Mr. Schu will be back next week) allowed the teenagers to act like teenagers for once—not poster children for the political cause of the week—which elevated both the writing and performances. "Silly Love Songs" perfectly captured the joyous ridiculousness of high school amour. There's the gossiping at sleepovers, and making up romances in your head ("We were always singing duets, and he was always smiling at me," pines Kurt). People scheme to break up rivals (Typhoid Santana), and are crushed by the high stakes of teenage heartbreak. And of course, there are the grand, embarrassing gestures to show how much you care.
An absurd whimsy permeated the episode, from the fireworks that went off after Finn and Quinn's kiss to The Warblers' popping up in clothing racks and dancing with mannequins while serenading an assistant manager at The Gap (not to mention Artie and Mike's slow motion version of "P.Y.T."). The past two episodes have both had songs from Katy Perry and Michael Jackson. While "Silly Love Songs" may not have had fire bras or "Thriller" make up, it boasted a long-lost energy (when was the last time Lea Michele was as vibrant as she was during "Firework"?). Long-stagnant plot lines finally progressed, and it was all done with—despite the broad cartooning of teenage romance—possibly more nuance than ever (that Kurt CoBlaine relationship is being handled, thankfully, with uncharacteristic care).
Patrick Burns (writer, composer, and star of the original one-man-musical, From Foster Care to Fabulous): Glee has hit Valentine's Day with full force. Puck has enlisted in a relentless effort to woo Lauren, Finn is determined to kiss every girl in school and the Warblers have exhausted themselves to make the Gap gayer than it ever has been before.
Over all the episode was fun and romantic without being sap-tastic. "Fat-Bottomed Girls" was energetic and unexpected, as was the surprisingly enjoyable cover of "P.Y.T." It's always a challenge for a show to tackle a V-Day episode, so I'm more apt to excuse cheesy moments like Rachel, Mercedes, and Kurt realizing that their romantic loneliness can fuel their rise to super stardom a la Whitney, Patti, and Babs.
However, Valentine's Day episode or not, I don't understand why they gave Rachel the opportunity to sing a love song to herself since she already seems to do that in every episode.
Past Glee panels:
The 'Glee' Super Bowl Episode : Football and Musical Theater Can Co-Exist
'Glee' Does Christmas: Cheesy but Charming
'Glee': Sectionals Bring Out the Best in Everyone
'Glee': Two Weddings and an Anti-Bullying Message
'Glee': Gwyneth Paltrow Brings Fun Back
'Glee' Takes On Katy Perry, Gay Bullying
Why Did 'Glee' Do 'The Rocky Horror Picture Show'?
'Glee': Hitting a High Note, or a Sophomore Slump?
'Glee' Gets Religion, With Mixed Results
'Glee': Britney Spears Meets Britney S. Pierce