'Glee' Spatwatch: Diane Sawyer vs. Sue Sylvester
Last night's Super Bowl episode of Glee featured a guest appearance by Katie Couric, who interviewed Jane Lynch's Sue Sylvester for a segment called "Loser of the Year." The CBS news anchor was given some good material and proved to be quite funny reading off a list of people Sylvester beat out for the honor—Mel Gibson, the housing market; Dina Lohan and her dog—with a quite funny mocked seriousness.
The segment's best running gag, however, was how Sylvester repeatedly confused Couric with her female anchor colleagues. First came a gag at the expense of Barbara Walters' Most Fascinating People program. Then—and most hilariously—Sylvester made a dig at Diane Sawyer.
Showing herself to be a good sport, Sawyer has taken to ABC News' Twitter feed to respond to the fictional Sylvester: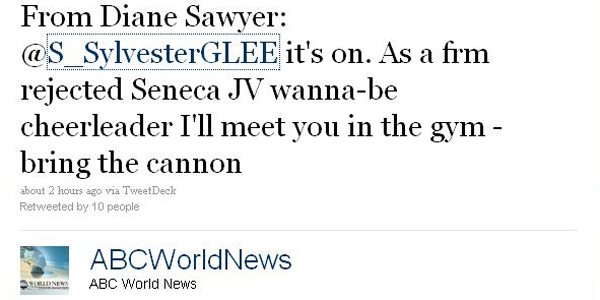 Sue Sylvester actually has her own Twitter handle, where someone tweets in character for the ball-busting cheerleading coach. Here's hoping Sylvester responds, and a potentially hilarious fake spat watch ensues.