'Glee' Is Funny When It's Drunk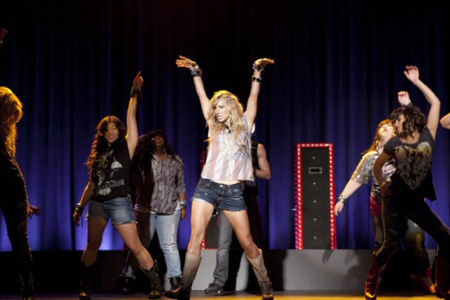 Fox
Last night's episode of Glee may have opened with Principal Figgins teaching the students at McKinley High about the dangers of alcohol consumption, but by the episode's end, "The Rachel Berry House Party Train Wreck Extravaganza!" had raged in all of its sloppy glory—its aftermath finding the underage partiers hungover with questions about their sexuality, love lives, and friendships.
To help make sense of the episode, we have a panel of musical theater and pop culture buffs—Meghan Brown, Patrick Burns, and Kevin Fallon—to provide their takes on how realistic the show feels, how well the romances develop, and of course, how good the musical numbers are.
Here's what they had to say:
Patrick Burns (writer, composer, and star of the original one-man-musical, From Foster Care to Fabulous): This week, the New Directions' only assignment is to come up with a song to sing for alcohol awareness week. Naturally, they throw a kegger instead!
I waited for the Glee party to get out of control, or for someone to get hurt so that America's youth could be shocked and appalled by the dangers of drinking. Yet, even though there was only one designated driver for a dozen drunken teens, the worst thing that happened was that Rachel tried to flip a gay guy. Rachel and Blaine's duet of Human League's "Don't You Want Me" was a lot of fun and sounded great, but the kids watching at home should know that nobody sounds that good after that many drinks. Trust me, I've been to karaoke and I still hear the screaming.
The other numbers were fun too, but all seemed to glorify drinking. "Blame It On The Alcohol" was the sassiest hangover ever and Ke$ha's "Tik Tok" was the most inappropriate song choice for the assembly. Luckily, Brittany spews purple-hued vomit all over Rachel and Coach Bieste sneaks in a public service announcement masquerading as dialogue just in time for me to have a night cap and sleep it all off.
Kevin Fallon (writer and producer for The Atlantic's Culture channel): After last week's strange episode, Glee came roaring back like a shot of flaming Sambuca to the back of the throat. Rachel needed more sordid life experiences so she could write better songs than "My Headband," the writers needed an reason to extol the virtues of responsible drinking, and next thing we knew Rachel was throwing her best Skins party and the glee club was drunk. What followed was a parade of the funniest sight gags, most uninhibited acting, and—interestingly enough—most relatable scenes Glee has produced in a while. Lea Michele, finally allowed to loosen a button or two on her sensible cardigan, was for once an acting stand out. From classic Rachel explaining her party rules ("No sitting on anything!") to a sloppy, white zin-swilling hot mess, Michele handled the entire arc like a seasoned comedienne.
In fact, all the a-a-a-a-a-alcohol made every member of New Directions cooler and funnier—except for that ever-boring square Finn, who stayed sober. Even Mr. Schuster was made tolerable whilst gettin' slizzard. The group numbers were sleeker and more energetic than usual, with the boozy New Directions clearly enjoying themselves as they grooved to the episode's bumpin club tracks (the highlight being the final homage to the greatest cautionary tale of them all, Kedollarsignha—"She's been a culture icon for weeks," Brittany praises). Right down to the drunk dialing and hungover vows to never drink again, the episode touched all the right ahh-I've-totally-done-that cringeworthy notes. It was Glee at its best: cartoonish, outlandish, and loud—but still oh-so true to life. Cheers to that.
Meghan Brown (co-founder of the Giraffe Hunt Theater in Los Angeles): Glee used "Blame it on the Alcohol" to deliver an important and timely message: If you drink in excess, you will probably do something embarrassing. So don't do it. Or do it, but be vaguely responsible. Or do it, but don't let your parents find out.
Rachel's party (sponsored by Dads' liquor cabinet) showed Glee at its best. The dialogue was snappy, the group dynamic was clean and specific, and the kids seemed like actual kids. Weepy Santana, needy Rachel, and angry Quinn all had some lovely moments, and Rachel and Blaine's strange kiss was oddly compelling.
The rest of the episode wasn't half as fun, though New Directions' take on "Tik and also Tok" by artist Ke-Dollar-Sign-Ha was awesome. Does anyone else think that Heather Morris would make a better Ke$ha than Ke$ha? Someone should make that happen.
For the picky: What was up with Rachel's sea-foam green Little House on the Prairie getup? And why was Puck wearing party glasses? Strange costuming choices this week.
Past Glee panels:
'Glee': When Cancer, Cattiness, and Justin Bieber Combine
'Glee' Valentine's Day Episode: Love Songs and One-LinersThe 'Glee' Super Bowl Episode : Football and Musical Theater Can Co-Exist

'Glee' Does Christmas: Cheesy but Charming

'Glee': Sectionals Bring Out the Best in Everyone

'Glee': Two Weddings and an Anti-Bullying Message

'Glee': Gwyneth Paltrow Brings Fun Back

'Glee' Takes On Katy Perry, Gay Bullying

Why Did 'Glee' Do 'The Rocky Horror Picture Show'?

'Glee': Hitting a High Note, or a Sophomore Slump?

'Glee' Gets Religion, With Mixed Results

'Glee': Britney Spears Meets Britney S. Pierce

'Glee' Season Premiere: The More Things Change...