'Exit Through the Gift Shop': Banksy's Cryptic Campaign to Win an Oscar
With the street artist's documentary up for an Academy Award, more questions are arising about what the film is really saying.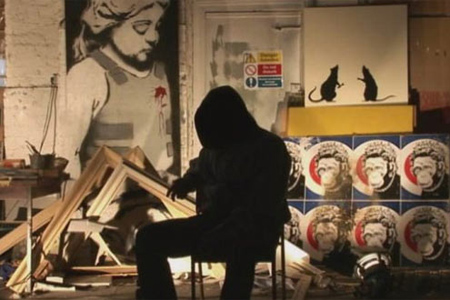 Paranoid Pictures
2010 was a big year for identity-crisis documentaries with a prankish air. Catfish, I'm Still Here, and Exit Through the Gift Shop all sparked lively debates over their authenticity, with critics and audiences speculating about just how much these films manipulated the documentary form, and to what end. That conversation has spilled over into this year thanks to Exit's best-feature-documentary Oscar nomination, and its amusing crypto-campaign for the trophy.
Several street-art pieces that appear to be the handiwork of shadowy British artist Banksy—the director of Gift Shop, as well as a voice-disguised and behoodied talking head in it—have turned up in L.A. over the last few weeks, with one of them even featuring a shrouded statuette guarded by Stormtroopers. It must be the first Oscar-related publicity to actually extend the concerns, and deepen the mystery, of the movie it's intended to promote.
Exit Through the Gift Shop, currently available on home video and to stream "instantly" on Netflix, takes up the issue of how value has come to be almost arbitrarily assigned—through some inscrutable algorithm factoring in publicity, authorship, and, to a lesser extent, actual aesthetics—to works made in the street-art vernacular. This area of inquiry is particularly relevant to the medium of stencils and billboard defacements, since its power often depends upon the public context in which the art is originally presented. While Gift Shop sometimes feels like the very successful Banksy's bid to re-establish his eternal-naysayer credentials, another man of mystery emerges as the film's main character.
A slightly dimwitted French expat with enormous sideburns, Thierry Guetta, plays camera-wielding sidekick to his cousin, the artist known as Space Invader. From there he meets, and gains permission to videotape, many other prominent practitioners of street art, including Shepard Fairey and Banksy himself. Once Banksy views a rough cut of the "documentary" Guetta culls from all this footage (the Frenchman claims to be a filmmaker, but he's finally revealed as more of a compulsive filmer), Banksy decides to turn the tables, assembling a documentary himself while urging Guetta to plaster pop-art-inspired images onto the sides of buildings.
After delegating more or less everything to a small army of assistants, and scoring a front-page LA Weekly feature ahead of a mammoth debut show, "Mr. Brainwash," as Guetta comes to call himself, becomes something of an overnight sensation—in spite of his general buffoonery, and the aesthetic and thematic incoherence of his rapidly assembled body of work. So was Banksy himself behind the Mr. Brainwash insta-ouevre, poking fun at the thousands of Los Angelenos who, after a strategically placed cover story and a few high-profile promotional quotes (provided by Fairey and Banksy), bought the idea that size was everything?
The boilerplate of Guetta's backstory—his impulse to record everything linked directly to his missing the moment of his mother's death—stinks to high heaven of hoax. So does the ridiculously self-important pose he affects as his show begins to garner attention. Fairey and Banksy testify to his being somewhat deranged, but there's no hard evidence that Guetta is any more mentally imbalanced than the street artists depicted—scalers of large edifices and billboards, often obsessively disseminating the same image—with whom he so eagerly tagged along.
If anything, the new Banksy(-esque?) works that have proliferated in the run-up to the Oscars would seem to only further suggest that there's not a lot of truth to his documentary—a subject he has been coy about all along (the artist released a statement ahead of the film's Sundance premiere that said the film was true, except for the parts that weren't). How else to explain the anti-establishment Banksy's stumping for the prestigious award? Pushing to get a venerable institution to recognize his elaborate stunt as a documentary would seem to be right up his alley.