Dwayne McDuffie, the Icon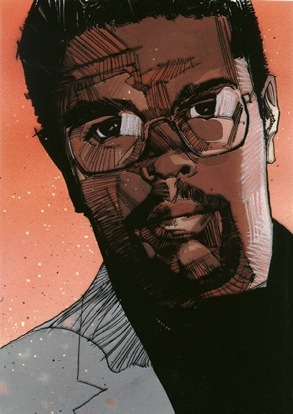 Dwayne McDuffie has died. Better people than me will be able to give tribute to the full measure of his career. All I can say is that Justice League, which McDuffie produced along with DCU pioneer Bruce Timm, is one of the best television shows I've ever seen. It sucks that animation--and genre period--puts you in the easy punch-line section. It sucks more that a lot of genre writers regard themselves as such. But Justice League stood for a particular aesthetic which holds that flying men, brawny women, wizards, and giant robots can be as literary as drug addicts, stock brokers, and mafiosos.
We live in pop-nerd heaven. All around us are transformers, vampires, werewolves, video games, computers, and teen ghosts. Much of it sucks, because much of everything sucks. This is a seemingly inviolable law of nature, no matter how high-minded the source material or intentions. Transformers is no worse than Pearl Harbor. But at all events, there is still some pride taken when something you love, is taken seriously. (Think Kavalier & Klay, here.)
McDuffie is roundly praised for efforts on behalf of diversity, and in not mentioning them here, I don't mean to slight them, so much as I mean to try to cover different ground. Justice League stood for modesty, humor and subtlety. It was deep influence on the style of memoir, and how I thought about popular art period. I'm sorry I never got to say that to Dwayne. I'm sorry he is gone.
As a final aside,
here is Dwayne writing
about his discovery that Clarence Thomas was one of his biggest fans.