A new book explores the suicide of the author's grandparents, and combines elements of both genres.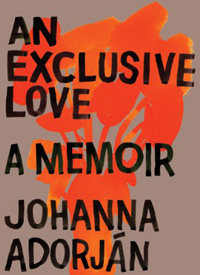 W. W. Norton & Company
The sunshine and improbably temperate February air seemed to bring out the best in the New Yorkers pouring out of Grand Central Station. A woman stopped me on my way into the coffee shop to compliment my handbag. Inside, I watched a young couple hold hands while they shared a plate of pancakes. It was a beautiful day. People were in a good mood. People were in love.
I was there to talk with Johanna Adorjan, author of the memoir An Exclusive Love, about the suicide of her grandparents some 20 years ago. The book chronicles the final hours of Vera and Pista Adorjan, Hungarian Jews who had survived the Holocaust and the 1956 uprising in Budapest. In old age, with Pista suffering from a prolonged illness, the two made the decision to take their own lives, hand in hand, in Denmark in 1991. Adorjan's depiction of that final, quiet autumn day in which they committed this devastating act is lovely, unsparing, and heart-breaking.
Vera is a woman enveloped in a cloud of cigarette smoke, effortlessly, almost rigidly glamorous but also wildly insecure. Pista, the dedicated husband, is a doctor who survived the hard labor concentration camp of Mauthasen, returned to his wife and child in Budapest, and eventually engineered their escape to Denmark.