'30 Rock': How Liz Lemon Got Her Groove Back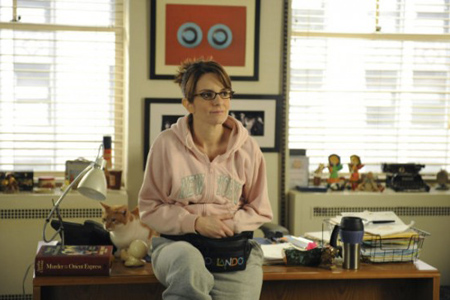 NBC
This is the Liz Lemon we know best: the post-breakup depravity, the broad announcements of the achievement of spinsterhood. We also like her best this way, secretly, because who doesn't like the thought of a hardened New Yorker schlepping around the city wearing a pink "New York" sweatshirt, a gigantic fanny pack, and a bright yellow Chip Clip holding up her unwashed hair? She's also adopted a cat (and named her Emily Dickinson), bought a cemetery plot, and joined a book club for seniors, complete with large print.
Unbeknownst to her, Liz is much more well-loved than she imagines, and this episode is her own version of the Miracle on 34th Street. As she says, "Liz Lemon went out, got some, and felt good about it." And she's interested in leaving it at that, despite all evidence to the contrary.
No one could ever be that lucky indeed.
Jack Donaghy gets the subplot in this episode and we get to see our favorite version of him: the hardened businessman who sees the educational value in every situation. He's stonewalled in salary negotiations with his baby's Trinidadian night nurse Sherry, but then turns around and uses her very successful techniques on Kabletown.
After last week's bloodbath, this was a nice return to normal—even if it did involve watching Bridalplasty and refrigerating tampons, Liz Lemon style.
Best random quote that has nothing to do with the show's plot: "How's this for ID—I participated in Hands Across America" –Liz Lemon